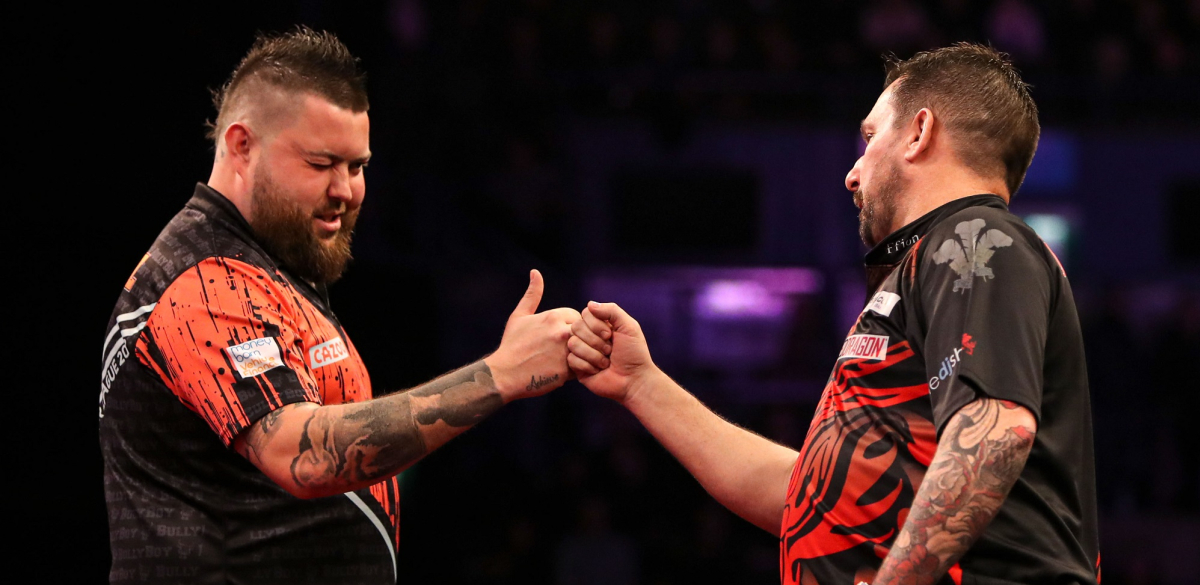 Michael Smith believes that he is facing the world's current best player, Jonny Clayton, as he enters a must-win Cazoo Premier League night in Sheffield on Thursday.
Smith could see his Play-Off hopes in the Premier League ended on Thursday, with the World Championship finalist sitting eight points adrift of fourth-placed Peter Wright with three league nights remaining.
He also faces current Premier League leader Clayton in a huge quarter-final tie at the Utilita Arena, with the Welshman on a high after winning in Glasgow last Thursday.
Clayton has won four nights so far this season and also taken victory in all three meetings with Smith so far in high-quality contests.
The St Helens ace - also on a high after back-to-back Players Championship wins in Wigan - has now likened Clayton's form to Phil Taylor ahead of their Sheffield showdown.
"Jonny's in unreal form," said Smith. "Even when he plays bad he's still a 104-105 average, and it's like when Taylor was in his prime.
"His worst games were 100 averages, and that's what Jonny seems to be doing at the minute.
"He doesn't even look like he's playing well but he's 105-106 average constantly and that's testament to how good he actually is at the minute.
"Hopefully I get lucky on Thursday - we'll see. I've just got to hit the doubles. I know I can compete scoring-wise - I think I'm one of the best scorers in the world - but it's the finishing.
"I think Jonny is starting to make at that 121 as his favourite finish at the minute, so you can't let him get a shot.
"I nearly had him two weeks ago, being 4-2 up and I missed one dart for 160, and that would have won the game. At 5-2 I'd have been cruising but Jonny did what he does best and puts on a magic run.
"That's how quick the game changes - I had one dart for 160 and four or five minutes later he's shaking my hand!"
Smith reached back-to-back Premier League finals in Brighton and Nottingham in March and has been a semi-finalist in the last two weeks.
He won Players Championship titles in Wigan on Tuesday and Wednesday, hitting a nine-darter in the process, and is in confident mood ahead of a return to the Utilita Arena.
"I keep coming back and keep fighting and you've always got to believe," said the St Helens ace. 
"I know I'm playing well but I've not had the luck. Obviously I want to win every week that I play, but if it doesn't happen then it wasn't meant to be.
"I just keep looking at the players in front of me - I've just got to keep taking it game by game. Going into Sheffield I know I need the win, I need the five points."
A former runner-up, Smith returned to the Premier League line-up this year and has enjoyed the tournament's new format as well as the return to packed arenas.
"I like it," he said. "I think it's good for the players, especially playing a tournament every week.
"Being back with the fans is amazing, I missed it, and to be back in the Premier League is good."
Cazoo Premier League
Night 14 – Utilita Arena, Sheffield
Thursday May 12
Quarter-Finals
Joe Cullen 6-0 (James Wade withdrew)
Gary Anderson v Gerwyn Price
Michael van Gerwen v Peter Wright
Michael Smith v Jonny Clayton
Semi-Finals
Joe Cullen v Anderson/Price
Van Gerwen/Wright v Smith/Clayton
Final
v