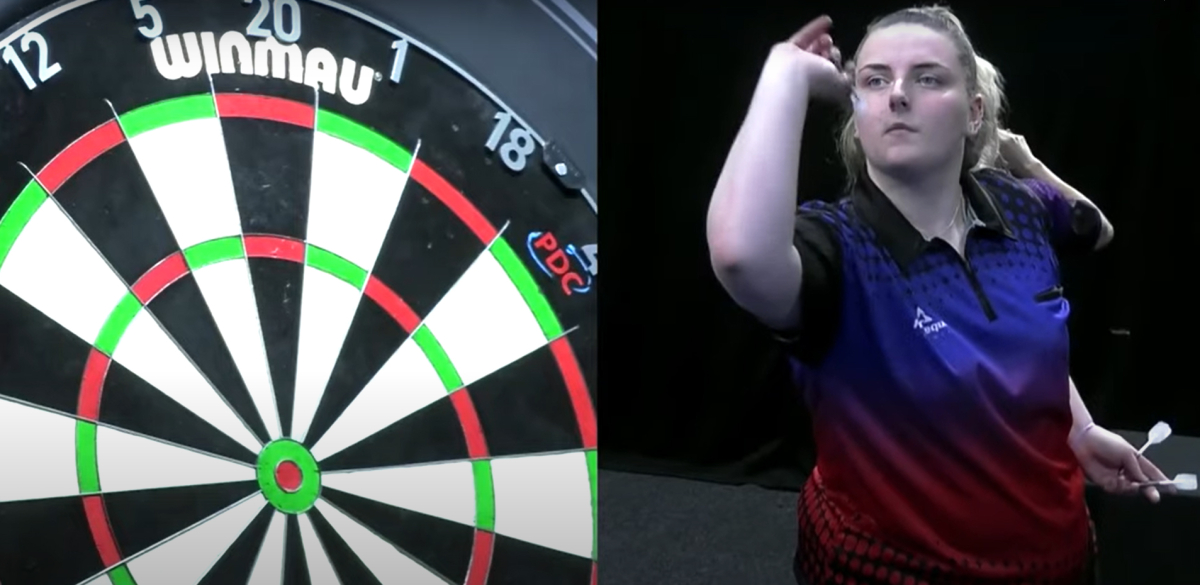 Scottish teenager Chloe O'Brien will fulfil her darting dreams when she makes her Blackpool bow at the inaugural Betfred Women's World Matchplay next month.
The new £25,000 tournament, the first fully-televised women's event staged by the PDC, will be held on Sunday July 24, featuring the top eight players from the PDC Women's Series Order of Merit.
O'Brien claimed the last qualification spot in dramatic fashion last weekend, reaching the quarter-finals in the final event before the cut-off to confirm her televised debut.
"I'm still on cloud nine. This is the highlight of my career so far," said the 19-year-old, who also reached the semi-finals at Event One in March.
"I'm from a small town in Scotland, so to be among the elite eight in a PDC event, it's just surreal.
"Darts has been my life since I went into high school. It has given me a meaning. I've worked so hard for this, I'm over the moon."
O'Brien has enjoyed a meteoric rise despite her relative inexperience, having only taken up the sport after her uncle bought her a set of darts for her 14th birthday.
Less than six months later, O'Brien was representing Scotland at youth level, and now she's set to compete against the biggest names in the women's game on the iconic Winter Gardens stage. 
"I love the thrill I get from playing darts. I love the thrill of winning and competing," added O'Brien, who hails from Scone, in Perthshire.
"I'm 19 years old, and I'm only the Scottish woman at the first ever Women's World Matchplay. It's an amazing feeling.
"I was thinking I shouldn't be on that list, because there's lots of bigger names that missed out, but I've earned my place. I've fought hard, with blood, sweat and tears - literally!
O'Brien is one of two teenagers in the inaugural eight-player field, with 18-year-old Irish prospect Katie Sheldon also sealing her qualification courtesy of a semi-final showing last weekend.
Lisa Ashton, Fallon Sherrock, Lorraine Winstanley and Aileen de Graaf are among the established names set to headline July's showpiece, which O'Brien believes could be game-changing.
"I think this is definitely a big stepping stone for ladies' darts, and a stepping stone that we need for our sport," the Scot added.
"Hopefully, the youth players coming through can see the experience that Katie [Sheldon] and I are gaining, and it gives them the confidence to give it a shot.
"We want to inspire more young girls to try and progress, to get the same love for the game that we have."
O'Brien faces a daunting task in her Women's World Matchplay opener, as she takes on top seed Lisa Ashton for a place in the semi-finals.
The four-time Lakeside Champion has dominated the Women's Series in 2022, winning a remarkable seven titles to establish a commanding lead at the top of the Order of Merit.
Ashton also defeated O'Brien 4-0 in the Event 12 quarter-finals last Sunday, but the 19-year-old is relishing the opportunity to lock horns with one of the sport's trailblazers on the big stage.
"Lisa is somebody I have always looked up to. She's pushed the boundaries and made her mark in the men's game.
"I spoke to her for the first time in Barnsley and she was so lovely. She was amazing to talk to and after I had qualified, she gave me a big hug and congratulated me, which meant so much.
"Last Sunday was the first time I'd ever played Lisa and it wasn't my best performance, but hopefully I can give her a proper game in Blackpool!"
O'Brien underlined her credentials with a series of impressive results at the Women's Series, claiming wins over Laura Turner, Corrine Hammond and Maria O'Brien en route to qualification.
However, the teenager insists she has no pressure on her shoulders, and has vowed to embrace her opportunity in the Winter Gardens spotlight.
"Who can say they've played on that World Matchplay stage? Not many people can," added the Perthshire ace.
"I've already accomplished something in my life that I never thought I would have.
"I'm just looking to have fun and soak up the experience, and if I have that attitude and I can produce my best darts, then who knows?"
Click here to purchase Betfred Women's World Matchplay tickets.
2022 Betfred Women's World Matchplay
Sunday July 24
Draw Bracket
(1) Lisa Ashton v Chloe O'Brien (8)
(4) Aileen de Graaf v Laura Turner (5)
(2) Fallon Sherrock v Katie Sheldon (7)
(3) Lorraine Winstanley v Rhian Griffiths (6)
Format
Quarter-Finals - Best of seven legs
Semi-Finals - Best of nine legs
Final - Best of 11 legs
Prize Money
Winner: £10,000
Runner-Up: £5,000
Semi-Finalists: £2,500
Quarter-Finalists: £1,250
Total: £25,000