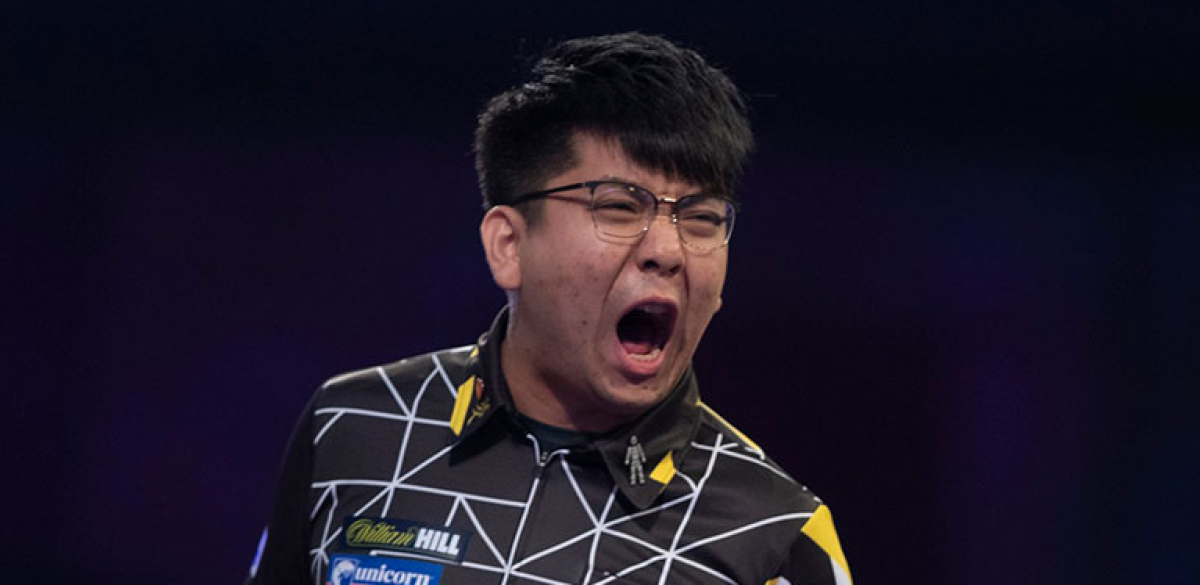 Xiaochen Zong produced a sensational display to claim his third weekly victory of the season on Night Five of the PDC China Premier League.
Zong fired in a brilliant 104.12 average to defeat Lihao Wen 5-2 in Tuesday's showpiece, as he returned to action in style following his absence on Night Four a fortnight ago.
The revamped nine-player tournament sees eight players competing per night in knockout quarter-finals, semi-finals and a final, and Zong extended his lead at the summit in emphatic fashion.
The 24-year-old established a 3-1 lead against Wen with legs of 14, 14 and 13 darts, before pinning double ten to move to the brink of glory.
Wen preserved his hopes with a classy 120 finish, although Zong was undeterred, rattling in a third maximum before wrapping up victory with a magnificent ten-dart leg.
However, it wasn't all plain sailing for the two-time World Championship qualifier, who fought back from 4-3 down to deny Bin Zheng in a high-quality quarter-final tussle.
Zong converted 88 and 111 finishes in the final two legs to complete a comeback win, which saw him renew his rivalry with Night Four champion Xicheng Han.
Zong defeated Han to triumph on Night Two and Three, and he produced more heroics in a dramatic semi-final clash, conjuring up brilliant 135 and 152 checkouts to close out a 5-3 success.
Wen, who prevailed on Night One last month, followed up a convincing 5-2 victory over Chengan Liu with a whitewash win over Weihong Li, before he was blown away by an inspired Zong.
Each league night feature a US$100 bonus for the winner, plus ranking points to form the league table, and the top four players will qualify for the Play-Offs on September 18, following the nine nights of league action.
The eventual champion will receive US$1,500 prize money and a place in the 2022/23 Cazoo World Darts Championship in December.
Zong currently boasts a four-point lead at the top of the table, with Han, Wen and Liu all currently occupying top four spots.
The PDC China Premier League returns for Night Six on August 2, and the action will be broadcast through PDCTV for all subscribers worldwide, with play commencing at 1900 CST (1200 BST) on each day.
PDC China Premier League
Night Five
Tuesday July 26
Quarter-Finals
Xiaochen Zong 5-4 Bin Zheng
Xicheng Han 5-0 Zhiwei Lin
Lihao Wen 5-2 Chengan Liu
Weihong Li 5-3 Yin Deng

Semi-Finals
Xiaochen Zong 5-3 Xicheng Han
Lihao Wen 5-0 Weihong Li
Final
Xiaochen Zong 5-2 Lihao Wen
PDC China Premier League
Event Dates
August 2 - Night Six
August 16 - Night Seven
August 23 - Night Eight
September 6 - Night Nine
September 18 - Play-Offs (semi-finals & final)
Format
League Nights - best of nine legs
Play-Offs - semi-finals best of 19 legs, final best of 21 legs
Competitors
Yin Deng
Xicheng Han
Weihong Li
Zhiwei Lin
Chengan Liu
Lihao Wen
Wenge Xie
Bin Zheng
Xiaochen Zong