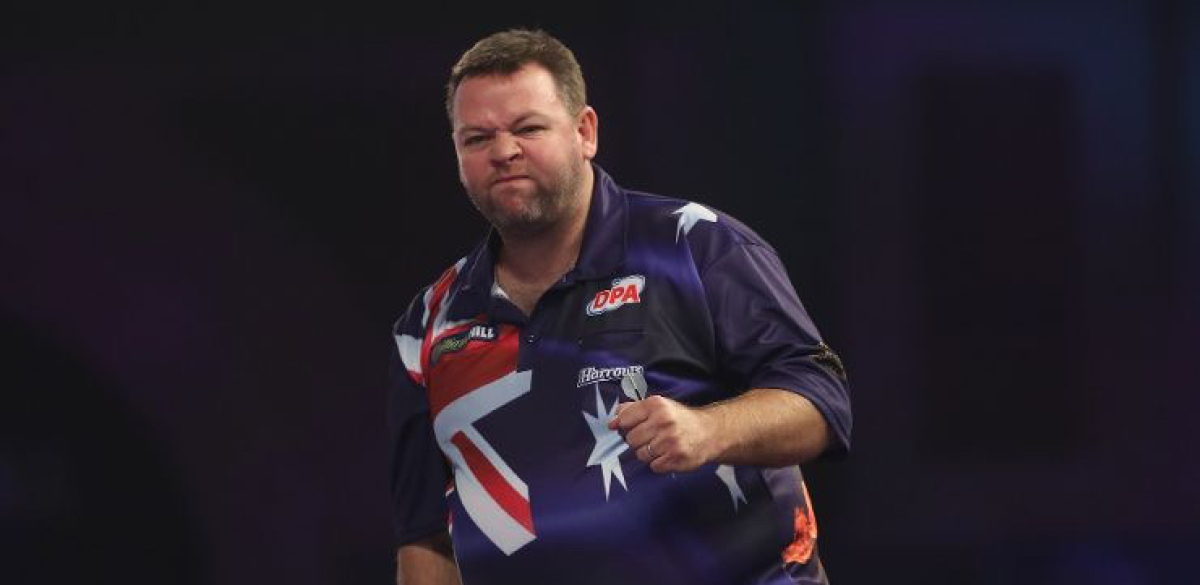 Gordon Mathers hopes that his return to home soil can inspire a change in his darting fortunes, as he prepares to feature in August's World Series of Darts treble-header Down Under.
Mathers will star as one of the eight regional representatives in the PalmerBet Queensland Darts Masters, PalmerBet New South Wales Darts Masters and the TAB NZ Darts Masters later this month.
The 40-year-old suffered defeats to Dutch legends Michael van Gerwen and Raymond van Barneveld on his previous World Series appearances in 2013 and 2018 respectively, and he's determined to produce an improved showing this time around.
"I have never played my best game on stage, and that's what I intend to do after being given these three opportunities," said Mathers, a three-time World Championship qualifier.
"With all the experience I have gained on the Pro Tour, hopefully I can deliver my best game on the TV to show the world what I can do.
"I don't feel the outside pressure. I wear my heart on my sleeve and my biggest pressure is from within."
Mathers is one of three Australian Tour Card holders on the PDC tour, having secured his place on the professional circuit at Qualifying School in January 2021.
The Brisbane-born star has remained in the UK since, spending just six months with his wife Kaylene and their four children over the last two years.
However, Mathers faces the prospect of relinquishing his PDC Tour Card next January, unless he can secure a place in the world's top 64 following the 2022/23 Cazoo World Darts Championship.
The Australian, currently ranked 81st on the PDC Order of Merit, concedes it will be a tough ask, but insists he has few regrets about following his darting dream.
"It's been second to none being on the Pro Tour with all the great players there at the moment," added Mathers.
"I am missing the family immensely, not just my wife and children but my three brothers and sister.
"I come from a close-knit family so it's been pretty hard, but I have no other regrets.
"We will see where we end up after the next six months."
Mathers also revealed that he is indebted to Australia's darting trailblazer Simon Whitlock, who welcomed him into his home in Waterlooville, Hampshire.
Mathers originally moved into a house with his family, although when they returned to Australia, Whitlock was on hand to support his compatriot.
"Without Simon, I would not be here," Mathers admitted.
"I would have had to go back home and get on the grind 9-5.
"For the first nine months to have him, his son Mason, and Corrine Hammond - they helped me no end.
"Simon took me under his wing, offered up a bedroom and said that's yours whenever you want it.
"When the family came over for six months I moved out, but when they went back there was no hesitation from Simon to say you can have your old room back."
The 40-year-old also hailed Whitlock's impact on his darts, revealing that the current World Cup winner played an instrumental role in helping him through Qualifying School last year.
"After the 2020 World Championship he changed the points in my darts, got me practising right, and without that I honestly don't believe I would have got through Q-School," added the Brisbane ace.
"I owe him everything for what he has done for me over the past two years.
"I have always said Simon is our best ever darts export from Australia.
"Without him, I don't think the World Series would have been a thing in Australia."
Mathers faces a crucial few months in his bid to retain his professional status, yet despite the uncompromising nature of the PDC tour, he has no qualms about urging other Australian players to follow in his footsteps.
"To eke out a career in darts, you simply can't do it in Australia," Mathers continued.
"It's such a vast country, the travel is too much, so you just couldn't do it on a professional basis.
"To the younger players such as Gold Coast's Robbie King, I suggest they do it sooner rather than later.
"I have thoroughly enjoyed the experience playing on the Pro Tour, it's out of this world, so I would definitely encourage those younger guys to give it a go before it's too late."
PalmerBet Queensland Darts Masters
PDC Representatives
Gerwyn Price, Michael van Gerwen, Michael Smith, James Wade, Jonny Clayton, Joe Cullen, Dimitri Van den Bergh, Fallon Sherrock
Oceanic Representatives
Damon Heta, Simon Whitlock, Gordon Mathers, Bailey Marsh, Koha Kokiri, Dave Marland, Joe Comito, Haupai Puha
PalmerBet New South Wales Darts Masters
PDC Representatives
Gerwyn Price, Michael van Gerwen, Michael Smith, James Wade, Jonny Clayton, Joe Cullen, Dimitri Van den Bergh, Fallon Sherrock
Oceanic Representatives
Damon Heta, Simon Whitlock, Gordon Mathers, Dave Marland, Koha Kokiri, Raymond O'Donnell, Mal Cuming, Haupai Puha
TAB New Zealand Darts Masters
PDC Representatives
Gerwyn Price, Michael van Gerwen, Michael Smith, James Wade, Jonny Clayton, Joe Cullen, Dimitri Van den Bergh, Fallon Sherrock
Oceanic Representatives
Damon Heta, Simon Whitlock, Gordon Mathers, Bernie Smith, Kayden Milne, Mal Cuming + top two non-qualified players from DPNZ Order of Merit following events in Christchurch on August 6-7