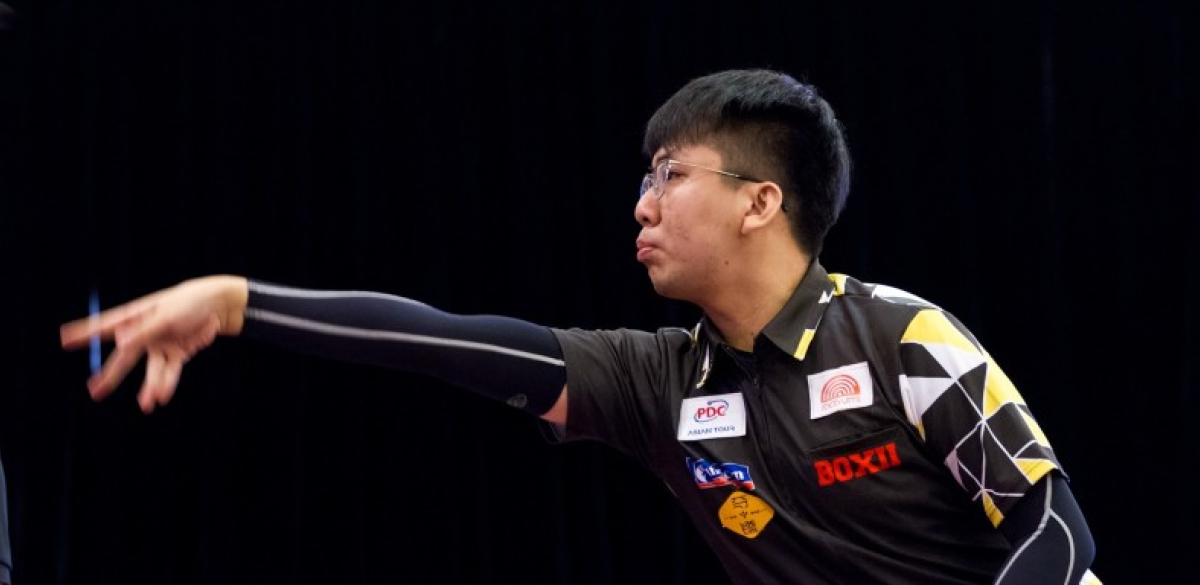 Xiaochen Zong extended his incredible winning run in the PDC China Premier League to 18 games after claiming the Night Eight spoils on Tuesday.

Zong relinquished the solitary leg en route to glory, following up successive whitewash wins with a crushing 5-1 victory over Xicheng Han on the penultimate night of league phase action.

The 24-year-old, who is unbeaten since Night One of the revamped competition, breezed past Wenge Xie in his opener, before averaging over 96 to dispatch Zhiwei Lin in five straight legs.

This set up a third final between Zong and Han in this year's tournament, and Zong completed the hat-trick to land his sixth title of the campaign.

Despite losing a scrappy opening leg, Zong responded by taking out 70 and 107 finishes to seize the initiative, before firing in legs of 14, 13 and 17 darts to prevail with a 92.41 average.

The two-time World Championship qualifier will finish the league season in top spot, and the Play-Off line-up is now complete following Tuesday's action.

Han currently occupies second spot above Lihao Wen and Chengan Liu - who he defeated to reach the Night Eight final - although the trio are separated by just three points heading into Night Nine.

The PDC China Premier League returns for the final night of league action on August 30, and the action will be broadcast through PDCTV for all subscribers worldwide, with play commencing at 1900 CST (1200 BST).

The Play-Offs will then take place on September 4, as the final four battle it out for the US$1,500 prize money.

PDC China Premier League
Night Eight
Tuesday August 23
Quarter-Finals
Xiaochen Zong 5-0 Wenge Xie
Zhiwei Lin 5-1 Weihong Li
Xicheng Han 5-1 Chengan Liu
Lihao Wen 5-0 Yin Deng

Semi-Finals
Xiaochen Zong 5-0 Zhiwei Lin
Xicheng Han 5-2 Lihao Wen

Final
Xiaochen Zong 5-1 Xicheng Han
PDC China Premier League
Event Dates
August 30 - Night Nine
September 4 - Play-Offs (Semi-Finals & Final)

Format
League Nights - best of nine legs
Play-Offs - semi-finals best of 19 legs, final best of 21 legs

Competitors
Yin Deng, Xicheng Han, Weihong Li, Zhiwei Lin, Chengan Liu, Lihao Wen, Wenge Xie, Bin Zheng, Xiaochen Zong.