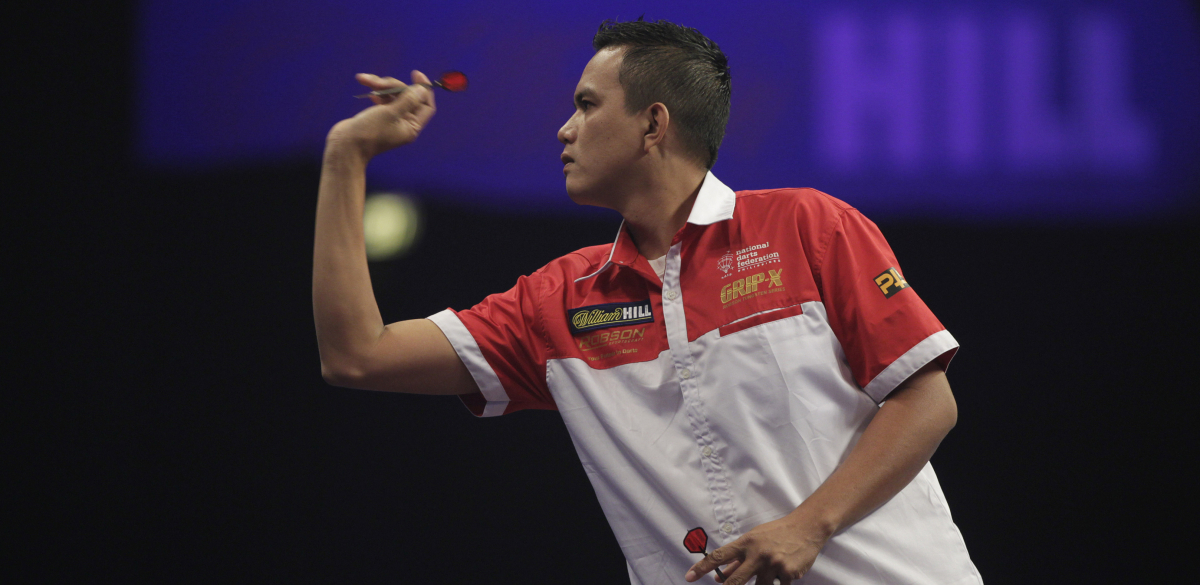 Christian Perez triumphed in the first edition of the PDC Asian Championship on Sunday, courtesy of a 7-5 victory over his fellow countryman Paolo Nebrida.
Perez - who has twice represented the Philippines at the World Cup of Darts - reeled off four consecutive legs from 5-3 down to deny Nebrida in a topsy-turvy affair in Fukuoka.
The 40-year-old squandered eight match darts before eventually wrapping up victory, and he will make his Cazoo Grand Slam of Darts debut in November after scooping the $15,000 top prize.
Perez also qualifies for the 2022/23 Cazoo World Darts Championship and will make his fourth Alexandra Palace appearance in December alongside fellow semi-finalists Nebrida, Lourence Ilagan and Toru Suzuki.
Nebrida drew first blood in Sunday's showpiece with a 13-dart hold, but Perez secured the early initiative with 14-dart breaks in legs three and five.
Nebrida responded by claiming three legs on the spin to establish a 5-3 cushion, although Perez reduced the arrears with a third 14-darter of the contest to stay in contention.
Perez regained the initiative as Nebrida faltered on the outer ring, moving 6-5 ahead to throw for victory, and after landing his third 180 of the contest he overcame late double trouble to clinch the title on double one.
The 40-year-old began Sunday's action with a dramatic comeback victory over Yoshihisa Baba, recovering from 5-2 down and surviving six match darts to book his spot in the semi-finals and the World Championship.
Perez then breezed past his compatriot Ilagan to seal a spot in Sunday's finale, averaging 91 to complete a comprehensive 6-1 success in the last four.
Nebrida confirmed his World Championship debut with a crushing 6-1 win over Japan's Jun Matsuda in the quarter-finals, averaging 90 and firing in three maximums to cap off a dominant display.
The Philippines star later ended home hopes with a 6-3 success against Japan's Suzuki in the semi-finals, firing in four 16-darters en route to victory.
Ilagan secured a spot in his seventh World Championship with a hard-fought 6-4 victory over Yuichiro Ogawa, while Suzuki survived four match darts against Yuki Yamada to seal his second appearance in the sport's flagship event.
2022 PDC Asian Championship
Sunday September 25
Quarter-Finals
Lourence Ilagan 6-4 Yuichiro Ogawa
Christian Perez 6-5 Yoshihisa Baba
Toru Suzuki 6-5 Yuki Yamada
Paolo Nebrida 6-1 Jun Matsuda
Semi-Finals
Christian Perez 6-1 Lourence Ilagan
Paolo Nebrida 6-3 Toru Suzuki
Final
Christian Perez 7-5 Paolo Nebrida