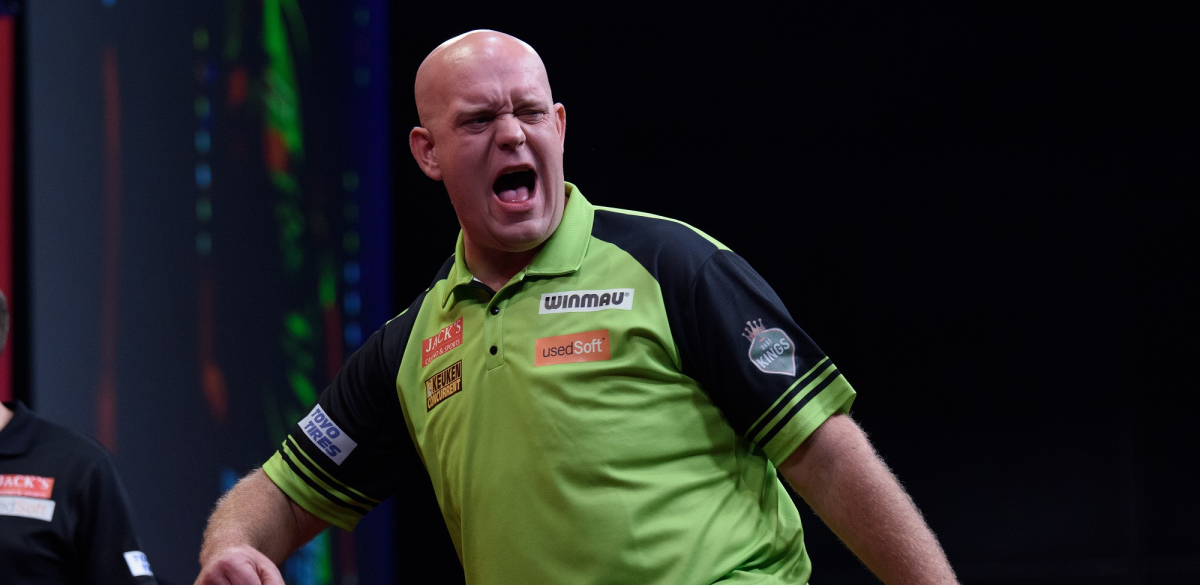 PDC Stats Analyst Christopher Kempf ranks PDC players according to the calibre of opponents in matches won and lost...
The Holistic Order of Merit Enhanced Ranking (HOMER) is a ranking system devised to measure and account for important factors in the game of darts:
1. Players receive ranking points for winning any PDC ranking match (including qualifiers for those events), and always receive 0 points for losing a match.
2. The base number of ranking points available to the winner of a ranking match doubles with each successive round of the tournament.
3. The final of the World Championship has twice the ranking impact of the final of any of the other six TV ranking events, four times the impact of any European Tour event final, and eight times the ranking impact of any Players Championship final.
4. Ranking points are totaled over the span of one year, with matches losing 1/365 (0.27%) of their ranking impact for each day prior to the present day. For example, a match occurring 6 months ago will have 1/2 the ranking impact of the same match occurring today.
5. Players earn ranking bonuses for defeating players ahead of them on the Order of Merit, with a minimal bonus for defeating a player one rank above up to a maximum of double ranking impact for any player who defeats the world #1.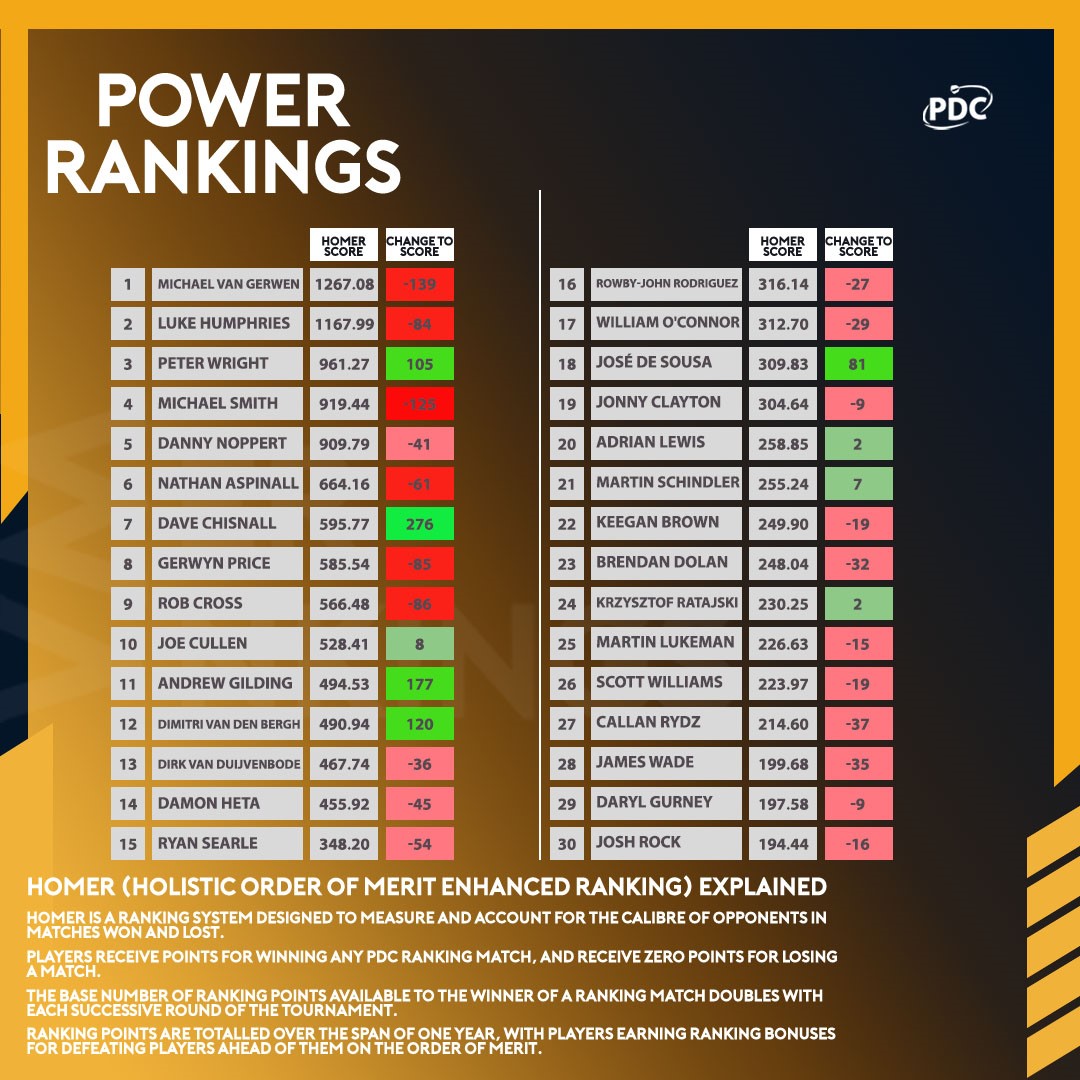 At the beginning of April, Dave Chisnall was 29th in the HOMER system of power rankings. After a string of quarter-final and semi-final appearances on the ProTour, and a third European Tour title this past weekend, Chisnall has nearly tripled his ranking impact.

This puts him ahead of World Champions Gerwyn Price and Rob Cross in this measure of ranking victories claimed and high-calibre victories over elite players. 

Three top 16 players fell to Chisnall at the Belgian Darts Open, allowing the St Helens star to pick up 50 additional points and surge to his highest level since the inception of the HOMER rankings.

The road to the final was even tougher for Andrew Gilding, who began his campaign last Friday with a deciding-leg defeat of Simon Whitlock.

Two more TV ranking champions fell to Gilding afterwards - Jonny Clayton's loss earned the Suffolk man an additional 56 ranking points [by virtue of Clayton being the world number seven].

Gilding now stands as the 11th ranked player in the HOMER system - some 42 places ahead of his rank on the Order of Merit - and his point total has nearly quadrupled since April.

With a critical win against Gerwyn Price two weeks ago and a third consecutive quarter-final run, Jose de Sousa managed to halt a decline in his power ranking and restore 81 ranking points.

However, the former Grand Slam champion has still only achieved enough points in recent ranking events to leave him ranked 18th.

In the power rankings, a player's point total will decline in every week that they do not achieve sufficient results on the ProTour.

In order to maintain their positions in the top five, with more than 900 points, players like Michael van Gerwen and Luke Humphries must at least reach the semi-finals of a European Tour event.

Since neither player did so [Humphries due to his absence], [Van Gerwen due to his loss on Saturday], both players have suffered ranking declines.

Similarly, Joe Cullen and Jonny Clayton - having reached semi-finals recently on the European Tour - have done just enough to maintain their point totals, while other players around them decline.