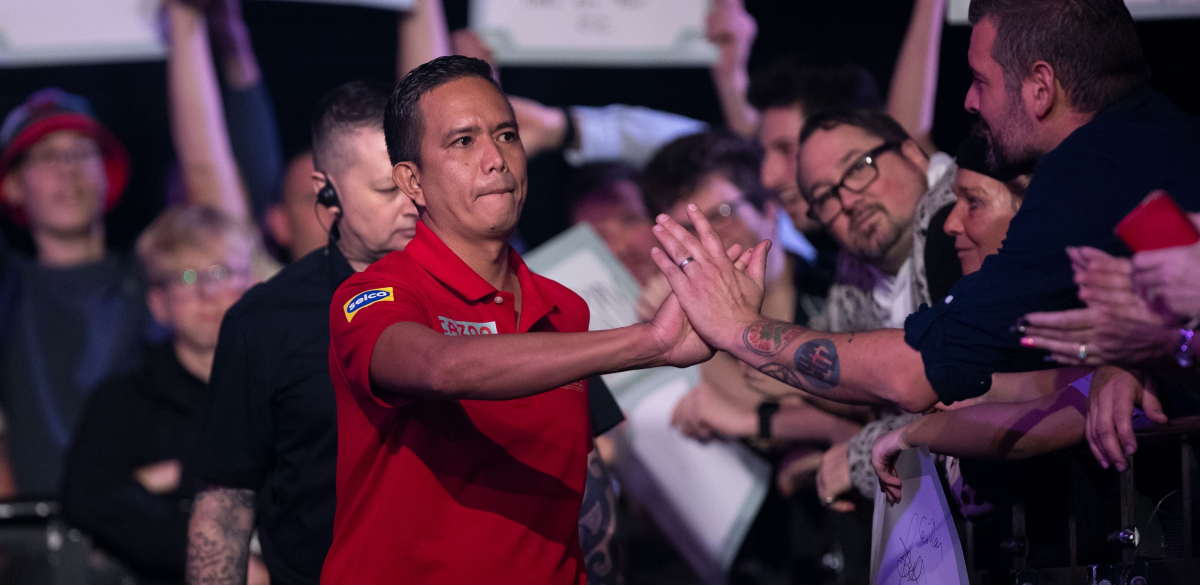 The PDC Asian Championship will be held for a second time in Japan in October 2023, as a 48-player field compete for $100,000 in prize money.
The PDC Asian Championship was introduced last year to great success, with Christian Perez taking victory in Fukuoka.
This year's tournament will be staged from October 5-8 at the Kaikyo Messe Shimonoseki in Shimonoseki City, Yamaguchi.
The event will begin with four Asian Series Qualifiers on October 5-6 for players to secure their place alongside the pre-qualified players.
The 48 players for the main event will then compete in a round-robin phase of 16 groups of three on Saturday October 7, with the group winners progressing to play in the last 16.
The tournament then concludes on Sunday October 8 with the quarter-finals, semi-finals and final.
"The inaugural PDC Asian Championship was a great success and showcased the increasing standard of players across the region, and we look forward to this year's tournament in October," said PDC Chief Executive Matt Porter.
"With the full PDC Asian Tour returning this year, there are greater opportunities than ever for players across the continent.
"The PDC Asian Championship would not be possible without the support of IDCDarts and Felix Corporation, and we're happy to again be working with them on this exciting event."
The PDC Asian Championship will feature the top 16 players from the final 2023 PDC Asian Tour Order of Merit, with the regional circuit returning to action this year.
A series of national qualifying events will also take place to secure qualifying players, while territories without a national qualifier will see their top-ranked player on the PDC Asian Tour Order of Merit secure a spot in the event.
The Asian Series Qualifiers will then produce the final 16 players, with the final two players from each of the four events being joined by eight qualifiers from and Asian Series Order of Merit.
The PDC Asian Championship will be streamed through PDCTV, with the Asian Series Qualifiers being streamed through Felix across Asia.
Player entries will be available from July 1 2023 via PDC Asia, with Japanese player entries available via Felix. Players are advised not to make non-refundable/changeable travel or accommodation bookings.
2023 PDC Asian Championship
Prize Money
Winner - $15,000
Runner-Up $7,000
Semi-Finalists - $5,000
Quarter-Finalists - $3,000
Last 16 - $2,000
Second in Group - $1,500
Third in Group - $1,000
Total - $100,000
Format
Asian Series Events 1-4 - Best of seven legs (no seedings)
Round Robin (Last 48) - Best of nine legs (top 16 players from 2023 PDC Asian Tour seeded one per group)
Last 16 - Best of nine legs
Quarter-Finals - Best of 11 legs
Semi-Finals - Best of 11 legs
Final - Best of 13 legs