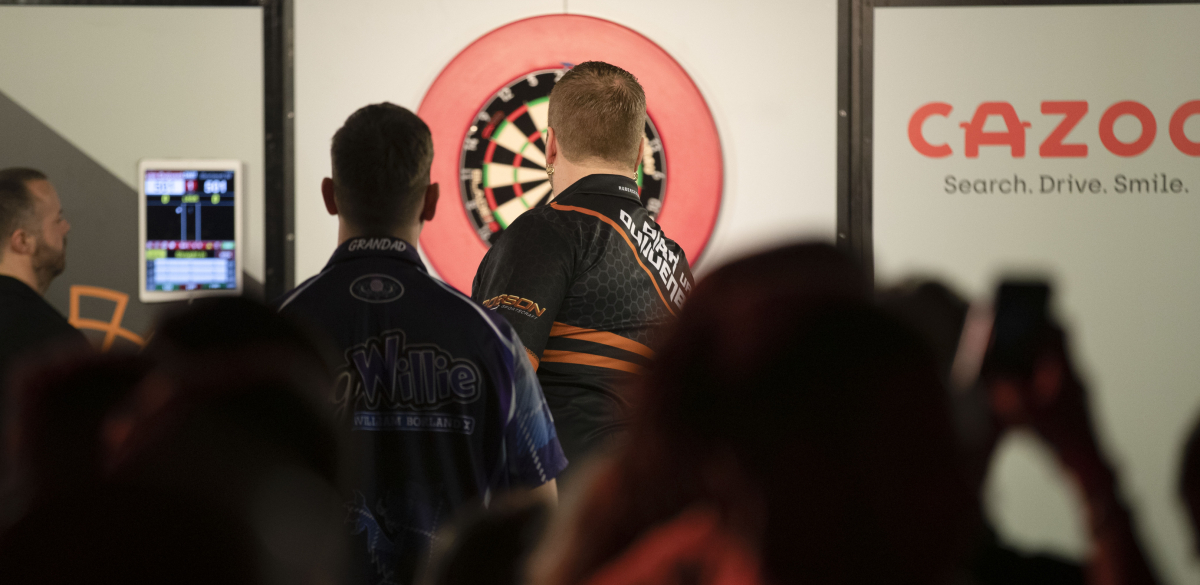 Josh Rock will take on Luke Woodhouse in his first televised appearance of the year at the 2023 Cazoo UK Open, with the draw and stage allocations confirmed for the opening session of this weekend's Minehead event.
World Youth Champion Rock will take on world number 48 Woodhouse in one of the stand-out ties confirmed for the festival of darts, which will take place at Butlin's Minehead Resort from March 3-5.
The third round clash is one of nine matches scheduled to take place on the Main Stage in Friday afternoon's action-packed opening session.

The unique multi-board tournament will see PDC Tour Card Holders competing across three days alongside Rileys Amateur Qualifiers and top players from the 2022 PDC Winmau Challenge Tour and Development Tour Orders of Merit.

The 158-player field will see Tour Card Holders enter across the first four rounds, based on PDC Order of Merit position following the 2023 Interwetten Baltic Sea Darts Open.

The opening three rounds will take place in a bumper afternoon session on Friday March 3, before the world's top 32 enter the fray at the fourth round stage in the evening session.

The first round will see Tour Card Holders ranked from 97-126 joined by 16 Rileys Amateur Qualifiers, and 16 players from the 2022 Challenge Tour and Development Tour.
2016 semi-finalist Jelle Klaasen heads up the Main Stage action as he takes on Josh Payne, while 2018 semi-finalist Robert Owen faces Dutch youngster Gian van Veen on Stage Two.

Tour Card Holders ranked 65-96 will enter in round two, as Players Championship event winner Danny Jansen faces former World Youth Champion Bradley Brooks on the Main Stage.
Players ranked from 33-64 join the tournament in round three, with 2014 champion Adrian Lewis to play Joe Murnan.

The sport's biggest names then begin their title bids in round four, including reigning champion Danny Noppert and World Champion Michael Smith, a runner-up to Noppert 12 months ago.

Former champions Peter Wright, Michael van Gerwen, James Wade, Nathan Aspinall, Gary Anderson and Raymond van Barneveld will also enter the event at the fourth round stage.
At the conclusion of the third round, an open draw will be made live on the Main Stage for the fourth round, with further draws to be made following each subsequent round.
For the first time in UK Open history, every match of the 2023 tournament will be broadcast live.
Main Stage matches across all three days will be broadcast live on ITV4 for UK viewers, through the PDC's international broadcast partners, including DAZN and Viaplay, and on PDCTV for Rest of the World Subscribers.
Stage Two action on Friday and Saturday will be streamed exclusively for all PDCTV Subscribers worldwide, with commentary from Dan McCarthy and Paul Nicholson.
In addition, matches from Stages Three to Eight will be broadcast live on PDCTV on Friday and Saturday, meaning that for the first time fans will be able to watch all matches from the event.
Players will compete for a £110,000 top prize, with a total prize fund of £600,000 on offer being paid down to the last 128.
Tour Card Holders Christian Perez and Corey Cadby will not compete in Minehead, therefore two players will receive a first round bye.

Former semi-finalist David Pallett also chose not to take up his invitation from the 2022 Winmau Challenge Tour Order of Merit, with Germany's Lukas Wenig replacing him in the field.
2023 Cazoo UK Open
Schedule of Play
Friday March 3
Afternoon Session (1100 GMT, Main Stage from 1145 GMT)
Main Stage
(2x R1, 4x R2, 4x R3)
Luke Littler v Nick Fullwell (R1)
Jelle Klaasen v Josh Payne (R1)
Danny Jansen v Bradley Brooks (R2)
Connor Scutt v Jimmy Hendriks (R2)
James Richardson/Tricole v Richie Burnett (R2)
Keegan Brown v Girvan/Zonneveld (R2)
Adrian Lewis v Joe Murnan (R3)
Josh Rock v Luke Woodhouse (R3)
Montgomery/Jenkins/Warner v Simon Whitlock (R3)
Stage Two
(4x R1, 4x R2, 4x R3)
Gian van Veen v Robert Owen (R1)
James Richardson v Thibault Tricole (R1)
Lukas Wenig v Jeffrey de Zwaan (R1)
Sebastian Bialecki v Joshua Richardson (R1)
Jules van Dongen v Kevin Doets (R2)
Rusty-Jake Rodriguez v Littler/Fullwell (R2)
Matt Campbell v Van Trijp/Holt (R2)
Labre/Klose v Mario Vandenbogaerde (R2)
Florian Hempel v Jamie Hughes (R3)
Boris Krcmar v Jermaine Wattimena (R3)
Steve Beaton v Scutt/Hendriks (R3)
Scott Williams v Klaasen/Payne/Pietreczko (R3)
Stage Three
(4x R1, 4x R2, 5x R3)
Jurjen van der Velde v Brett Claydon (R1)
Geert Nentjes v Christian Kist (R1)
Arron Monk v Vladimir Andersen (R1)
Dan Read v Callum Loose (R1)
Jose Justicia v Mickey Mansell (R2)
Cameron Menzies v Moston/Neyens (R2)
Ted Evetts v McEwan/Lauby (R2)
L Gurney/Pilgrim v Burton/Smith-Neale (R2)
William O'Connor v Devon Petersen (R3)
Lewy Williams v Jansen/Brooks (R3)
Van Dongen/Doets v Szaganski/Kciuk (R3)
Labre/Klose/Vandenbogaerde v Adam Gawlas (R3)
Rusty-Jake Rodriguez/Littler/Fullwell v Ritchie Edhouse (R3)
Stage Four
(4x R1, 4x R2, 4x R3)
Conor Heneghan v Daniel Lee (R1)
Graham Hall v Jeffrey Sparidaans (R1)
Jacques Labre v Daniel Klose (R1)
Karel Sedlacek v Harry Lane (R1)
Luc Peters v James Wilson (R2)
Damian Mol v Davey/L Evans (R2)
Read/Loose v Brian Raman (R2)
Bialecki/Joshua Richardson v White/Roelofs (R2)
Ryan Joyce v Mike De Decker (R3)
Menzies/Moston/Neyens v Ian White (R3)
Jim Williams v Van Veen/Owen/Waites (R3)
Slevin/Kuivenhoven/Wilkinson v Monk/Andersen/Goffin/Knops (R3)
Stage Five
(4x R1, 4x R2, 4x R3)
Andy Jenkins v Adam Warner (R1)
Noel Grant v Graham Usher (R1)
Nathan Girvan v Niels Zonneveld (R1)
Michael Flynn v Jonathan Wynn (R1)
Richard Veenstra v Jamie Clark (R2)
Taylor/Webster v Tony Martinez (R2)
Heneghan/Lee v Rupprecht/Kenny (R2)
Hall/Sparidaans v Thomas Banks (R2)
Martijn Kleermaker v Steve Lennon (R3)
Martin Lukeman v Read/Loose/Raman (R3)
Madars Razma v Cole/Van der Wal/Killington (R3)
James Richardson/Tricole/Burnett v Van der Velde/Claydon/R Huybrechts (R3)
Stage Six
(4x R1, 4x R2, 4x R3)
Callum Goffin v Robbie Knops (R1)
Pascal Rupprecht v Nick Kenny (R1)
Jarred Cole v Jitse Van der Wal (R1)
Jim McEwan v Danny Lauby (R1)
Kevin Burness v Nathan Rafferty (R2)
Grant/Usher v John O'Shea (R2)
Wenig/De Zwaan v Nentjes/Kist (R2)
Klaasen/Payne v Ricardo Pietreczko (R2)
Mensur Suljovic v Justicia/Mansell (R3)
Keane Barry v Mol/Davey/L Evans (R3)
Jeff Smith v Campbell/Van Trijp/Holt (R3)
Flynn/Wynn/Sedlacek/Lane v L Gurney/Pilgrim/Burton/Smith-Neale (R3)
Stage Seven
(4x R1, 4x R2, 4x R3)
Jim Moston v Kenny Neyens (R1)
Dylan Slevin v Maik Kuivenhoven (R1)
Gary Davey v Lee Evans (R1)
Danny van Trijp v Christopher Holt (R1)
Radek Szaganski v Krzysztof Kciuk (R2)
Van Veen/Owen v Scott Waites (R2)
Van der Velde/Claydon v Ronny Huybrechts (R2)
Flynn/Wynn v Sedlacek/Lane (R2)
Ryan Meikle v Burness/Rafferty (R3)
Andrew Gilding v Taylor/Webster/Martinez (R3)
Brown/Girvan/Zonneveld v Darius Labanauskas (R3)
Evetts/McEwan/Lauby v Bialecki/Joshua Richardson/S White/Roelofs (R3)
Stage Eight
(4x R1, 4x R2, 4x R3)
Dom Taylor v Darren Webster (R1)
Lewis Gurney v Darryl Pilgrim (R1)
Stuart White v Owen Roelofs (R1)
Stephen Burton v Adam Smith-Neale (R1)
Ross Montgomery v Jenkins/Warner (R2)
Slevin/Kuivenhoven v Shaun Wilkinson (R2)
Cole/Van der Wal v George Killington (R2)
Monk/Andersen v Goffin/Knops (R2)
Veenstra/Clark v Rowby-John Rodriguez (R3)
Ricky Evans v Grant/Usher/O'Shea (R3)
Wenig/De Zwaan/Nentjes/Kist v Peters/Wilson (R3)
Hall/Sparidaans/Banks v Heneghan/Lee/Rupprecht/Kenny (R3)

Evening Session (1900 GMT)
Fourth Round
Play across eight stages
Saturday March 4
Afternoon Session (1245 GMT)
Fifth Round
Play across four stages
Evening Session (1900 GMT)
Sixth Round
Play across two stages
Sunday March 5
Afternoon Session (1245 GMT)
Quarter-Finals
Evening Session (1900 GMT)
Semi-Finals
Final
Stages will be located as follows:
Skyline Pavilion: Main Stage (All days)
Studio 36: Stage Two (Friday and Saturday)
Centre Stage: Stages Three-Eight (Friday and Saturday)
Format
First Round (Best of 11 legs)
Second Round (Best of 11 legs)
Third Round (Best of 11 legs)
Fourth Round (Best of 19 legs)
Fifth Round (Best of 19 legs)
Sixth Round (Best of 19 legs)
Quarter-Finals (Best of 19 legs)
Semi-Finals (Best of 21 legs)
Final (Best of 21 legs)
2023 Cazoo UK Open
Winner: £110,000
Runner-up: £50,000
Semi-finalists: £30,000
Quarter-finalists: £15,000
Last 16: £10,000
Last 32: £5,000
Last 64: £2,500
Last 96: £1,500
Last 128: £1,000
Total: £600,000