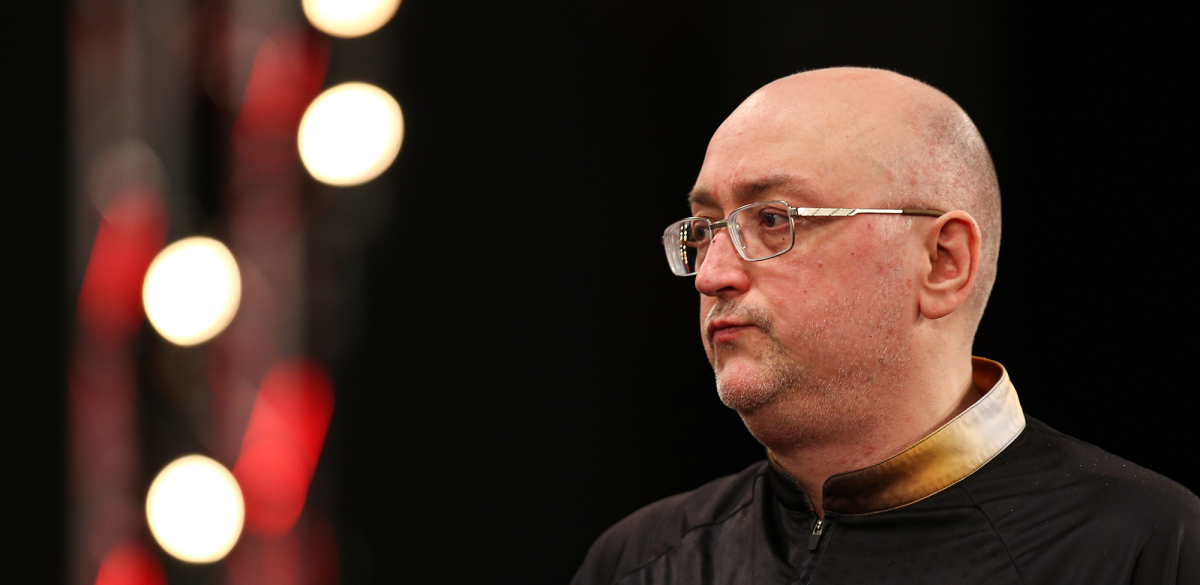 PDC stats analyst Christopher Kempf looks at the clutch finishing that proved integral to Andrew Gilding's UK Open success last weekend...
Five years ago, it would not have been thought possible for a player with Andrew Gilding's statistics in the UK Open final to be able to defeat Michael van Gerwen.

Indeed, until November 2018, no player had ever won a TV ranking final against Van Gerwen with an average less than 100 (Gilding's was only the second), and the final leg of the 2023 UK Open was the first lost TV tournament-decider of the Dutch master's career.
Gilding must have done something extraordinary to pull off such a rare feat. But if so, it was not extraordinary by any of the normal definitions of darting excellence.

Gilding won zero legs in the final in 12 darts or fewer. He also won zero legs with a ton-plus checkout and missed all four bullseyes attempted for a finish.

Given the pervasive narrative of PDC-wide improving standard, how is it possible for such a player to defeat one of the greatest players of all time, where multiple World Champions had failed?
Consider what had happened leading up to the six other tournament deciding legs which Van Gerwen had played - and won.

Peter Wright missed six match darts to win the 2017 Premier League, and then two years later spurned three more in the 2019 Champions League, surrendering leads of 7-2 and 10-7 respectively in races to 11.

Mervyn King left 182 after 12 darts in the deciding leg of the 2020 Players Championship Finals and never attempted a finish for the title.

Gary Anderson at the 2015 European Championship at least attempted two finishes to take that title (164 and 134), but like Wright lost four consecutive legs while throwing for the match.

Joe Cullen had his throw broken after missing a match dart to take the 2022 Premier League, and Wright squandered his chance at a 121 finish for the 2015 World Series Finals, scoring 28 with his last 3 darts of the tournament.
Compare that to Andrew Gilding's effort, who fought back from 8-5 and 9-7 behind to triumph.

To secure a critical break of throw in the 15th leg, Gilding took out 277 in six darts with Van Gerwen on 4, a leg that looked totally lost if the Dutchman were to have had 6 clear darts at a double.
In the decider, 'Goldfinger' employed the Midas touch with his third visit, scoring 180 en route to a clinical 13-darter, making it the second-best deciding leg ever played against MvG on television.

Gilding had a punishment at the ready for missed Van Gerwen doubles in seven legs of the final, and completed nine of 14 checkouts with his rival on a score of 40 or less, which in total denied MvG 25 additional darts at double.
In so doing, he matched exactly Van Gerwen's scoreline on finishes in the 2022 Premier League final: 6/6 on three-darts-at-double finishes, 0/11 on ton-plus finishes.
Out of 157 matches contested and 314 averages recorded at the 2023 UK Open, there were only two in excess of 105.

No ton-plus averages were recorded on the last day of action, while in 2020, Van Gerwen had three 108+ averages in his last four matches.

The capability of the elite player (especially, but not exclusively, Van Gerwen) to produce astounding averages has been much reduced over the past several years, for no readily apparent reason.

Meanwhile, the group of players who can consistently produce an average in excess of 90, or an OChE rating in excess of 50, has continued to grow.

At the moment, no Tour Card Holder has averaged more than 100 in his last 200 legs, but 31 have averaged in excess of 95 - at this point in 2018, the totals were two and 14 respectively.

With fewer matches showing huge differences in averages or treble accuracy between the two players, the stage is set for players like Gilding (and quarter-finalist Richie Burnett) to take home huge prizes in TV tournaments where they had previously expected not to.
Most darts matches are so short, and hinge on a few visits, that even long-term tendencies in players' performance are now of little importance compared with what they do under pressure.

Whether that be with one dart in hand to salvage a leg, with three darts to steal it when their opponent is on a double, or even a treble that sets up an 81 finish instead of a 121.

At the moment, no player is more likely than Dirk van Duijvenbode to hit a treble with his last dart. The enigmatic Dutchman does so exactly 53.4% of the time.

The third-dart double leader is Danny Noppert (43.3%), while Latvian trailblazer Madars Razma leads the way on checkout accuracy with an opponent on a double (45.1%).

Could any of these players be the next major champion? As Andrew Gilding showed, they have more of a chance than their averages might seem to indicate.