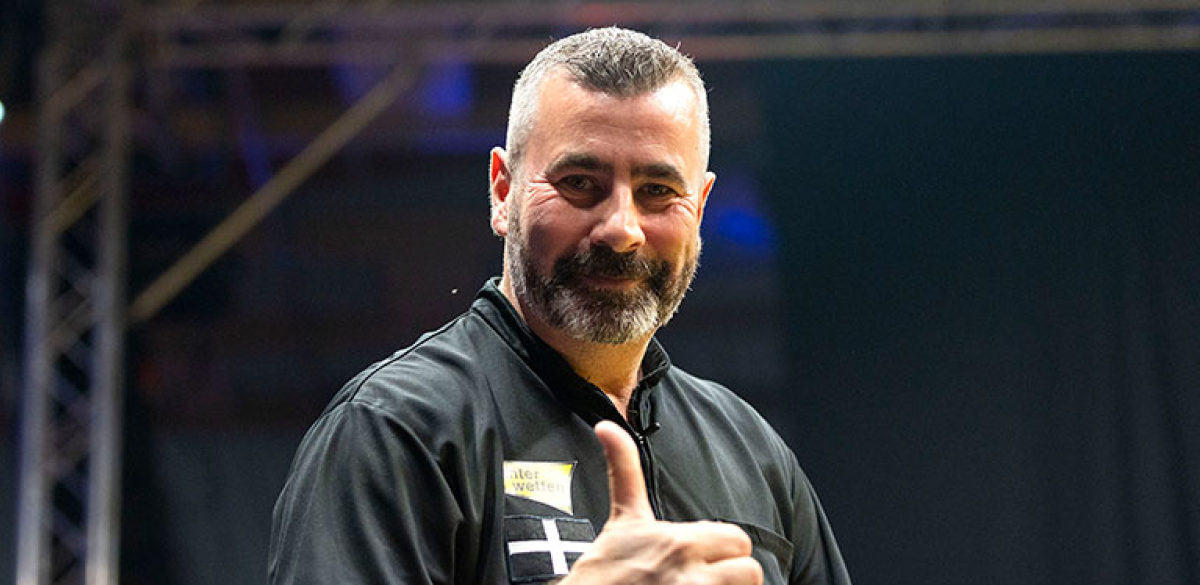 Darren Penhall continued his terrific start to the 2023 Dartplayers Australia season by claiming a brace of Pro Tour titles in Warilla last weekend.

The second weekend of DPA Pro Tour action saw Events 5-8 take place at Warilla Bowls Club, and Penhall prevailed in Events Six & Eight to make it a hat-trick of titles in 2023 so far.

Penhall overcame Dewayne Turner, Brendan Porter and Daniel Pearson to seal his spot in the Event Six semi-finals, where he edged out Event 5 winner Harley Kemp in a last-leg shoot-out.

The former Tour Card Holder then celebrated a 5-3 success against Joe Comito in Saturday's showpiece, converting a stunning 143 finish in leg four, before wrapping up victory with a 12-darter.

Penhall also produced the goods in Event Eight, kicking off his campaign with successive whitewash wins over Scott Johnson and Liam McDonell, averaging 103 in his opening round tie.

The 50-year-old followed that up with battling wins over Dave Hanel and Comito, before celebrating a 5-2 success against former World Championship qualifier Mitchell Clegg in the Event Eight decider.

Kemp and Comito also picked up titles on an action-packed weekend in New South Wales, with Kemp celebrating his maiden DPA Pro Tour crown with a 5-2 victory over Brenton Lloyd in Event Five.

The 28-year-old relinquished just four legs in dispatching Kohi Kiel, Ben Clark and Clegg, and he produced his best performance of the day in his 5-2 rout of Penhall in the last four.

Meanwhile, in the Event Seven showpiece, Comito also sealed his maiden DPA Pro Tour title with a thrilling deciding-leg victory over Penhall, after surviving three match darts in the penultimate leg.

Penhall recovered from a sluggish start to lead 4-3, following up a 12-dart break with a 155 finish, only for Comito to respond in the latter stages to triumph with a 95 average and three 180s.

Comito also saw off Clark, Pearson and Kemp en route to glory, before coming through another dramatic nine-leg affair against Clegg in the semi-finals.

Prior to the weekend's Pro Tour action, the second qualifier for the New South Wales Darts Masters was also held in Warilla, as Penhall whitewashed Tyrell Coppini to seal his World Series of Darts debut.
Penhall will be among the local representatives in action at the WIN Entertainment Centre in Wollongong on August 11-12, as Australia's top stars take on the biggest names in the PDC.
The next weekend of DPA Pro Tour action will take place from April 28-30 in Victoria, with matches from the last 16 onwards in each DPA Pro Tour event streamed live on PDCTV.
2023 DPA Pro Tour
Friday March 17
Warilla Bowls Club
NSW Darts Masters Q2
Darren Penhall 5-0 Tyrell Coppini
Saturday March 18
Event Five Final
Harley Kemp 5-2 Brenton Lloyd
Event Six Final
Darren Penhall 5-3 Joe Comito
Sunday March 19
Event Seven Final
Joe Comito 5-4 Darren Penhall
Event Eight Final
Darren Penhall 5-2 Mitchell Clegg