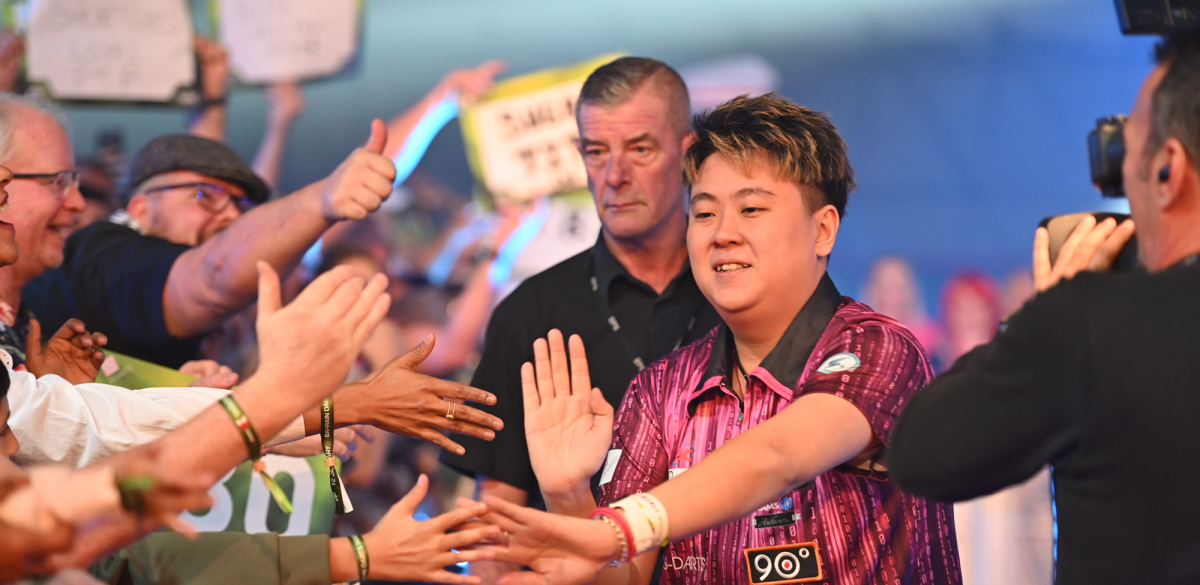 Hong Kong duo Lok Yin Lee and Man Lok Leung claimed titles alongside Japan's Jun Matsuda on the second weekend of PDC Asian Tour action in Seoul.

The Korea International Exhibition Center played host to Events 4-6 on March 25-26, with 135 players competing across two days of action in the South Korean capital.

Hong Kong youngster Lee claimed his maiden Asian Tour title with Event Four success, averaging over 90 to defeat former World Championship qualifier Keita Ono 5-2 in Saturday's opening event.

The 22-year-old recovered from 4-2 down to edge out legendary Singapore star Paul Lim in the semi-finals, surviving multiple match darts en route to scooping the £2,000 top prize.

However, 69-year-old Lim produced the performance of the tournament, averaging 106.9 in his opening round win over Kenichi Ajiki, before whitewashing Royden Lam in the last eight.

Event Five saw Matsuda overcome his compatriot Tomoya Goto to clinch his maiden PDC Asian Tour crown, after he ended Lee's hopes of back-to-back titles in the last 16.

Matsuda won through deciding-leg ties against Yong Gaweenuntavong, Lee and Shingo Enomata to seal his spot in the semi-finals, where he fired in four 180s to dispatch Joji Kanuma.

Goto, meanwhile, relinquished just four legs in reaching the final, whitewashing Leung in the last eight before brushing aside his fellow countryman Seigo Asada in the semi-finals.

Mikuru Suzuki was one of seven Japanese stars to make the Event Five quarter-finals, defeating her compatriots Yuta Hayashi and Toru Suzuki to continue her impressive start to the campaign.

Leung then celebrated his second Asian Tour title of 2023 in Sunday's Event Six, running out a 5-2 winner against Goto to condemn the Japanese thrower to back-to-back final defeats.

Leung – who impressed at January's Bahrain Darts Masters – edged out his compatriot Wai Kit Lee and Mongolia's Ganerdene Sharavsambuu in last-leg deciders, before whitewashing Masatsugu Irabu in the semi-finals.

Goto stormed through to Sunday's showpiece for the loss of just three legs, whitewashing Toru Suzuki and easing past Event Three winner Haruki Muramatsu in the process.

Leung boasts a $700 lead at the top of the Asian Tour Order of Merit following Event Six, after Event Two winner Lourence Ilagan missed out on the weekend's treble-header.

Matsuda and Goto occupy third and fourth spots respectively, with Event Four winner Lee leapfrogging Muramatsu into fifth position.

The PDC Asian Tour – which will see 24 events taking place across the continent in 2023 – continues on April 15-16, as Tacloban plays host to Events 7-9.
2023 PDC Asian Tour
Saturday March 25
Seoul, South Korea
Event Four
Quarter-Finals
Tomoya Goto 4-0 Arashi Matsumoto
Keita Ono 4-3 Seigo Asada
Paul Lim 4-0 Royden Lam
Lok Yin Lee 4-3 Yong Gaweenuntavong
Semi-Finals
Keita Ono 5-3 Tomoya Goto
Lok Yin Lee 5-4 Paul Lim
Final
Lok Yin Lee 5-2 Keita Ono
Event Five
Quarter-Finals
Tomoya Goto 4-0 Man Lok Leung
Seigo Asada 4-1 Keita Ono
Joji Kanuma 4-1 Mikuru Suzuki
Jun Matsuda 4-3 Shingo Enomata
Semi-Finals
Tomoya Goto 5-2 Seigo Asada
Jun Matsuda 5-1 Joji Kanuma
Final
Jun Matsuda 5-3 Tomoya Goto
Sunday March 26
Event Six
Quarter-Finals
Arashi Matsumoto 4-1 Yuta Hayashi
Tomoya Goto 4-1 Haruki Muramatsu
Man Lok Leung 4-3 Ganerdene Sharavsambuu
Masatsugu Irabu 4-2 Yoshihisa Baba
Semi-Finals
Tomoya Goto 5-1 Arashi Matsumoto
Man Lok Leung 5-0 Masatsugu Irabu
Final
Man Lok Leung 5-2 Tomoya Goto