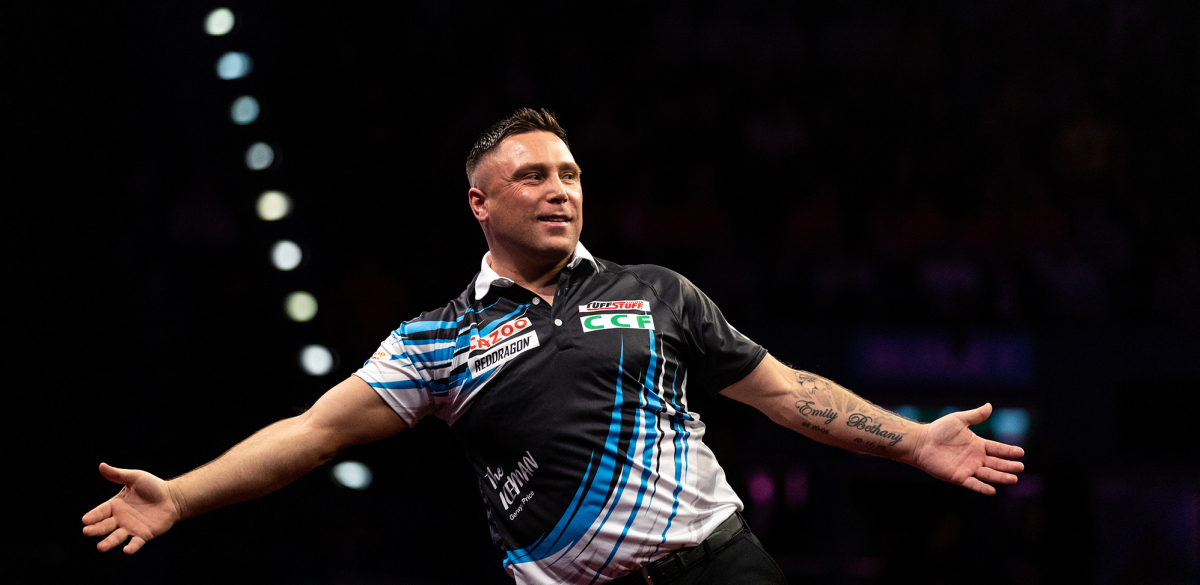 PDC Stats Analyst Christopher Kempf analyses the form men in world darts based on their last 200 legs played, ahead of this weekend's European Tour action in Austria...
#1 Averages - Gerwyn Price
#1 OChE - Gerwyn Price
#1 Doubles - Gerwyn Price
#1 171-180 - Michael Smith
#1 99, 101+ Checkout - Damon Heta & Radoslaw Szaganski
Gerwyn Price may not currently be the world number one, Pro Tour number one, or the Premier League number one, but if he continues playing as well as he has in the past few months, he could easily reclaim such accolades, alongside his current title of being the undisputed in-form player in professional darts.
Having accumulated 19 of his 27 Premier League points in the last five weeks, Price is now on the verge of overtaking Michael van Gerwen at the top of the table, after posting the two highest Premier League averages of the past five years over recent weeks.
His latest 115.97 scorcher in Brighton last Thursday brings his 200-leg average up to 102.70, nearly 3.5 points clear of the #2 player, Luke Humphries.
Similarly wide margins separate the Welshman from his rivals in scoring efficiency and doubles: the #2 finisher among Tour Card Holders is closer to the #20 ranked player than he is to Price at #1.
Moreover, after leading the way over recent weeks, Price still managed to be the most improved player in averages in the first two weeks of April - a similar improvement by May would put him at a level only reached by Van Gerwen and Phil Taylor at their very best.
José de Sousa - appearing in his first Pro Tour final in almost two years - has now thrown 80 maximums in his last 200 legs, placing him third amongst Tour Card Holders in that regard.
Having recently snapped a five-month streak of ProTour matches without a 100+ average, the dynamic Portuguese player is now winning 54% of legs, on average, against Pro Tour opponents, marking the first time in 2023 that his OChE has exceeded 50.
However, Dirk van Duijvenbode was still too much for him last weekend. 'The Aubergenius', who recorded an 8-3 victory over De Sousa in the Players Championship Ten final, has enjoyed a 200-leg OChE rating exceeding 60 for most of 2023.
Chris Dobey and Dimitri Van den Bergh are running out of time to qualify for the Premier League Play-Offs, falling seven and eight points behind the cut-off respectively, with five weeks of league action remaining.
Both are improving their averages and OChE scores relative to March, but Dobey (63rd) and Van den Bergh (106th) remain too inaccurate on their doubles at the moment to pose serious threats to the players just above them in the table.
However, the standard of ProTour players as a group fluctuates from week to week for no obvious reason.

Michael Smith - the winner of the German Grand Prix two weeks ago - currently holds a 96.81 average over his last 200 legs (which include the entirety of his tournament victory in Munich), but ranks only 12th on that statistic; three weeks ago the same average would have placed him 3rd.
It is also apparent how uneven improvements have been across different sections of the 128 Tour Card Holders.
Only six players remain with a 200-leg average less than 85; the majority of players on the Pro Tour 15 or 20 years ago would have been likely to fall into that category.
Yet at the top echelons, the number of players consistently able to average 100+ has remained constant - rarely more than one player falls into that category.
Does a 100 average represent an approximate limit to the refinement of hand-eye coordination and motor skills needed to play darts?
*OChE (Ordinal Checkout Efficiency) explained:
OChE is a metric designed to evaluate the efficiency at which players convert their averages into legs won.
The statistic is the % of legs a player would expect to win on the ProTour, calculated from a weighted average of 4,5, 6 & 7 visit checkout rates.