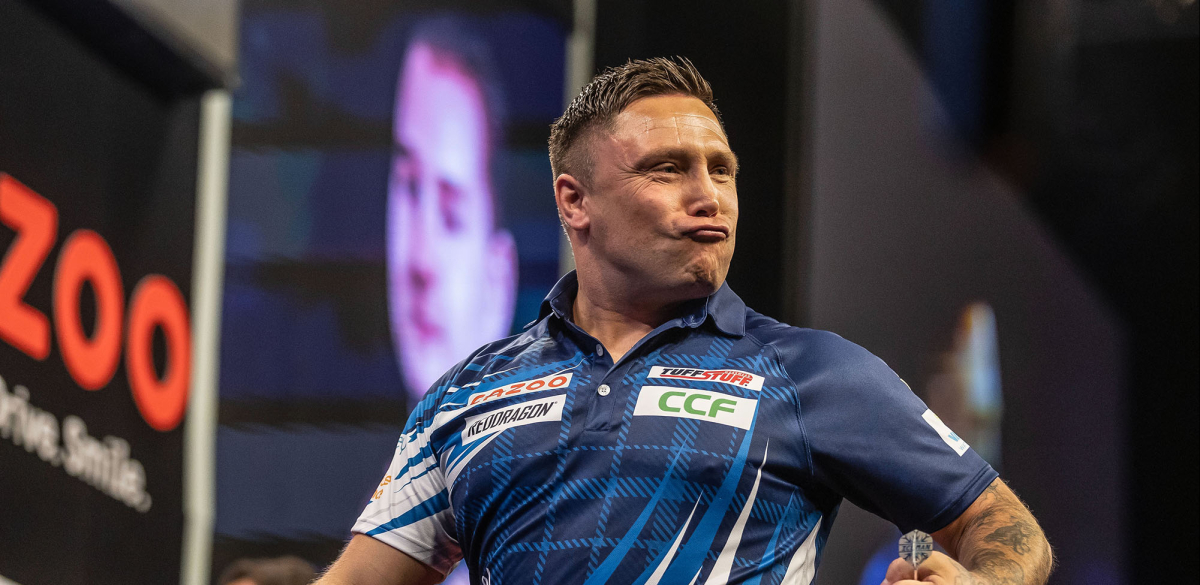 PDC Stats Analyst Christopher Kempf analyses the form men in world darts based on their last 200 legs played, ahead of this weekend's ProTour double-header in Leicester...
#1 Averages - Gerwyn Price
#1 OChE - Gerwyn Price
#1 Doubles - Jermaine Wattimena
#1 171-180 - Gary Anderson
#1 99, 101+ Checkout - Jonny Clayton
While Gerwyn Price continues on his three-month run at the top of the form rankings with a 101.86 average, the #2 spot in averages has been claimed by Chris Dobey, just days after his mathematical elimination from the Premier League. 

Dobey, who set a record for most 100+ losing averages in the Premier League, nonetheless has a lower OChE rating than league rival Jonny Clayton over their last 200 legs, even though Clayton's average is two points lower than Dobey's. 

The 81 maximums (third most in the PDC) thrown by Dobey have often gone to waste, as he has followed them up with a doubles percentage that leaves him 51st among Tour Card Holders, and despite his strong start to the year, Dobey has yet to appear in a Pro Tour quarter-final in 2023.

Meanwhile, Peter Wright appears headed for last place in the Premier League and ranks outside the top 25 in all the relevant performance statistics over 200 legs, yet emerged as the Czech Open champion over the weekend.

Had Brendan Dolan not averaged 75 while throwing for the match against Wright in their match on Saturday, a different champion might have been crowned. 

The 44 legs that Wright played on Sunday represent less than a quarter of his 200-leg stats (yielding an increase of only 0.87 points to his averages).

Wright's Premier League struggles are still weighing down his stats, but indicate a dramatic return to form for the two-time World Champion that, if replicated, might augur a rise back up through the power rankings from his current position of 28th.

Most players would consider it a great achievement to have the tenth highest average among PDC Tour Card Holders, but for Michael van Gerwen it contributes to a narrative about his gradual decline in form. 

Winning eight European Tour titles, as he did in 2018, is probably not achievable in the current state of the PDC, but even his one win of 2023 (last week in Belgium) did not demonstrate the virtuosity to which many fans have become accustomed. 

He would only win 56.7% of legs against Pro Tour opponents on his current form, more than 3 points in OChE behind his old rival Gary Anderson, who has publicly mulled retirement, and five points behind the leading Dutchman, 21-year-old Gian van Veen.

There is some consolation for Van Gerwen in the three deciding legs he has won in his last two Euro Tour appearances, and in the knowledge that his 28-decider win streak record for the European Tour is safe - the longest streak held by an active player is five.
Just weeks before the 2023 US Darts Masters, Matt Campbell of Canada has emerged as the most improved player of the last month, with the largest increases in both his average and his winning efficiency of any Tour Card Holder.

In 2023, Campbell has qualified for six of ten European Tour events, and produced the first 100+ average of his career in a ranking PDC stage event on May 6, all while increasing his OChE ranking to 52.37 - indicative that he would win a majority of his legs against Pro Tour opponents.

These achievements are all the more impressive given the very low number of 180s and ton-plus finishes he has recorded, for even if he is not doing spectacular, crowd-pleasing things on stage, he remains a potent threat in spite of it.
*OChE (Ordinal Checkout Efficiency) explained:
OChE is a metric designed to evaluate the efficiency at which players convert their averages into legs won.
The statistic is the % of legs a player would expect to win on the ProTour, calculated from a weighted average of 4,5, 6 & 7 visit checkout rates.