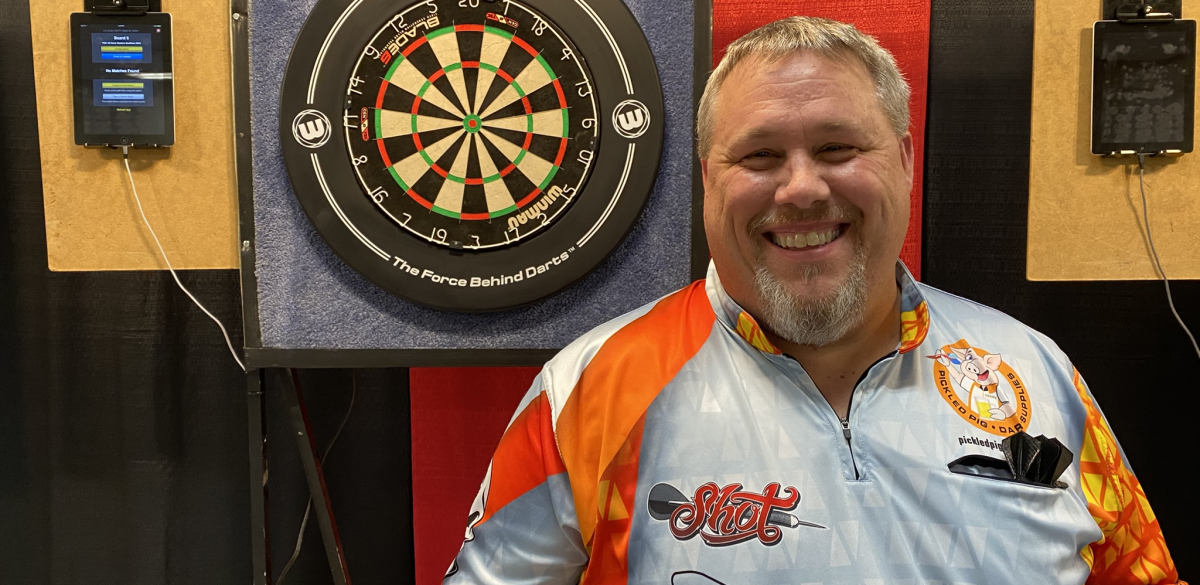 New faces Jason Brandon, JT Davis and Jake Macmillan are the final three players to qualify for the 2023 bet365 US Darts Masters, with the 16-player field now confirmed for June's Madison Square Garden event.
American duo Brandon and Davis each won one of last weekend's two North American qualification events, while Canada's Macmillan secured his place via the Qualifiers Order of Merit.
All three players will make their televised debuts at the US Darts Masters, which will take place from June 2-3 in The Theater at Madison Square Garden, New York.
In addition, the trio will compete in the eight-player bet365 North American Championship on June 3, which offers a spot in the World Darts Championship for the winner.
Last weekend saw two qualifying events take place in Brownsburg, Indiana as North America's top talents battled it out for coveted places at the iconic MSG.
Brandon, 48, from Tennessee, averaged 95.81 in a 5-1 defeat of Macmillan in the Qualifier One final, having defeated 2019 North American Championship winner Danny Baggish 5-4 in the semi-finals.
Qualifier Two saw Davis - a 27-year-old from Springfield, Ohio - defeat Elliot Milk 5-2 in the final, having overcome veteran duo Larry Butler and Gary Mawson in the quarter-finals and semi-finals respectively.
Canada's Macmillan - a 31-year-old from Smiths Falls in Ontario who reached the last 16 in Qualifier Two - sealed the third qualification place by virtue of his standing on an Order of Merit based on results across the weekend's two events.
The US Darts Masters will be the year's third World Series of Darts event - following January's double-header in Bahrain and Copenhagen - and sees the likes of World Champion Michael Smith and superstars Michael van Gerwen, Peter Wright and Gerwyn Price competing in New York.
Alongside the US Darts Masters, the bet365 North American Championship will also be staged at MSG, as the eight North American competitors face off for that title and a spot in the World Darts Championship.
Leonard Gates won last year's North American Championship, defeating Baggish in the final - but both American stars missed out on qualification this time around.
PDC Tour Card Holders Jeff Smith, Matt Campbell and Jules van Dongen spearhead the North American representatives, alongside CDC Continental Cup winner Alex Spellman and CDC Cross-Border Challenge runner-up Jim Long.
The US Darts Masters will be broadcast live worldwide, with coverage in North America via DAZN in addition to broadcasts through MSG Networks in the Tri-State Area.
Global broadcast partners include ITV4, DAZN and Viaplay as well as PDCTV (excluding subscribers based in Germany, Austria & Switzerland).
CLICK HERE TO BOOK TICKETS FOR THE 2023 US DARTS MASTERS & NORTH AMERICAN CHAMPIONSHIP

2023 bet365 US Darts Masters
North American Qualifier One
Quarter-Finals
Jake Macmillan 5-4 Jacob Taylor
Leonard Gates 5-0 Steve Warnock
Danny Baggish 5-1 Danny Lauby
Jason Brandon 5-2 Joey Lynaugh
Semi-Finals
Jake Macmillan 5-2 Leonard Gates
Jason Brandon 5-4 Danny Baggish
Final
Jason Brandon 5-1 Jake Macmillan
North American Qualifier Two
Quarter-Finals
Elliot Milk 5-2 Stowe Bunts
Matt Arpin 5-3 Joey Lynaugh
Gary Mawson 5-2 Seth Steffano
JT Davis 5-3 Larry Butler
Semi-Finals
Elliot Milk 5-3 Matt Arpin
JT Davis 5-1 Gary Mawson
Final
JT Davis 5-2 Elliot Milk

Competing Players
PDC Representatives
Michael Smith
Peter Wright
Michael van Gerwen
Gerwyn Price
Rob Cross
Luke Humphries
Dimitri Van den Bergh
Nathan Aspinall
 
North American Representatives & North American Championship Field
Jeff Smith
Matt Campbell
Jules van Dongen
Alex Spellman
Jim Long
Jason Brandon
JT Davis
Jake Macmillan
Session Schedule
Friday June 2 (1900 local time)
bet365 US Darts Masters first round
Saturday June 3
Afternoon Session (1300 local time)
bet365 North American Championship quarter-finals, semi-finals & final
Evening Session (1900 local time)
bet365 US Darts Masters quarter-finals, semi-finals & final