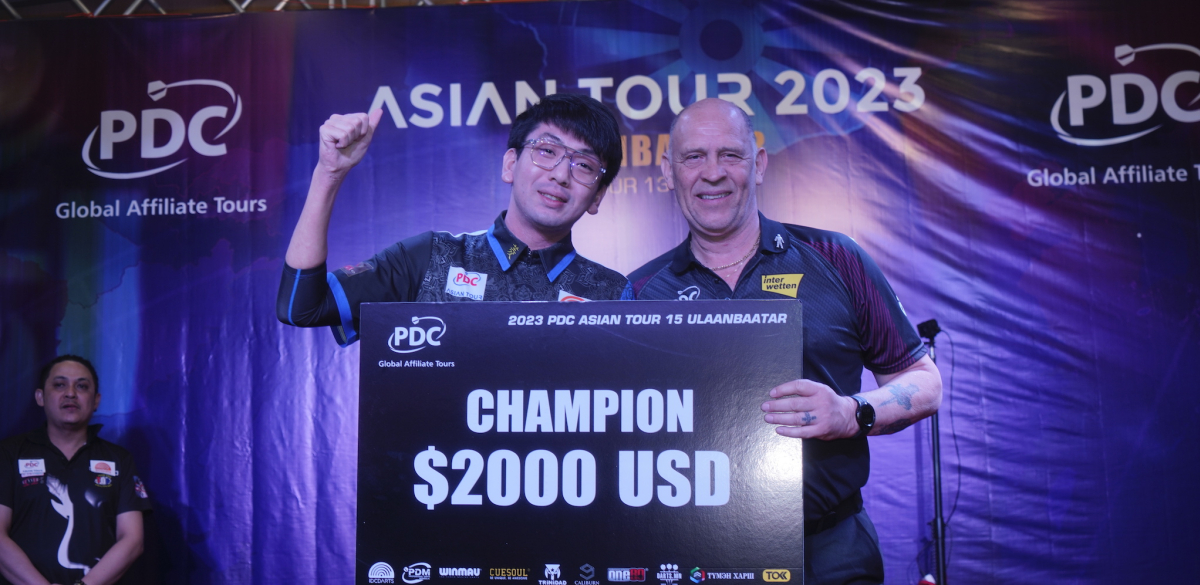 Xiaochen Zong and Nitin Kumar celebrated maiden titles as the 2023 PDC Asian Tour continued in Ulaanbaatar last weekend.

The Triple Event Hall played host to a landmark weekend of action in the Mongolian capital, with 136 players competing in Events 13-15 on May 27-28.

Reigning PDC China Premier League champion Zong was the star of the show, claiming a brace of titles to catapult himself up to fifth position on the Asian Tour Order of Merit.

Zong – twice a World Championship qualifier - relinquished just nine legs in his seven matches, defeating Altantulkhuur Myagmarsuren 5-2 to secure the $2,000 top prize in Event 13.

The 25-year-old stormed through to the last eight in emphatic style, whitewashing India's number one Kumar before overcoming Purevloov Tungalag in a last-leg shoot-out to advance to the semi-finals.

There, Zong recorded a 5-2 victory against Tuvshinbayar Sarangerel to set up a showdown against Myagmarsuren, where he produced a spectacular 160 checkout en route to another 5-2 success.

However, Kumar avenged his Event 13 defeat to Zong by dumping out China's darting trailblazer in the last 32 of Event 14, before going on to lift his maiden Asian Tour crown.

Kumar – twice a runner-up on the PDC Asian Tour in 2023 – continued his charge with wins over Yuanjun Liu and Lihao Wen, later dumping out Hong Kong's World Cup star Lok Yin Lee in the semi-finals.

Kumar took on Singapore icon Paul Lim in the Event 14 decider, and it was Kumar who triumphed in a deciding-leg shoot-out to become the first Indian winner of a PDC Asian Tour event.

Zong then returned to winning ways in Event 15, racing to an emphatic 5-1 victory over Japan's Jun Matsuda to cap off a terrific weekend in Mongolia.

Zong – who will represent China at next month's World Cup of Darts – won through a deciding-leg tie against Munkhbaatar Gonchigdorj in round two, before conceding just five more legs en route to glory.

Despite not featuring in Events 13-15, Filipino star Lourence Ilagan boasts a $3,100 lead at the top of the Asian Tour Order of Merit, with Matsuda in second position.

Hong Kong's emerging star Man Lok Leung occupies third spot, with Kumar and Zong rising to fourth and fifth respectively, meaning the top five is currently occupied by five different nations.

The PDC Asian Tour – which sees 24 events taking place across the continent in 2023 – continues on July 1-2, with Events 16-18 set to be held in Singapore.
2023 PDC Asian Tour
Saturday May 27
Ulaanbaatar, Mongolia
Event 13
Quarter-Finals
Jun Matsuda 4-2 Nyamdorj Dorjsuren
Altantulkhuur Myagmarsuren 4-2 Yuanjun Liu
Tuvshinbayar Sarangerel 4-3 Jargalsaikhan Ulziibuyan
Xiaochen Zong 4-3 Purevloov Tungalag
Semi-Finals
Altantulkhuur Myagmarsuren 5-4 Jun Matsuda
Xiaochen Zong 5-2 Tuvshinbayar Sarangerel
Final
Xiaochen Zong 5-2 Altantulkhuur Myagmarsuren
Event 14
Quarter-Finals
Jun Matsuda 4-1 Dulguun Gantumur
Paul Lim 4-1 Bolor-Erdene Batdelger
Lok Yin Lee 4-1 Munkhbayar Batbold
Nitin Kumar 4-0 Lihao Wen
Semi-Finals
Paul Lim 5-3 Jun Matsuda
Nitin Kumar 5-3 Lok Yin Lee
Final
Nitin Kumar 5-4 Paul Lim
Sunday May 28
Event 15
Quarter-Finals
Temuujin Oyunchimeg 4-3 Narangerel Altantuya
Xiaochen Zong 4-1 Ganzorig Sharavsambuu
Jun Matsuda 4-0 Altantulkhuur Myagmarsuren
Alain Abiabi 4-2 Munkh-Erdene Munkh-Ochir
Semi-Finals
Xiaochen Zong 5-1 Temuujin Oyunchimeg
Jun Matsuda 5-4 Alain Abiabi

Final
Xiaochen Zong 5-1 Jun Matsuda