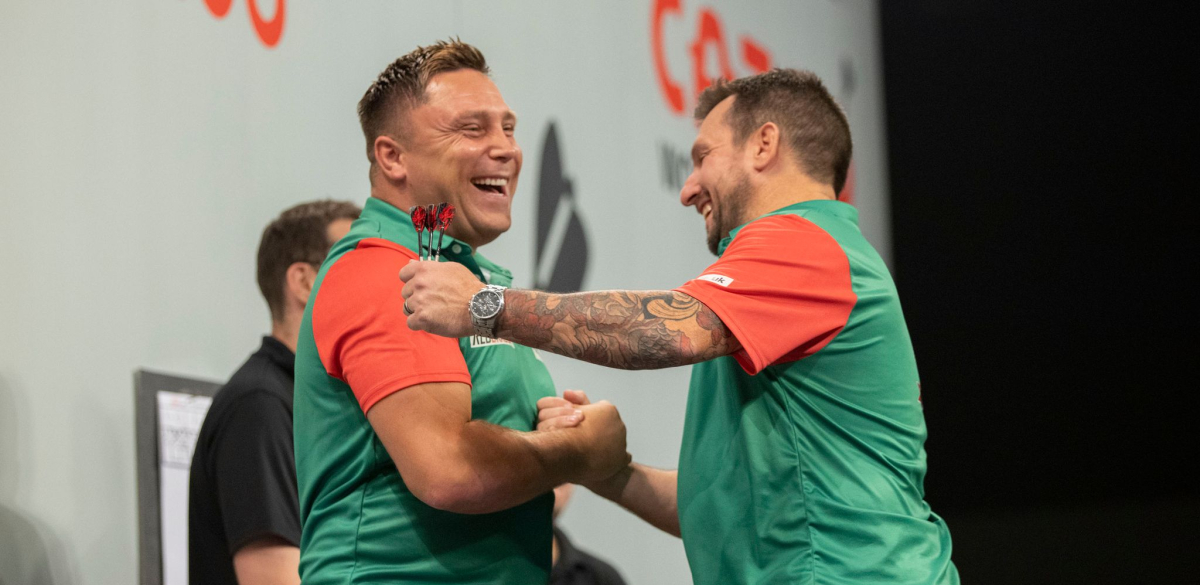 PDC Stats Analyst Christopher Kempf assesses the top ten PDC stars competing in the 2023 My Diesel Claim World Cup of Darts - based on their last 200 legs played - ahead of this year's tournament in Frankfurt...
#1 Averages - Gerwyn Price
#1 OChE - Gerwyn Price
#1 Doubles - Dirk van Duijvenbode
#1 171-180 - Gerwyn Price
#1 99, 101+ Checkout - Jonny Clayton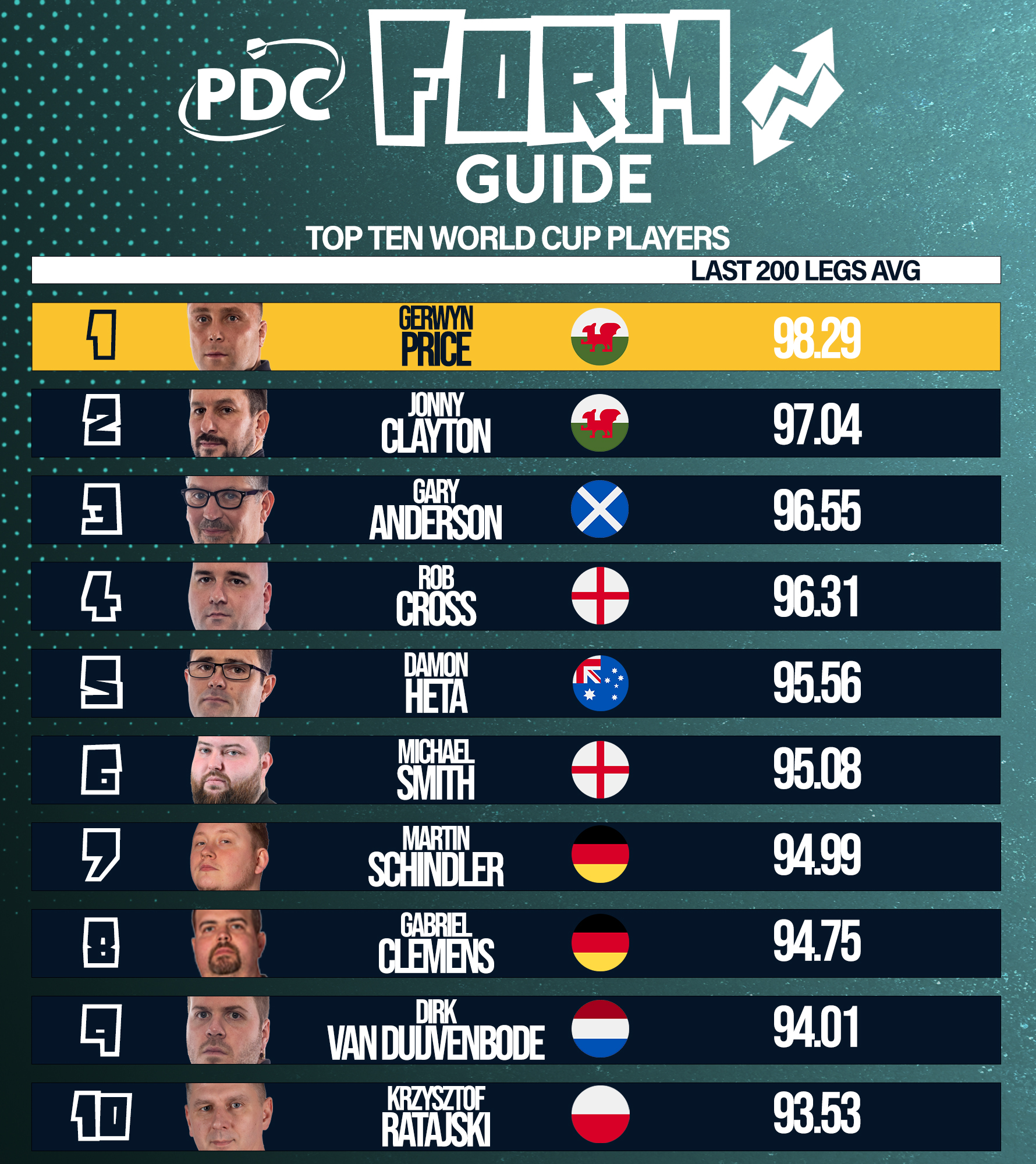 Gerwyn Price has finally surrendered his place at the top of the form rankings to Luke Humphries, but the Welsh duo of Price and Jonny Clayton figures to be the strongest team at this weekend's World Cup of Darts, with Humphries just missing out on a debut in this year's event.

Their stats are well matched to compensate for one another's weaknesses: Price is tied for second with 79 scores of 171-180 - behind Chris Dobey - in the past 200 legs, nearly twice as many scored by his teammate.
Meanwhile, Clayton leads all Tour Card Holders with 23 ton-plus finishes, having completed far more 121 finishes than any other player, while setting a stunning 53% benchmark for accuracy on double eight.
Both players' averages are above 97 and would win 58% of legs against average ProTour opponents.
On both stats, both Welshmen outrank their first-seeded rivals, and have half of the Dutch team (Danny Noppert, ranked 44th among Tour Card holders in OChE) totally dominated.
Simon Whitlock has appeared in every World Cup since the tournament's inception, but never before has he had such a strong partner as Damon Heta.
Not only are the two men defending World Cup champions, Heta comes into the tournament having won Players Championship 14 - his fifth ranking title - and having boosted his OChE to 57.5.
Of the Tour Card Holders who will contest this year's World Cup, only Price and Clayton have an advantage on him in this respect.
Whitlock, on the other hand, is in the midst of a six-year ranking title drought and ranks 55th among Tour Card Holders in averages, but continues to fire off 180s at an impressive rate after nearly 15 years of PDC competition.
The Australian team has combined to throw maximums at a rate of 0.35 per leg, the highest of any team in the tournament.
An impressive showing from Gary Anderson in Players Championships 13-14, which nearly won him a title on Monday, has kept the Scottish veteran in the top 10 for both averages and OChE.
Since the 2019 World Cup, which saw him and Peter Wright take top honours, Wright has become a two-time World Champion - but looks to be the weaker link in the team this time around.
His eighth-place finish in the Premier League and 80.58 combined average in Hildesheim have left him out of the conversation for winning titles. For his last 200 legs, Wright is ranked 58th in OChE and 108th in doubles percentage, well behind Anderson.
The format change to the World Cup makes it impossible for one player to carry the team - if Scotland are to win a third title, Wright will need to substantially outperform the level of his recent stats.
*OChE (Ordinal Checkout Efficiency) explained:
OChE is a metric designed to evaluate the efficiency at which players convert their averages into legs won.
The statistic is the % of legs a player would expect to win on the ProTour, calculated from a weighted average of 4,5, 6 & 7 visit checkout rates.
Follow Christopher on Twitter @ochepedia