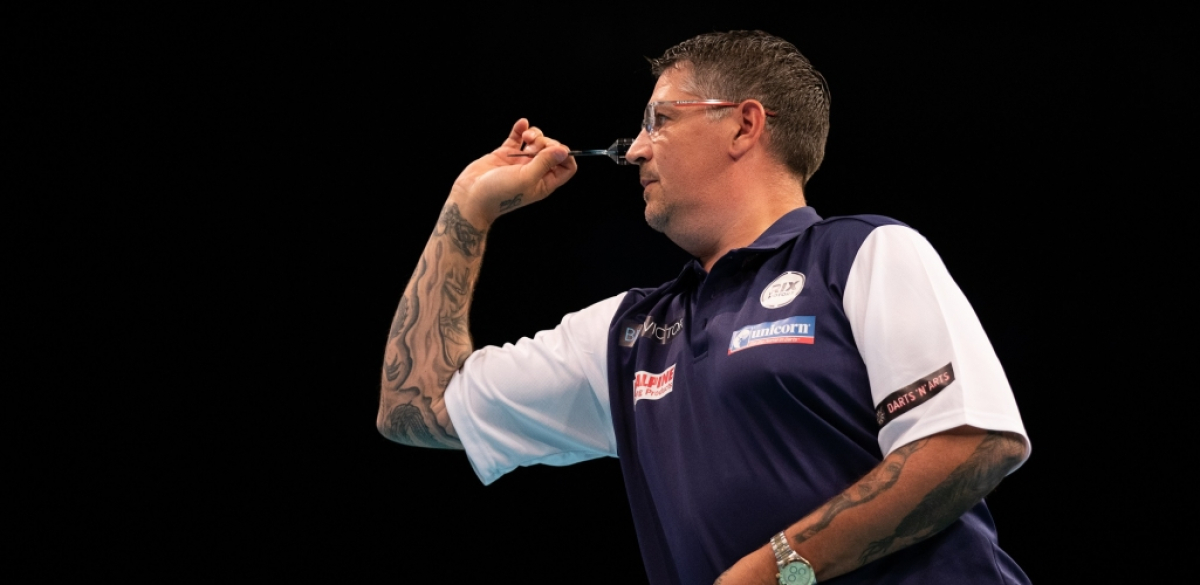 Gary Anderson insists he has rediscovered his hunger for the sport, as he prepares to make his World Cup of Darts return following a four-year hiatus.

Anderson will partner world number two Peter Wright for two-time winners Scotland in the revamped My Diesel Claim World Cup of Darts, which began at Frankfurt's Eissporthalle on Thursday night.

The Scottish duo will enter the tournament at Saturday's second round stage by virtue of being in the top four ranked nations, and Anderson is relishing the chance to don his country's colours once again.

"It's been a while," quipped Anderson, who steered Scotland to a maiden World Cup crown alongside Wright in their last appearance as a partnership in 2019.

"It has been four years since me and Peter lifted the title, so it will be good to get back playing.

"In any sport, if you can win anything for your country, even if it's dominoes, it's a fantastic achievement. 

"I've represented my country many times, even in the BDO. I remember playing my first county internationals and winning that. It is a great feeling to put that shirt on."

Anderson was due to return to World Cup action last year, but he graciously stepped aside for his fellow countryman John Henderson, who triumphed alongside Wright in the 2021 edition.

"For me it was the right thing to do," explained the 52-year-old, who will be making his ninth World Cup appearance this weekend.

"Peter and John won it, and I believe you've got to give them a chance to retain their title.

"Unfortunately it didn't happen, so we're back to young, handsome-looking Anderson on the team!

"It will be good to play. Pairs is a hard game to get into but I think we will do alright."

Anderson arrives in Frankfurt brimming with confidence, having enjoyed an impressive resurgence in 2023 – ending a three-year title drought with a Players Championship title in March.

The two-time World Champion also reached Monday's Players Championship 13 final in Hildesheim, succumbing to world number one Michael Smith in a thrilling last-leg shoot-out.

Only Nathan Aspinall and Luke Humphries boast a higher seasonal ProTour average than Anderson, who is poised to qualify for next month's World Matchplay via the ProTour Order of Merit.

"I'm playing well. I'm just playing darts again. I've told everyone I have not being playing the last three years, I just wasn't," added the 2018 World Matchplay winner.

"I am back practicing too. I try to do a Monday and Wednesday night and do a good few hours with Ryan Searle. We will do 60, 70, 80 legs that night and it's proper darts. 

"It is coming on leaps and bounds. It is giving me the hunger back again, so it's going well. I've got no pressure. I'm just chucking darts.

"I never have a target. I turn up, you never know what will happen, and I'm just enjoying doing what I'm doing. It's working fine for me."

Despite languishing outside the world's top 20, Anderson could hold the key in Scotland's bid for a third World Cup crown, with Wright struggling for consistency over recent months.

However, the radical new format will add a fresh dynamic to this year's showpiece, with Pairs matches being played throughout the expanded 40-team competition.

The Musselburgh veteran believes the Doubles-only format – combined with the cut-throat group stage – could make it the most unpredictable World Cup since the tournament's inception in 2010.

"You have got England, Scotland, Netherlands, Republic of Ireland, Northern Ireland and Wales - [but] I think you need to start looking further afield," added Anderson.

"Some teams who you think won't have a chance... it's Pairs, anything can happen in Pairs.

"If a country comes through with a player that is not even ranked in the top 100, it wouldn't be a surprise. Pairs is a funny game and it will be great to play in and see what happens."
The My Diesel Claim World Cup of Darts will be broadcast on Sky Sports for viewers in the UK & Ireland, through the PDC's international broadcast partners, including DAZN and Viaplay, and on PDCTV for Rest of the World Subscribers.
2023 My Diesel Claim World Cup of Darts
Eissporthalle, Frankfurt
June 15-18
Seeded through to Second Round
(1) England
(2) Wales
(3) Netherlands
(4) Scotland
Group Stage Draw
Group A
(5) Belgium
Finland
China
Group B
(6) Germany
Hong Kong
Japan
Group C
(7) Australia
Guyana
Gibraltar
Group D
(8) Northern Ireland
France
Ukraine
Group E
(9) Republic of Ireland
Thailand
Croatia
Group F
(10) Austria
Denmark
USA
Group G
(11) Poland
Portugal
Lithuania
Group H
(12) Canada
India
Hungary
Group I
(13) Czech Republic
Singapore
Philippines
Group J
(14) Spain
South Africa
Iceland
Group K
(15) Latvia
New Zealand
Bahrain
Group L
(16) Switzerland
Italy
Sweden
Draw Bracket – Second Round onwards
(1) England v
v
(4) Scotland v
v
(2) Wales v
v
(3) Netherlands v
v