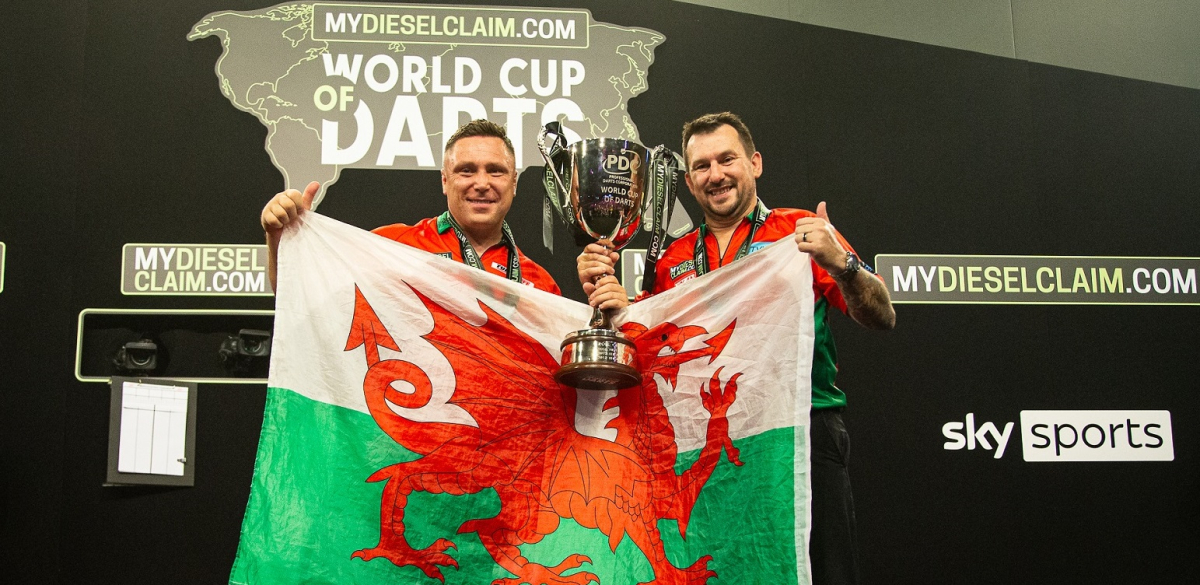 The Welsh victory in the 2023 My Diesel Claim World Cup of Darts has seen Gerwyn Price and Jonny Clayton receive an unusual message of congratulation.
Price and Clayton teamed up in Germany last weekend to secure a second World Cup title in four years for Wales, as they raced past Scotland in the final.
The success has led to celebrations across their home country - and has also seen history created after they were congratulated in the Welsh Parliament in a speech written by artificial intelligence chatbot ChatGPT.
The speech was written by Tom Giffard, a Conservative Member of the Senedd for South Wales West, who told BBC Wales that he had used the unique method "to show just how advanced the technology is becoming".
The full statement was:
Diolch yn fawr iawn, Llywydd, and I'm delighted to be here today to celebrate the historic achievement of the Welsh team in the PDC World Cup of Darts 2023.
As you all know, our team of Gerwyn Price and Jonny Clayton lifted the trophy in Frankfurt last Sunday after a stunning 10-2 victory over Scotland in the final. They showed incredible skill, nerve and teamwork throughout the tournament, beating some of the best teams in the world, including England, Sweden and Belgium.
This is a proud moment for Wales and for darts as a sport. We've always had a passion for darts, I think, in our country and our team has always inspired a new generation of fans and players with their performance.
They've also shown the world that Wales is a nation of champions, capable of competing and winning at the highest level, and I'd like to congratulate Gerwyn and Jonny on behalf of the Welsh Parliament and the whole nation.
You've done us all proud and we're all grateful for your dedication and talent. You are true ambassadors for Wales and for darts.
I'd also like to thank the organisers, officials and fans of the event who made it possible and successful. The World Cup of Darts is a fantastic showcase of the diversity, excitement and camaraderie of this sport.
It brings people together from different countries and cultures united by the love of darts. I hope you all enjoy this celebration and join me in celebrating our Welsh heroes. Long live Wales and long live darts.
And you might think that's an odd ending to a speech, Llywydd, but I can declare an interest, to say that was the first speech, I think, made in this Chamber written by ChatGPT.