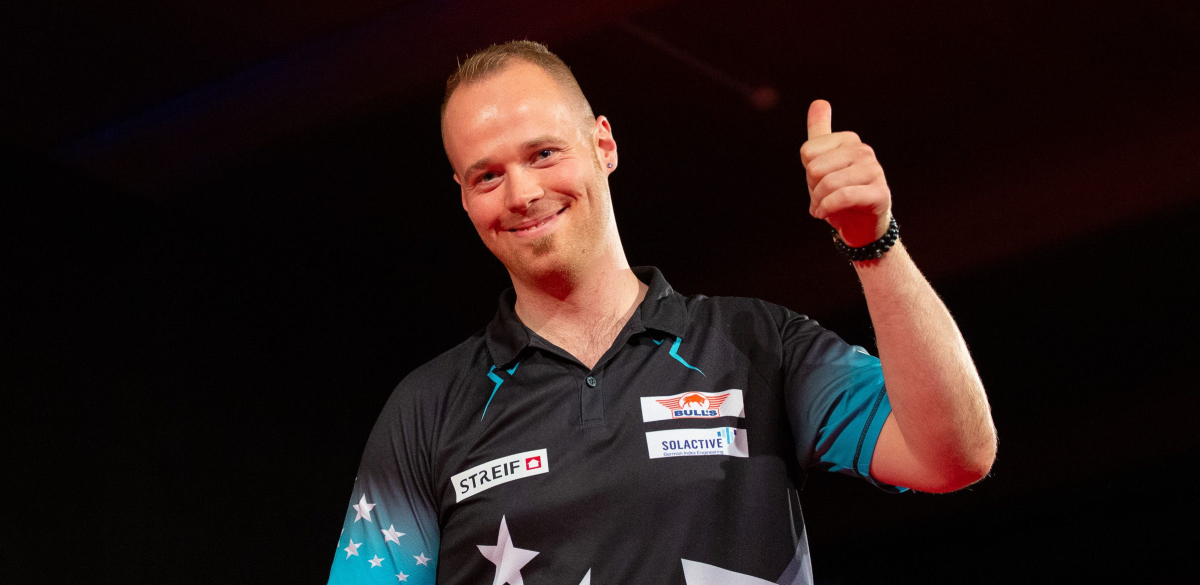 The HYLO PDC Europe Super League will return in November, as Germany's top stars battle it out for a place in the 2023/24 Paddy Power World Darts Championship.

The PDC Europe Super League will return for its latest staging from November 7-10, as 24 of Germany's biggest talents compete for Alexandra Palace qualification across four days of action in Bitburg.

Two-time PDC ranking event winner Max Hopp, 2020 champion Nico Kurz and last year's runner-up Niko Springer headline this year's field, as 14 of the top 16 players from last year's tournament make their return.

Former World Championship qualifiers Dragutin Horvat and Rene Eidams will also feature, alongside Tour Card Holder Daniel Klose, former UK Open qualifier Lukas Wenig and emerging talent David Schlichting.

Florian Hempel defeated Springer in dramatic fashion to clinch last year's title, but the former handball star is not eligible to compete in 2023 under PDC Rule 3.9.

Ricardo Pietreczko will also not participate, with the diminutive German poised to secure World Championship qualification via the ProTour Order of Merit.

Four wildcards have been awarded by PDC Europe for this year's event, with young duo Pascal Rupprecht and Liam Maendl-Lawrance rewarded for their impressive performances in 2023.

Christopher Toonders – a winner on the Winmau Development Tour earlier this year – has also been included alongside Steffen Siepmann, who was forced to withdraw through illness in 2022.

The first two days of the 2023 PDC Europe Super League will see players compete against each other twice, in four groups of six, with the bottom two players from each group eliminated from the tournament.

Day Three will then feature the last 16 stage, before the quarter-finals, semi-finals and final take place on a bumper Finals Day, which will be broadcast live on SPORT1 and PDCTV.

"We are very happy that our partners HYLO and SPORT1 are once again by our side this year and that we can once more offer a great stage to the German darts elite," said Werner von Moltke, Chairman of PDC Europe.

"We decided to honour the performances of Pascal Rupprecht and Liam Maendl-Lawrance, who both enjoyed a really good debut year.

"In addition, Christopher Toonders' victory on the Development Tour should also be rewarded, and Steffen Siepmann returns to the Super League after he had to withdraw last year due to illness."

The remaining six places in this year's PDC Europe Super League will be confirmed later this year, with four qualifying events set to take place in Hildesheim on October 10-11.

The winner of each qualifying event will secure their spot in November's showpiece, while the top two players on the Order of Merit following the four qualifiers will make up the 24-player field.

Registrations are only possible for German citizens via the PDC Player Entry System. Players who have never registered for an event through this system before must first register HERE.
2023 HYLO PDC Europe Super League
Participating players
Max Hopp
Dragutin Horvat
Rene Eidams
Lukas Wenig
Nico Kurz
Marcel Gerdon
Kai Gotthardt
Niko Springer
Franz Rötzsch
Daniel Klose
Liam Maendl-Lawrance
Christopher Toonders
David Schlichting
Manfred Bilderl
Michael Hurtz
Marco Obst
Pascal Rupprecht
Steffen Siepmann
x6 Qualifiers TBC