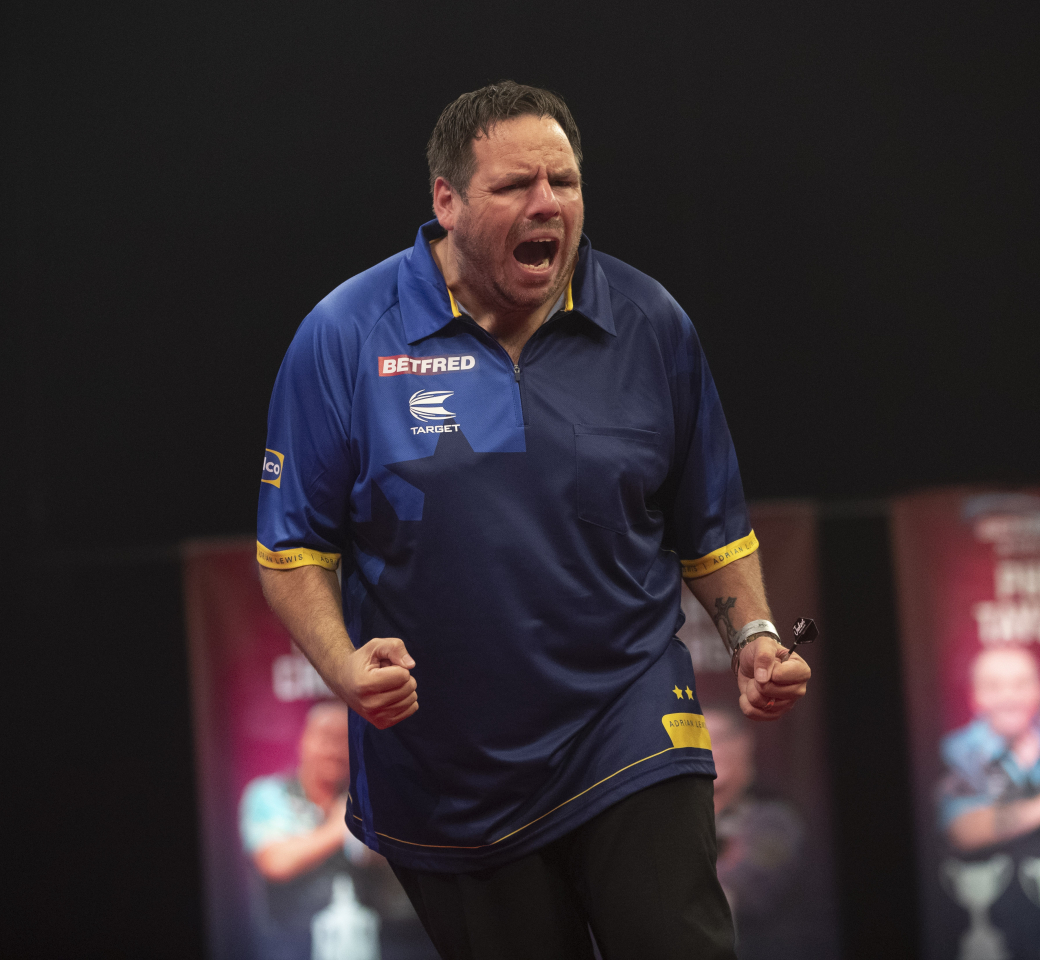 Adrian Lewis
Jackpot
PDC World Ranking

39

Televised titles

9

Non-Televised PDC Titles

16

Televised Nine-Dart Finishes

5
Walk-On Music

Reach Up - Perfecto Allstarz

Date of Birth

January 21 1985

Darts Used

21g

Target

Home Town

Weston, Stoke-on-Trent

Twitter

@jackpot180
FLAMBOYANT, heavy-scoring and entertaining, Adrian has established himself amongst the sport's leading stars over the past decade since emerging as a teenage prodigy.
A former practice partner of another Stoke ace, Phil Taylor, when he first broke through, Lewis has since developed a thrilling on-stage rivalry with darts' greatest-ever player during his own rise to the top of the game, as well as a partnership which yielded four PDC World Cup of Darts titles from 2012-2016.
Lewis' first ranking title came in 2004 and seven more PDC wins would follow before he finally tasted glory in a televised event - but Lewis did it in typical style with a stunning nine-darter as he defeated Gary Anderson in the 2011 World Championship final.
Anderson would gain revenge in the Premier League final four months later, but Lewis went on to become only the third player in the sport's history to successfully defend their first World Championship when he overcame Andy Hamilton at Alexandra Palace in 2012.
A third TV title followed at the 2013 European Championship before he was crowned as the UK Open champion in March 2014.
Lewis went on to reach the final at the Players Championship Finals in November 2014, losing out to Anderson to match appearance sin the 2010 World Grand Prix and 2013 Masters finals, where James Wade and Taylor denied him other big titles.
Also a two-time semi-finalist in the Grand Slam of Darts, his 2013 defeat to Taylor in Wolverhampton saw Lewis hit 18 maximum 180s and averaged 110.99 in one of the greatest individual displays ever seen.
Lewis achieved a further piece of history at the 2015 World Championship with another brilliant nine-dart finish, although the perfect leg came in a defeat to Raymond van Barneveld at Alexandra Palace.
He went on to win one UK Open Qualifier and two Players Championships before reclaiming the World Cup of Darts title alongside Taylor in June 2015, defeating Scottish duo Anderson and Peter Wright in the final.
Lewis then followed up a run to the Sydney Darts Masters final by claiming the inaugural Auckland Darts Masters title, edging out Taylor in the semi-finals and Van Barneveld in a thrilling final.
Lewis then reached further finals at the 2015 Players Championship Finals - where Michael van Gerwen took victory - and in his bid to win a third World Championship title, where Anderson would deny him in the decider at Alexandra Palace.
A UK Open Qualifier win was followed by a nine-dart finish against Wade in the 2016 Premier League in Belfast before he reached the semi-finals of that event, while a fourth World Cup title was followed by Lewis reaching the final in his defence of the Auckland Darts Masters crown only to be denied by Anderson.
Semi-Final appearances in the 2016 World Matchplay and 2017 Masters followed before Lewis landed another nine-darter in the Premier League, this time against Van Barneveld in Liverpool, to follow another Players Championship win.
Lewis reached the semi-finals of the 2017 World Cup of Darts alongside Dave Chisnall before making the final four at the World Matchplay later in the year.
In March 2019, Lewis claimed his first title in almost two years, defeating Raymond van Barneveld 8-3 in the final of Players Championship 8 to rack up the 25th PDC title of his career.
Player Stats
Select below to see result & roll of honour information.
| | |
| --- | --- |
| PDC World Championship | 2011, 2012 |
| UK Open | 2014 |
| European Championship  | 2013 |
| World Cup of Darts | 2012, 2013, 2015, 2016 |
| Auckland Darts Masters | 2015 |
| | |
| --- | --- |
| German Darts Masters | 2012 |
| Players Championship | 2005, 2006, 2009 (x2), 2010 (x2), 2013, 2015 (x2), 2017, 2019 |
| UK Open Qualfier | 2005, 2011, 2015, 2016 |
| | | |
| --- | --- | --- |
|   | Most Recent | Best Performance |
| 2022 WORLD CHAMPIONSHIP | Last 64 | Winner - 2011, 2012 |
| 2021 UK OPEN | Last 64 | Winner - 2014  |
| 2021 WORLD MATCHPLAY | - | Runner Up - 2013 |
| 2021 WORLD GRAND PRIX | - | Runner Up - 2010 |
| 2021 EUROPEAN CHAMPIONSHIP | - | Winner - 2013 |
| 2021 GRAND SLAM OF DARTS | - | Semi Final - 2011, 2013 |
| 2021 PLAYERS CHAMPIONSHIP FINALS | Last 32 | Runner Up - 2014, 2015 |
| | | |
| --- | --- | --- |
|   | Most Recent | Best Performance |
| 2021 THE MASTERS | Quarter Final | Runner Up - 2013 |
| 2021 PREMIER LEAGUE | - | Runner Up - 2011 |
| 2021 WORLD CUP OF DARTS  | - | Winner - 2012, 2013, 2015, 2016 |
| 2021 NORDIC DARTS MASTERS | - |   |
| 2021 WORLD SERIES OF DARTS FINALS | - | Semi Final - 2015 |
| | | |
| --- | --- | --- |
| TOURNAMENT WIN | Players Championship 8 (March 2019) | beat Raymond van Barneveld 8-3 |
| FINAL | Players Championship 24 (October 2021) | lost to Dimitri Van den Bergh 8-5 |
| SEMI FINAL | Players Championship 24 (October 2021) | beat Dave Chisnall 7-4 |
| QUARTER FINAL | Players Championship 24 (October 2021) | beat Ryan Searle 6-2 |
| | | |
| --- | --- | --- |
| WORLD CHAMPIONSHIP | Last 64 | lost to Danny Baggish 3-1 |
| THE MASTERS | Quarter Final | lost to Gerwyn Price 10-6 |
| PLAYERS CHAMPIONSHIP 1 | Last 128 | lost to Alan Soutar 6-5 |
| PLAYERS CHAMPIONSHIP 2 | Last 64 | lost to Jeff Smith 6-5 |
| PLAYERS CHAMPIONSHIP 3 | Last 64 | lost to Mervyn King 6-5 |
| PLAYERS CHAMPIONSHIP 4 | Last 64 | lost to Jesus Noguera 6-3 |
| UK OPEN | Last 64 | lost to Ryan Searle 10-7 |
| PLAYERS CHAMPIONSHIP 5 | Last 32 | lost to Lisa Ashton 6-3 |
| PLAYERS CHAMPIONSHIP 6 | Last 128 | lost to Lewis Williams 6-2 |
| PLAYERS CHAMPIONSHIP 7 | Last 128 | lost to Ron Meulenkamp 6-2 |
| PLAYERS CHAMPIONSHIP 8 | Last 128 | lost to Stephen Bunting 6-3 |
| PLAYERS CHAMPIONSHIP 9 | - |   |
| PLAYERS CHAMPIONSHIP 10 | - |   |
| PLAYERS CHAMPIONSHIP 11 | - |   |
| PLAYERS CHAMPIONSHIP 12 | - |   |
| PREMIER LEAGUE | - |   |
| PLAYERS CHAMPIONSHIP 13 | Last 16 | lost to Martijn Kleermaker 6-4 |
| PLAYERS CHAMPIONSHIP 14 | Last 32 | lost to Ted Evetts 6-5 |
| PLAYERS CHAMPIONSHIP 15 | Quarter Final | lost to Stephen Bunting 6-2 |
| PLAYERS CHAMPIONSHIP 16 | Quarter Final | lost to Callan Rydz 6-3 |
| PLAYERS CHAMPIONSHIP 17 | Last 32 | lost to Maik Kuivenhoven 6-3 |
| PLAYERS CHAMPIONSHIP 18 | Last 64 | lost to Mervyn King 6-4 |
| PLAYERS CHAMPIONSHIP 19 | Last 32 | lost to Jonny Clayton 6-3 |
| PLAYERS CHAMPIONSHIP 20 | Last 32 | lost to Ryan Searle 6-3 |
| WORLD MATCHPLAY | - |   |
| PLAYERS CHAMPIONSHIP 21 | Last 128 | lost to David Evans 6-5 |
| PLAYERS CHAMPIONSHIP 22 | Last 32 | lost to Joe Murnan 6-3 |
| PLAYERS CHAMPIONSHIP 23 | Last 64 | lost to Luke Humphries 6-3 |
| HUNGARIAN DARTS TROPHY | Last 48 | lost to Bradley Brooks 6-5 |
| WORLD CUP OF DARTS | - |   |
| NORDIC DARTS MASTERS | - |   |
| GIBRALTAR DARTS TROPHY | - |   |
| WORLD GRAND PRIX | - |   |
| EUROPEAN CHAMPIONSHIP | - |   |
| PLAYERS CHAMPIONSHIP 24 | Runner Up | lost to Dimitri Van den Bergh 8-5 |
| PLAYERS CHAMPIONSHIP 25 | Last 32 | lost to Dirk van Duijvenbode 6-0 |
| PLAYERS CHAMPIONSHIP 26 | Last 128 | lost to Jonathan Worsley 6-4 |
| PLAYERS CHAMPIONSHIP 27 | Last 128 | lost to Florian Hempel 6-5 |
| WORLD SERIES OF DARTS FINALS | - |   |
| PLAYERS CHAMPIONSHIP 28 | Last 64 | lost to Adam Hunt 6-5 |
| PLAYERS CHAMPIONSHIP 29 | Last 128 | lost to Steve Brown 6-4 |
| PLAYERS CHAMPIONSHIP 30 | Last 32 | lost to Jonny Clayton 6-1 |
| GRAND SLAM OF DARTS | - |   |
| PLAYERS CHAMPIONSHIP FINALS | Last 32 | lost to Peter Wright 6-5 |
| | | |
| --- | --- | --- |
| WORLD CHAMPIONSHIP | Last 16 | lost to Dimitri Van den Bergh 4-3 |
| THE MASTERS | Quarter Final | lost to Michael Smith 10-6 |
| PLAYERS CHAMPIONSHIP 1 | Semi Final | lost to Gary Anderson 7-3 |
| PLAYERS CHAMPIONSHIP 2 | Last 32 | lost to Jose de Sousa 6-1 |
| PLAYERS CHAMPIONSHIP 3 | Last 16 | lost to Peter Wright 6-5 |
| PLAYERS CHAMPIONSHIP 4 | Last 16 | lost to Gabriel Clemens 6-3 |
| PLAYERS CHAMPIONSHIP 5 | Last 64 | lost to Gary Anderson 6-5 |
| PLAYERS CHAMPIONSHIP 6 | Last 16 | lost to Peter Wright 6-3 |
| BELGIAN DARTS CHAMPIONSHIP | - |   |
| UK OPEN | Last 64 | lost to Jason Lowe 10-4 |
| PLAYERS CHAMPIONSHIP 7 | - |   |
| PLAYERS CHAMPIONSHIP 8 | - |   |
| PLAYERS CHAMPIONSHIP 9 (SS1) | Last 128 | lost to Eddie Lovely 6-1 |
| PLAYERS CHAMPIONSHIP 10 (SS2) | Last 32 | lost to Jason Lowe 6-4 |
| PLAYERS CHAMPIONSHIP 11 (SS3) | Last 128 | lost to Chris Dobey 6-3 |
| PLAYERS CHAMPIONSHIP 12 (SS4) | Last 128 | lost to Martin Atkins 6-4 |
| PLAYERS CHAMPIONSHIP 13 (SS5) | - |   |
| WORLD MATCHPLAY | Quarter Final | lost to Dimitri Van den Bergh 16-12 |
| PLAYERS CHAMPIONSHIP 14 (AS1) | Last 128 | lost to Mervyn King 6-5 |
| PLAYERS CHAMPIONSHIP 15 (AS2) | Last 128 | lost to Dimitri Van den Bergh 6-5 |
| PLAYERS CHAMPIONSHIP 16 (AS3) | Last 128 | lost to Rob Cross 6-4 |
| PLAYERS CHAMPIONSHIP 17 (AS4) | Last 64 | lost to Christian Bunse 6-4 |
| PLAYERS CHAMPIONSHIP 18 (AS5) | Last 128 | lost to Keegan Brown 6-2 |
| WORLD SERIES OF DARTS FINALS | - |   |
| GERMAN DARTS CHAMPIONSHIP | Last 32 | lost to Danny Noppert 6-2 |
| WORLD GRAND PRIX | - |   |
| PREMIER LEAGUE | - |   |
| EUROPEAN DARTS GRAND PRIX | - |   |
| INTERNATIONAL DARTS OPEN | Last 32 | lost to Danny Noppert 6-3 |
| EUROPEAN CHAMPIONSHIP | - |   |
| WORLD CUP OF DARTS | - |   |
| PLAYERS CHAMPIONSHIP 19 (WS1) | Last 128 | lost to Gabriel Clemens 6-5 |
| PLAYERS CHAMPIONSHIP 20 (WS2) | Last 64 | lost to James Wade 6-3 |
| PLAYERS CHAMPIONSHIP 21 (WS3) | Last 128 | lost to Damon Heta 6-5 |
| PLAYERS CHAMPIONSHIP 22 (WS4) | Semi Final | lost to Jose de Sousa 7-5 |
| PLAYERS CHAMPIONSHIP 23 (WS5) | Quarter Final | lost to Krzysztof Ratajski 6-2 |
| GRAND SLAM OF DARTS | - |   |
| PLAYERS CHAMPIONSHIP FINALS | Last 64 | lost to Simon Whitlock 6-4 |
| | | |
| --- | --- | --- |
| WORLD CHAMPIONSHIP | Last 16 | lost to Michael van Gerwen 4-1 |
| THE MASTERS | Last 16 | lost to Peter Wright 10-9 |
| PLAYERS CHAMPIONSHIP 1 | - |   |
| PLAYERS CHAMPIONSHIP 2 | - |   |
| PLAYERS CHAMPIONSHIP 3 | Last 32 | lost to Chris Dobey 6-5 |
| PLAYERS CHAMPIONSHIP 4 | Last 16 | lost to Bradley Brooks 6-4 |
| PLAYERS CHAMPIONSHIP 5 | Last 64 | lost to Jamie Hughes 6-1 |
| PLAYERS CHAMPIONSHIP 6 | Quarter Final | lost to Gerwyn Price 6-4 |
| UK OPEN | Last 64 | lost to Jamie Lewis 10-9 |
| PLAYERS CHAMPIONSHIP 7 | Last 64 | lost to Keegan Brown 6-3 |
| PLAYERS CHAMPIONSHIP 8 | Winner | beat Raymond van Barneveld 8-3 |
| EUROPEAN DARTS OPEN | Last 32 | lost to Dimitri Van den Bergh 6-3 |
| GERMAN DARTS CHAMPIONSHIP | Semi Final | lost to Daryl Gurney 7-5 |
| PLAYERS CHAMPIONSHIP 9 | Quarter Final | lost to James Wade 6-5 |
| PLAYERS CHAMPIONSHIP 10 | Last 32 | lost to Keegan Brown 6-2 |
| PLAYERS CHAMPIONSHIP 11 | Last 128 | lost to Christian Bunse 6-1 |
| PLAYERS CHAMPIONSHIP 12 | Last 128 | lost to Adrian Gray 6-5 |
| GERMAN DARTS GRAND PRIX | Last 32 | lost to Ritchie Edhouse 6-5 |
| GERMAN DARTS OPEN | Quarter Final | lost to Ian White 6-5 |
| PLAYERS CHAMPIONSHIP 13 | Semi Final | lost to Nathan Aspinall 7-4 |
| PLAYERS CHAMPIONSHIP 14 | Last 32 | lost to Glen Durrant 6-5 |
| AUSTRIAN DARTS OPEN | Quarter Final | lost to Daryl Gurney 6-5 |
| EUROPEAN DARTS GRAND PRIX | Last 32 | lost to Jamie Hughes 6-3 |
| PLAYERS CHAMPIONSHIP 15 | Last 128 | lost to Justin Pipe 6-5 |
| PLAYERS CHAMPIONSHIP 16 | Last 64 | lost to Alan Tabern 6-0 |
| PREMIER LEAGUE | - |   |
| DUTCH DARTS MASTERS | - |   |
| WORLD CUP OF DARTS | - |   |
| DANISH DARTS OPEN | Last 16 | lost to Simon Whitlock 6-3 |
| PLAYERS CHAMPIONSHIP 17 | Last 32 | lost to William O'Connor 6-1 |
| PLAYERS CHAMPIONSHIP 18 | Last 128 | lost to Brendan Dolan 6-2 |
| CZECH DARTS OPEN | Last 32 | lost to Jamie Hughes 6-0 |
| U.S. DARTS MASTERS | - |   |
| GERMAN DARTS MASTERS | - |   |
| PLAYERS CHAMPIONSHIP 19 | Last 128 | lost to Andy Boulton 6-5 |
| PLAYERS CHAMPIONSHIP 20 | Semi Final | lost to Joe Cullen 7-2 |
| WORLD MATCHPLAY | Last 32 | lost to Glen Durrant 10-4 |
| PLAYERS CHAMPIONSHIP 21 | - |   |
| PLAYERS CHAMPIONSHIP 22 | - |   |
| BRISBANE DARTS MASTERS | - |   |
| MELBOURNE DARTS MASTERS | - |   |
| NEW ZEALAND DARTS MASTERS | - |   |
| AUSTRIAN DARTS CHAMPIONSHIP | Last 16 | lost to Cameron Menzies 6-2 |
| EUROPEAN DARTS MATCHPLAY | Last 16 | lost to Krzysztof Ratajski 6-5 |
| PLAYERS CHAMPIONSHIP 23 | Semi Final | lost to Gerwyn Price 7-4 |
| PLAYERS CHAMPIONSHIP 24 | Last 64 | lost to Kyle Anderson 6-5 |
| INTERNATIONAL DARTS OPEN | Quarter Final | lost to Peter Wright 6-0 |
| PLAYERS CHAMPIONSHIP 25 | Last 32 | lost to Andy Boulton 6-3 |
| PLAYERS CHAMPIONSHIP 26 | Last 128 | lost to Jamie Bain 6-3 |
| GIBRALTAR DARTS TROPHY | - |   |
| PLAYERS CHAMPIONSHIP 27 | Last 64 | lost to Jose Justicia 6-2 |
| PLAYERS CHAMPIONSHIP 28 | Last 128 | lost to Joe Murnan 6-4 |
| WORLD GRAND PRIX | Last 32 | lost to Jermaine Wattimena 2-1 |
| PLAYERS CHAMPIONSHIP 29 | Last 32 | lost to Joe Murnan 6-5 |
| PLAYERS CHAMPIONSHIP 30 | Last 128 | lost to Wessel Nijman 6-4 |
| CHAMPIONS LEAGUE OF DARTS | - |   |
| EUROPEAN CHAMPIONSHIP | Last 32 | lost to Simon Whitlock 6-1 |
| WORLD SERIES OF DARTS FINALS | - |   |
| GRAND SLAM OF DARTS | Quarter Final | lost to Michael van Gerwen 16-6 |
| PLAYERS CHAMPIONSHIP FINALS | Last 32 | lost to Michael van Gerwen 6-5 |
| | | |
| --- | --- | --- |
| WORLD CHAMPIONSHIP | Last 64 | lost to Kevin Munch 3-1 |
| THE MASTERS | - |   |
| UK OPEN QUALIFIER 1 | Semi Final | lost to Michael van Gerwen 6-3 |
| UK OPEN QUALIFIER 2 | - |   |
| UK OPEN QUALIFIER 3 | - |   |
| UK OPEN QUALIFIER 4 | Quarter Final | lost to Jason Lowe 6-2 |
| UK OPEN QUALIFIER 5 | Last 128 | lost to Krzysztof Ratajski 6-4 |
| UK OPEN QUALIFIER 6 | Last 32 | lost to Mike Norton 6-3 |
| PLAYERS CHAMPIONSHIP 1 | Last 32 | lost to Keegan Brown 6-3 |
| PLAYERS CHAMPIONSHIP 2 | Quarter Final | lost to Michael van Gerwen 6-2 |
| UK OPEN | Last 64 | lost to Dirk van Duijvenbode 10-5 |
| PLAYERS CHAMPIONSHIP 3 | Last 128 | lost to Stephen Burton 6-4 |
| PLAYERS CHAMPIONSHIP 4 | Semi Final | lost to Jeffrey de Zwaan 6-5 |
| PLAYERS CHAMPIONSHIP 5 | Last 32 | lost to William O'Connor 6-3 |
| PLAYERS CHAMPIONSHIP 6 | Last 64 | lost to Dimitri Van den Bergh 6-1 |
| EUROPEAN DARTS OPEN | Last 32 | lost to Rob Cross 6-1 |
| GERMAN DARTS GRAND PRIX | Last 48 | lost to Yordi Meeuwisse 6-5 |
| PLAYERS CHAMPIONSHIP 7 | Runner Up | lost to Michael Smith 6-2 |
| PLAYERS CHAMPIONSHIP 8 | Runner Up | lost to Mickey Mansell 6-4 |
| GERMAN DARTS OPEN | - |   |
| AUSTRIAN DARTS OPEN | - |   |
| PLAYERS CHAMPIONSHIP 9 | Quarter Final | lost to Jason Lowe 6-5 |
| PLAYERS CHAMPIONSHIP 10 | Last 16 | lost to Martin Schindler 6-4 |
| EUROPEAN DARTS GRAND PRIX | - |   |
| DUTCH DARTS MASTERS | Last 48 | lost to Jan Dekker 6-4 |
| PREMIER LEAGUE | - |   |
| PLAYERS CHAMPIONSHIP 11 | Quarter Final | lost to Gary Anderson 6-5 |
| PLAYERS CHAMPIONSHIP 12 | Last 128 | lost to Arron Monk 6-5 |
| GERMAN DARTS MASTERS | - |   |
| WORLD CUP OF DARTS | - |   |
| GIBRALTAR DARTS TROPHY | Runner Up | lost to Michael van Gerwen 8-3 |
| PLAYERS CHAMPIONSHIP 13 | Last 128 | lost to Gary Eastwood 6-3 |
| PLAYERS CHAMPIONSHIP 14 | Last 64 | lost to Ross Smith 6-2 |
| DANISH DARTS OPEN | Semi Final | lost to Mensur Suljovic 7-6 |
| PLAYERS CHAMPIONSHIP 15 | Last 32 | lost to Chris Dobey 6-2 |
| PLAYERS CHAMPIONSHIP 16 | Semi Final | lost to Darren Webster 6-5 |
| EUROPEAN DARTS MATCHPLAY | - |   |
| U.S. DARTS MASTERS | - |   |
| SHANGHAI DARTS MASTERS | - |   |
| WORLD MATCHPLAY | Last 16 | lost to Jeffrey de Zwaan 11-9 |
| AUCKLAND DARTS MASTERS | - |   |
| MELBOURNE DARTS MASTERS | - |   |
| BRISBANE DARTS MASTERS | - |   |
| GERMAN DARTS CHAMPIONSHIP | Quarter Final | lost to Joe Cullen 6-1 |
| PLAYERS CHAMPIONSHIP 17 | Last 128 | lost to Simon Preston 6-5 |
| PLAYERS CHAMPIONSHIP 18 | Last 16 | lost to John Henderson 6-3 |
| DUTCH DARTS CHAMPIONSHIP | Quarter Final | lost to Ian White 6-1 |
| INTERNATIONAL DARTS OPEN | Quarter Final | lost to Steve West 6-4 |
| CHAMPIONS LEAGUE OF DARTS | - |   |
| PLAYERS CHAMPIONSHIP 19 | Quarter Final | lost to James Wilson 6-2 |
| PLAYERS CHAMPIONSHIP 20 | Last 16 | lost to Robert Thornton 6-3 |
| WORLD GRAND PRIX | Last 16 | lost to James Wilson 3-2 |
| EUROPEAN DARTS TROPHY | - |   |
| PLAYERS CHAMPIONSHIP 21 | Last 32 | lost to Stephen Burton 6-5 |
| PLAYERS CHAMPIONSHIP 22 | Runner Up | lost to Krzysztof Ratajski 6-4 |
| EUROPEAN CHAMPIONSHIP | Last 32 | lost to Dave Chisnall 6-5 |
| WORLD SERIES OF DARTS FINALS | - |   |
| GRAND SLAM OF DARTS | - |   |
| PLAYERS CHAMPIONSHIP FINALS | Last 32 | lost to Krzysztof Ratajski 6-3 |
| | | |
| --- | --- | --- |
| WORLD CHAMPIONSHIP | Last 16 | lost to Raymond van Barneveld 4-3 |
| THE MASTERS | Semi Final | lost to Michael van Gerwen 11-5 |
| UK OPEN QUALIFIER 1 | Runner Up | lost to Peter Wright 6-4 |
| UK OPEN QUALIFIER 2 | Last 128 | lost to Rob Cross 6-4 |
| UK OPEN QUALIFIER 3 | Last 32 | lost to Michael Smith 6-4 |
| UK OPEN QUALIFIER 4 | Last 64 | lost to Zoran Lerchbacher 6-4 |
| UK OPEN QUALIFIER 5 | Last 128 | lost to Richard North 6-5 |
| UK OPEN QUALIFIER 6 | Semi Final | lost to Peter Wright 6-5 |
| PLAYERS CHAMPIONSHIP 1 | Last 32 | lost to Michael Smith 6-3 |
| PLAYERS CHAMPIONSHIP 2 | Last 128 | lost to John Henderson 6-3 |
| UK OPEN | Last 32 | lost to Paul Hogan 10-6 |
| PLAYERS CHAMPIONSHIP 3 | - |   |
| PLAYERS CHAMPIONSHIP 4 | - |   |
| GERMAN DARTS CHAMPIONSHIP | - |   |
| PLAYERS CHAMPIONSHIP 5 | Winner | beat Dave Chisnall 6-3 |
| PLAYERS CHAMPIONSHIP 6 | Last 128 | lost to Jan Dekker 6-5 |
| PLAYERS CHAMPIONSHIP 7 | Last 64 | lost to Zoran Lerchbacher 6-4 |
| PLAYERS CHAMPIONSHIP 8 | Last 32 | lost to Gerwyn Price 6-5 |
| GERMAN DARTS MASTERS (ET) | Last 48 | lost to Daryl Gurney 6-5 |
| GERMAN DARTS OPEN | - |   |
| PLAYERS CHAMPIONSHIP 9 | Quarter Finals | lost to Michael van Gerwen 6-5 |
| PLAYERS CHAMPIONSHIP 10 | Last 16 | lost to Jonny Clayton 6-5 |
| EUROPEAN DARTS GRAND PRIX | Last 16 | lost to Dave Chisnall 6-3 |
| GIBRALTAR DARTS TROPHY | - |   |
| PREMIER LEAGUE | 8th |   |
| PLAYERS CHAMPIONSHIP 11 | Last 128 | lost to John Bowles 6-5 |
| PLAYERS CHAMPIONSHIP 12 | Last 64 | lost to Mickey Mansell 6-1 |
| DUBAI DARTS MASTERS | - |   |
| WORLD CUP OF DARTS | Semi Final (Dave Chisnall) | lost to Netherlands 2-0 |
| EUROPEAN DARTS MATCHPLAY | Last 48 | lost to Vincent van der Voort 6-4 |
| PLAYERS CHAMPIONSHIP 13 | - |   |
| PLAYERS CHAMPIONSHIP 14 | - |   |
| AUSTRIAN DARTS OPEN | - |   |
| EUROPEAN DARTS OPEN | - |   |
| SHANGHAI DARTS MASTERS | - |   |
| PLAYERS CHAMPIONSHIP 15 | - |   |
| PLAYERS CHAMPIONSHIP 16 | - |   |
| U.S. DARTS MASTERS | - |   |
| WORLD MATCHPLAY | Semi Final | lost to Phil Taylor 17-9 |
| PLAYERS CHAMPIONSHIP 17 | - |   |
| PLAYERS CHAMPIONSHIP 18 | - |   |
| AUCKLAND DARTS MASTERS | - |   |
| MELBOURNE DARTS MASTERS | - |   |
| PERTH DARTS MASTERS | - |   |
| DUTCH DARTS MASTERS | - |   |
| GERMAN DARTS GRAND PRIX | - |   |
| CHAMPIONS LEAGUE OF DARTS | Group Stage (4th) |   |
| INTERNATIONAL DARTS OPEN | - |   |
| PLAYERS CHAMPIONSHIP 19 | Last 64 | lost to Andrew Gilding 6-1 |
| PLAYERS CHAMPIONSHIP 20 | Last 32 | lost to Alan Norris 6-3 |
| WORLD GRAND PRIX | Last 32 | lost to Daryl Gurney 2-1 |
| PLAYERS CHAMPIONSHIP 21 | Runner Up | lost to Rob Cross 6-3 |
| PLAYERS CHAMPIONSHIP 22 | Last 16 | lost to Jamie Caven 6-3 |
| EUROPEAN DARTS TROPHY | - |   |
| GERMAN DARTS MASTERS (WS) | - |   |
| EUROPEAN CHAMPIONSHIP | - |   |
| WORLD SERIES OF DARTS FINALS | Last 24 | lost to Max Hopp 6-2 |
| GRAND SLAM OF DARTS | - |   |
| PLAYERS CHAMPIONSHIP FINALS | Last 16 | lost to Rob Cross 10-6 |
| | | |
| --- | --- | --- |
| WORLD CHAMPIONSHIP | Last 64 | lost to Gary Anderson 3-1 |