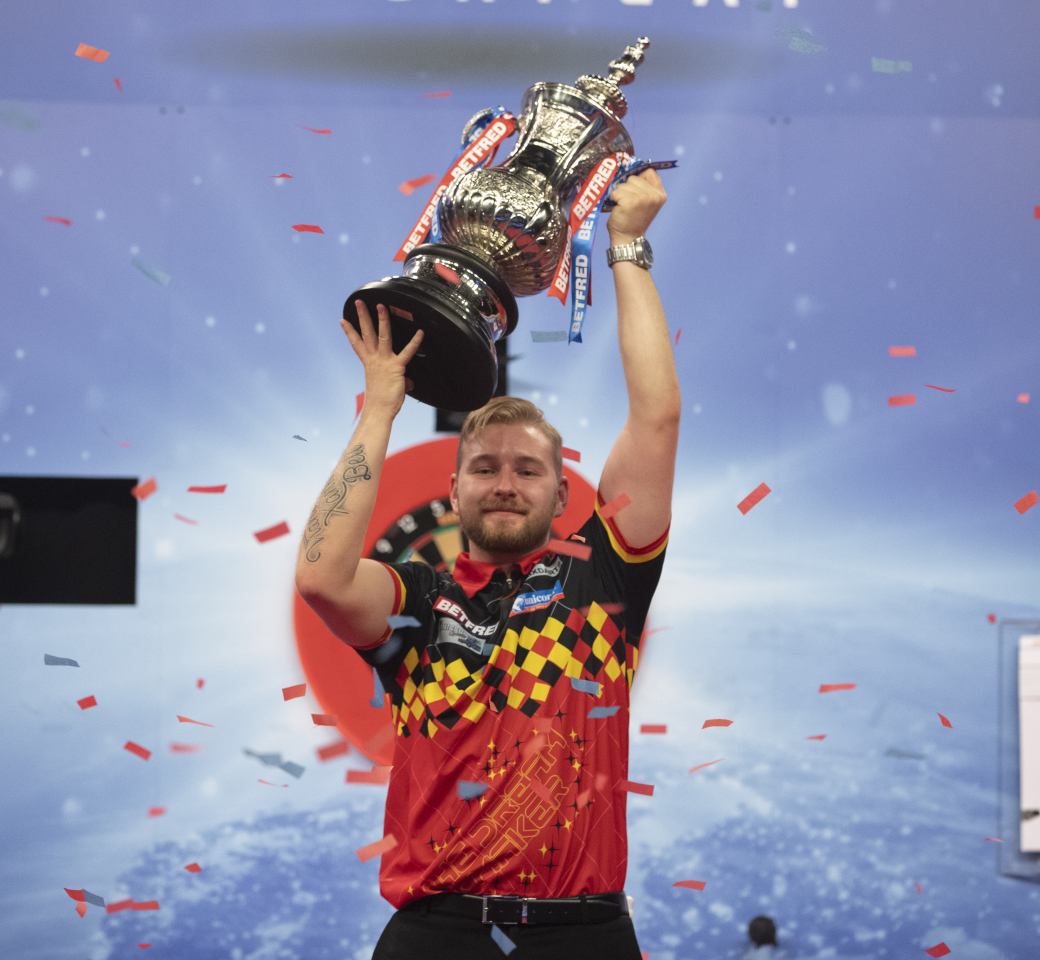 Dimitri Van den Bergh
The Dream Maker
PDC World Ranking

9

Televised titles

3

Non-Televised PDC Titles

2

Televised Nine-Dart Finishes

1
Walk-On Music

Happy - Pharrell Williams

Date of Birth

July 08 1994

Darts Used

22g

Unicorn

Home Town

Antwerp

Twitter

@VandenBerghDimi
Dancing Dimitri has shown the talent to match his entertaining walk-ons during his emergence as a new star from Europe in recent years - and claimed big-stage glory in the 2020 World Matchplay.
The Belgian ace was a winner in his first PDC youth tour event in 2013, and after joining the circuit full-time the following year added three victories in 2014, two in 2015 and another in 2016.
The youngster's 2014 success earned him a PDC Tour Card to join the ProTour circuit, and he went on to make his TV debut at the 2015 World Series of Darts Finals before defeating Ian White on his World Championship debut.
His 2016 Development Tour success was followed by qualification for the Grand Slam of Darts and a run to the semi-finals of the World Youth Championship, a debut in the Players Championship Finals and his second World Championship appearance.
Van den Bergh claimed two further Development Tour titles in the first half of 2017 before enjoying a run to the quarter-finals of the 2018 World Championship, losing 5-4 to eventual winner Rob Cross.
His progress into the world's top 32 continued alongside a run to a World Series final at the 2018 German Darts Masters, where Mensur Suljovic denied him the title.
However, Van den Bergh's runs to further televised quarter-finals at the 2020 World Championship and UK Open were followed by the biggest triumph of his career so far as he won the World Matchplay.
After defeating Nathan Aspinall and Joe Cullen, Van den Bergh then saw off Adrian Lewis, Glen Durrant and Gary Anderson as he claimed the Phil Taylor Trophy.
Player Stats
Select below to see result & roll of honour information.
| | |
| --- | --- |
| World Matchplay | 2020 |
| PDC World Youth Championship | 2017, 2018 |
| | |
| --- | --- |
| Players Championship | 2021 (x2) |
| PDC Youth/Development Tour | 2013, 2014 (x3), 2015 (x2), 2016, 2017 (x3), 2018 (x2) |
| | | |
| --- | --- | --- |
|   | Most Recent | Best Performance |
| 2022 WORLD CHAMPIONSHIP | Last 64 | Quarter Final - 2018, 2020 |
| 2021 UK OPEN | Last 64 | Quarter Final - 2020 |
| 2021 WORLD MATCHPLAY | Runner Up | Winner - 2020 |
| 2021 WORLD GRAND PRIX | Last 32 | Last 16 - 2020 |
| 2021 EUROPEAN CHAMPIONSHIP | - | Last 32 - 2017, 2019 |
| 2021 GRAND SLAM OF DARTS | - | Semi Final - 2020 |
| 2021 PLAYERS CHAMPIONSHIP FINALS | Last 32 | Last 32 - 2016, 2021 |
| | | |
| --- | --- | --- |
|   | Most Recent | Best Performance |
| 2021 THE MASTERS | Last 24 | Last 24 - 2021 |
| 2021 PREMIER LEAGUE | 5th | 5th - 2021 |
| 2021 WORLD CUP OF DARTS  | Last 16 | Semi Final - 2018, 2020 |
| 2021 NORDIC DARTS MASTERS | Semi Final | Semi Final - 2021 |
| | | |
| --- | --- | --- |
| TOURNAMENT WIN | Players Championship 24 (October 2021) | beat Adrian Lewis 8-5 |
| FINAL | World Series of Darts Finals (October 2021) | lost to Jonny Clayton 11-6 |
| SEMI FINAL | World Series of Darts Finals (October 2021) | beat Krzysztof Ratajski 11-8 |
| QUARTER FINAL | World Series of Darts Finals (October 2021) | beat Kim Huybrechts 10-8 |
| | | |
| --- | --- | --- |
| WORLD CHAMPIONSHIP | Last 64 | lost to Florian Hempel 3-1 |
| | | |
| --- | --- | --- |
| WORLD CHAMPIONSHIP | Last 16 | lost to Dave Chisnall 4-2 |
| THE MASTERS | Last 24 | lost to Chris Dobey 6-2 |
| PLAYERS CHAMPIONSHIP 1 | Last 128 | lost to Lewis Williams 6-4 |
| PLAYERS CHAMPIONSHIP 2 | Last 128 | lost to Krzysztof Ratajski 6-3 |
| PLAYERS CHAMPIONSHIP 3 | Last 64 | lost to Stephen Bunting 6-5 |
| PLAYERS CHAMPIONSHIP 4 | Last 128 | lost to Jake Jones 6-3 |
| UK OPEN | Last 64 | lost to Luke Woodhouse 10-5 |
| PLAYERS CHAMPIONSHIP 5 | Last 64 | lost to Max Hopp 6-4 |
| PLAYERS CHAMPIONSHIP 6 | Last 128 | lost to Rowby-John Rodriguez 6-4 |
| PLAYERS CHAMPIONSHIP 7 | Last 64 | lost to Jose de Sousa 6-4 |
| PLAYERS CHAMPIONSHIP 8 | Last 128 | lost to Jason Heaver 6-3 |
| PLAYERS CHAMPIONSHIP 9 | Semi Final | lost to Luke Humphries 7-6 |
| PLAYERS CHAMPIONSHIP 10 | Last 16 | lost to Michael Smith 6-2 |
| PLAYERS CHAMPIONSHIP 11 | Last 64 | lost to Kim Huybrechts 6-4 |
| PLAYERS CHAMPIONSHIP 12 | Winner | beat Dirk van Duijvenbode 8-7 |
| PREMIER LEAGUE | 5th |   |
| PLAYERS CHAMPIONSHIP 13 | Last 128 | lost to Jason Lowe 6-5 |
| PLAYERS CHAMPIONSHIP 14 | Quarter Final | lost to Jose de Sousa 6-1 |
| PLAYERS CHAMPIONSHIP 15 | Last 128 | lost to Jason Lowe 6-4 |
| PLAYERS CHAMPIONSHIP 16 | Last 32 | lost to Rusty-Jake Rodriguez 6-2 |
| PLAYERS CHAMPIONSHIP 17 | Runner Up | lost to Stephen Bunting 8-4 |
| PLAYERS CHAMPIONSHIP 18 | Last 128 | lost to William O'Connor 6-5 |
| PLAYERS CHAMPIONSHIP 19 | Semi Final | lost to Brendan Dolan 7-2 |
| PLAYERS CHAMPIONSHIP 20 | Last 16 | lost to Jose de Sousa 6-2 |
| WORLD MATCHPLAY | Runner Up | lost to Peter Wright 18-9 |
| PLAYERS CHAMPIONSHIP 21 | Last 64 | lost to Gordon Mathers 6-4 |
| PLAYERS CHAMPIONSHIP 22 | Semi Final | lost to Peter Wright 7-4 |
| PLAYERS CHAMPIONSHIP 23 | Last 128 | lost to Andy Boulton 6-5 |
| HUNGARIAN DARTS TROPHY | - |   |
| WORLD CUP OF DARTS | Last 16 (Kim Huybrechts) | lost to Austria 2-0 |
| NORDIC DARTS MASTERS | Semi Final | lost to Fallon Sherrock 11-10 |
| GIBRALTAR DARTS TROPHY | - |   |
| WORLD GRAND PRIX | Last 32 | lost to Ryan Searle 2-1 |
| EUROPEAN CHAMPIONSHIP | - |   |
| PLAYERS CHAMPIONSHIP 24 | Winner | beat Adrian Lewis 8-5 |
| PLAYERS CHAMPIONSHIP 25 | Last 64 | lost to Wayne Jones 6-5 |
| PLAYERS CHAMPIONSHIP 26 | Last 128 | lost to Rowby-John Rodriguez 6-2 |
| PLAYERS CHAMPIONSHIP 27 | Last 128 | lost to Scott Waites 6-3 |
| WORLD SERIES OF DARTS FINALS | Runner Up | lost to Jonny Clayton 11-6 |
| PLAYERS CHAMPIONSHIP 28 | Last 128 | lost to Bradley Brooks 6-4 |
| PLAYERS CHAMPIONSHIP 29 | Last 128 | lost to Nick Kenny 6-4 |
| PLAYERS CHAMPIONSHIP 30 | Last 128 | lost to Jim McEwan 6-2 |
| GRAND SLAM OF DARTS | - |   |
| PLAYERS CHAMPIONSHIP FINALS | Last 32 | lost to Danny Noppert 6-2 |
| | | |
| --- | --- | --- |
| WORLD CHAMPIONSHIP | Quarter Final | lost to Nathan Aspinall 5-3 |
| THE MASTERS | - |   |
| PLAYERS CHAMPIONSHIP 1 | Last 128 | lost to Ryan Meikle 6-5 |
| PLAYERS CHAMPIONSHIP 2 | Last 128 | lost to Ryan Murray 6-3 |
| PLAYERS CHAMPIONSHIP 3 | Last 128 | lost to Lisa Ashton 6-4 |
| PLAYERS CHAMPIONSHIP 4 | Last 64 | lost to Kim Huybrechts 6-5 |
| PLAYERS CHAMPIONSHIP 5 | Last 16 | lost to Devon Petersen 6-2 |
| PLAYERS CHAMPIONSHIP 6 | Last 128 | lost to Mervyn King 6-1 |
| BELGIAN DARTS CHAMPIONSHIP | Last 32 | lost to Jamie Hughes 6-5 |
| UK OPEN | Quarter Final | lost to Gerwyn Price 10-5 |
| PLAYERS CHAMPIONSHIP 7 | Last 128 | lost to Eddie Lovely 6-5 |
| PLAYERS CHAMPIONSHIP 8 | Last 64 | lost to Ciaran Teehan 6-5 |
| PLAYERS CHAMPIONSHIP 9 (SS1) | Last 128 | lost to Andy Hamilton 6-2 |
| PLAYERS CHAMPIONSHIP 10 (SS2) | Last 128 | lost to Martin Atkins 6-5 |
| PLAYERS CHAMPIONSHIP 11 (SS3) | Last 16 | lost to Chris Dobey 6-4 |
| PLAYERS CHAMPIONSHIP 12 (SS4) | Last 32 | lost to Robert Thornton 6-3 |
| PLAYERS CHAMPIONSHIP 13 (SS5) | Last 128 | lost to Karel Sedlacek 6-4 |
| WORLD MATCHPLAY | Winner | beat Gary Anderson 18-10 |
| PLAYERS CHAMPIONSHIP 14 (AS1) | Last 32 | lost to Peter Wright 6-2 |
| PLAYERS CHAMPIONSHIP 15 (AS2) | Last 32 | lost to Damon Heta 6-1 |
| PLAYERS CHAMPIONSHIP 16 (AS3) | Last 128 | lost to Ryan Searle 6-2 |
| PLAYERS CHAMPIONSHIP 17 (AS4) | Last 128 | lost to Dave Chisnall 6-2 |
| PLAYERS CHAMPIONSHIP 18 (AS5) | Last 16 | lost to Krzysztof Ratajski 6-4 |
| WORLD SERIES OF DARTS FINALS | Last 24 | lost to Glen Durrant 6-3 |
| GERMAN DARTS CHAMPIONSHIP | - |   |
| WORLD GRAND PRIX | Last 16 | lost to Dirk van Duijvenbode 3-1 |
| PREMIER LEAGUE | - |   |
| EUROPEAN DARTS GRAND PRIX | - |   |
| INTERNATIONAL DARTS OPEN | - |   |
| EUROPEAN CHAMPIONSHIP | - |   |
| WORLD CUP OF DARTS | Semi Final (Kim Huybrechts) | lost to England 2-0 |
| PLAYERS CHAMPIONSHIP 19 (WS1) | Last 16 | lost to Peter Wright 6-4 |
| PLAYERS CHAMPIONSHIP 20 (WS2) | Last 128 | lost to Rob Cross 6-5 |
| PLAYERS CHAMPIONSHIP 21 (WS3) | Last 64 | lost to Martijn Kleermaker 6-5 |
| PLAYERS CHAMPIONSHIP 22 (WS4) | Last 128 | lost to Gary Blades 6-2 |
| PLAYERS CHAMPIONSHIP 23 (WS5) | Last 64 | lost to Adam Hunt 6-0 |
| GRAND SLAM OF DARTS | Semi Final | lost to James Wade 16-15 |
| PLAYERS CHAMPIONSHIP FINALS | Last 64 | lost to Ryan Searle 6-2 |
| | | |
| --- | --- | --- |
| WORLD CHAMPIONSHIP | Last 32 | lost to Luke Humphries 4-1 |
| THE MASTERS | - |   |
| PLAYERS CHAMPIONSHIP 1 | Last 128 | lost to Darius Labanauskas 6-3 |
| PLAYERS CHAMPIONSHIP 2 | Last 128 | lost to Mark McGeeney 6-0 |
| PLAYERS CHAMPIONSHIP 3 | Last 16 | lost to Michael van Gerwen 6-3 |
| PLAYERS CHAMPIONSHIP 4 | Runner Up | lost to Glen Durrant 8-3 |
| PLAYERS CHAMPIONSHIP 5 | Last 128 | lost to Peter Hudson 6-2 |
| PLAYERS CHAMPIONSHIP 6 | Last 128 | lost to Mark Dudbridge 6-3 |
| UK OPEN | Last 16 | lost to Steve Beaton 10-8 |
| PLAYERS CHAMPIONSHIP 7 | Last 128 | lost to Nathan Aspinall 6-1 |
| PLAYERS CHAMPIONSHIP 8 | Last 32 | lost to Harry Ward 6-3 |
| EUROPEAN DARTS OPEN | Last 16 | lost to Daryl Gurney 6-0 |
| PREMIER LEAGUE | Contender | drew with James Wade 6-6 |
| GERMAN DARTS CHAMPIONSHIP | Last 32 | lost to Stephen Bunting 6-5 |
| PLAYERS CHAMPIONSHIP 9 | Last 64 | lost to Mickey Mansell 6-4 |
| PLAYERS CHAMPIONSHIP 10 | Last 128 | lost to Ryan Searle 6-3 |
| PLAYERS CHAMPIONSHIP 11 | Last 128 | lost to Jermaine Wattimena 6-4 |
| PLAYERS CHAMPIONSHIP 12 | Last 64 | lost to Stephen Bunting 6-3 |
| GERMAN DARTS GRAND PRIX | - |   |
| GERMAN DARTS OPEN | Last 32 | lost to Michael van Gerwen 6-1 |
| PLAYERS CHAMPIONSHIP 13 | Last 128 | lost to Adrian Lewis 6-3 |
| PLAYERS CHAMPIONSHIP 14 | Last 128 | lost to Shaun Carroll 6-3 |
| AUSTRIAN DARTS OPEN | - |   |
| EUROPEAN DARTS GRAND PRIX | Last 32 | lost to Ian White 6-5 |
| PLAYERS CHAMPIONSHIP 15 | Last 64 | lost to Ian White 6-1 |
| PLAYERS CHAMPIONSHIP 16 | Last 128 | lost to George Killington 6-2 |
| DUTCH DARTS MASTERS | - |   |
| WORLD CUP OF DARTS | Quarter Final (Kim Huybrechts) | lost to Scotland 2-0 |
| DANISH DARTS OPEN | - |   |
| PLAYERS CHAMPIONSHIP 17 | Quarter Final | lost to Nathan Aspinall 6-3 |
| PLAYERS CHAMPIONSHIP 18 | Semi Final | lost to Jose De Sousa 7-5 |
| CZECH DARTS OPEN | - |   |
| U.S. DARTS MASTERS | - |   |
| GERMAN DARTS MASTERS | - |   |
| PLAYERS CHAMPIONSHIP 19 | Last 32 | lost to Peter Wright 6-1 |
| PLAYERS CHAMPIONSHIP 20 | Last 16 | lost to Adrian Lewis 6-5 |
| WORLD MATCHPLAY | - |   |
| PLAYERS CHAMPIONSHIP 21 | Runner Up | lost to Krzysztof Ratajski 8-7 |
| PLAYERS CHAMPIONSHIP 22 | Last 128 | lost to Wessel Nijman 6-3 |
| BRISBANE DARTS MASTERS | - |   |
| MELBOURNE DARTS MASTERS | - |   |
| NEW ZEALAND DARTS MASTERS | - |   |
| AUSTRIAN DARTS CHAMPIONSHIP | Last 32 | lost to Peter Wright 6-5 |
| EUROPEAN DARTS MATCHPLAY | - |   |
| PLAYERS CHAMPIONSHIP 23 | Last 32 | lost to Gerwyn Price 6-1 |
| PLAYERS CHAMPIONSHIP 24 | Last 64 | lost to James Richardson 6-5 |
| INTERNATIONAL DARTS OPEN | Last 32 | lost to Ricky Evans 6-4 |
| PLAYERS CHAMPIONSHIP 25 | Last 128 | lost to Berry van Peer 6-5 |
| PLAYERS CHAMPIONSHIP 26 | Last 64 | lost to Alan Norris 6-5 |
| GIBRALTAR DARTS TROPHY | Last 32 | lost to Jermaine Wattimena 6-2 |
| PLAYERS CHAMPIONSHIP 27 | Last 128 | lost to Ted Evetts 6-3 |
| PLAYERS CHAMPIONSHIP 28 | Last 64 | lost to Ritchie Edhouse 6-3 |
| WORLD GRAND PRIX | Last 32 | lost to Mervyn King 2-1 |
| PLAYERS CHAMPIONSHIP 29 | Last 128 | lost to Tony Newell 6-5 |
| PLAYERS CHAMPIONSHIP 30 | Last 64 | lost to Jamie Lewis 6-4 |
| CHAMPIONS LEAGUE OF DARTS | - |   |
| EUROPEAN CHAMPIONSHIP | Last 32 | lost to Dave Chisnall 6-3 |
| WORLD SERIES OF DARTS FINALS | - |   |
| GRAND SLAM OF DARTS | Last 32 (3rd) |   |
| PLAYERS CHAMPIONSHIP FINALS | Last 64 | lost to Stephen Bunting 6-2 |
| | | |
| --- | --- | --- |
| WORLD CHAMPIONSHIP | Quarter Final | lost to Rob Cross 5-4 |
| THE MASTERS | - |   |
| UK OPEN QUALIFIER 1 | Last 256 | lost to Martin Schindler 6-3 |
| UK OPEN QUALIFIER 2 | Last 64 | lost to Michael van Gerwen 6-3 |
| UK OPEN QUALIFIER 3 | Last 128 | lost to Ron Meulenkamp 6-1 |
| UK OPEN QUALIFIER 4 | Last 32 | lost to Rob Cross 6-5 |
| UK OPEN QUALIFIER 5 | Last 256 | lost to Mark Walsh 6-3 |
| UK OPEN QUALIFIER 6 | Last 256 | lost to Wayne Jones 6-2 |
| PLAYERS CHAMPIONSHIP 1 | Last 128 | lost to Madars Razma 6-5 |
| PLAYERS CHAMPIONSHIP 2 | Last 64 | lost to Davy Van Baelen 6-4 |
| UK OPEN | Last 128 | lost to Lee Evans 6-3 |
| PLAYERS CHAMPIONSHIP 3 | Last 64 | lost to Rob Cross 6-3 |
| PLAYERS CHAMPIONSHIP 4 | Last 32 | lost to Jan Dekker 6-4 |
| PLAYERS CHAMPIONSHIP 5 | Last 64 | lost to Jermaine Wattimena 6-4 |
| PLAYERS CHAMPIONSHIP 6 | Quarter Final | lost to Mervyn King 6-3 |
| EUROPEAN DARTS OPEN | Last 48 | lost to Ron Meulenkamp 6-3 |
| GERMAN DARTS GRAND PRIX | - |   |
| PLAYERS CHAMPIONSHIP 7 | Last 128 | lost to Prakash Jiwa 6-4 |
| PLAYERS CHAMPIONSHIP 8 | Last 64 | lost to Joe Cullen 6-4 |
| GERMAN DARTS OPEN | Last 32 | lost to Rob Cross 6-0 |
| AUSTRIAN DARTS OPEN | Last 16 | lost to Michael Smith 6-2 |
| PLAYERS CHAMPIONSHIP 9 | Last 128 | lost to Ross Smith 6-3 |
| PLAYERS CHAMPIONSHIP 10 | Last 128 | lost to Dave Chisnall 6-4 |
| EUROPEAN DARTS GRAND PRIX | Last 48 | lost to Matt Padgett 6-4 |
| DUTCH DARTS MASTERS | - |   |
| PREMIER LEAGUE | - |   |
| PLAYERS CHAMPIONSHIP 11 | Last 64 | lost to Dave Chisnall 6-2 |
| PLAYERS CHAMPIONSHIP 12 | Last 64 | lost to Brendan Dolan 6-3 |
| GERMAN DARTS MASTERS | Runner Up | lost to Mensur Suljovic 8-2 |
| WORLD CUP OF DARTS | Semi Final (Kim Huybrechts) | lost to Netherlands 2-0 |
| GIBRALTAR DARTS TROPHY | - |   |
| PLAYERS CHAMPIONSHIP 13 | Last 128 | lost to Joe Cullen 6-5 |
| PLAYERS CHAMPIONSHIP 14 | Quarter Final | lost to Peter Wright 6-4 |
| DANISH DARTS OPEN | - |   |
| PLAYERS CHAMPIONSHIP 15 | Last 64 | lost to Daryl Gurney 6-4 |
| PLAYERS CHAMPIONSHIP 16 | Last 64 | lost to Aden Kirk 6-5 |
| EUROPEAN DARTS MATCHPLAY | - |   |
| U.S. DARTS MASTERS | - |   |
| SHANGHAI DARTS MASTERS | - |   |
| WORLD MATCHPLAY | - |   |
| AUCKLAND DARTS MASTERS | - |   |
| MELBOURNE DARTS MASTERS | - |   |
| BRISBANE DARTS MASTERS | - |   |
| GERMAN DARTS CHAMPIONSHIP | - |   |
| PLAYERS CHAMPIONSHIP 17 | Last 128 | lost to Josh Payne 6-0 |
| PLAYERS CHAMPIONSHIP 18 | Last 64 | lost to Jeffrey de Zwaan 6-5 |
| DUTCH DARTS CHAMPIONSHIP | - |   |
| INTERNATIONAL DARTS OPEN | - |   |
| CHAMPIONS LEAGUE OF DARTS | - |   |
| PLAYERS CHAMPIONSHIP 19 | Last 128 | lost to Jamie Bain 6-2 |
| PLAYERS CHAMPIONSHIP 20 | Last 128 | lost to Joe Cullen 6-3 |
| WORLD GRAND PRIX | - |   |
| EUROPEAN DARTS TROPHY | - |   |
| PLAYERS CHAMPIONSHIP 21 | Last 16 | lost to William O'Connor 6-1 |
| PLAYERS CHAMPIONSHIP 22 | Last 128 | lost to Daryl Gurney 6-3 |
| EUROPEAN CHAMPIONSHIP | - |   |
| WORLD SERIES OF DARTS FINALS | Last 24 | lost to Jamie Lewis 6-2 |
| GRAND SLAM OF DARTS | Quarter Final | lost to Mensur Suljovic 16-9 |
| PLAYERS CHAMPIONSHIP FINALS | Last 64 | lost to James Wilson 6-2 |
| | | |
| --- | --- | --- |
| WORLD CHAMPIONSHIP | Last 64 | lost to Cristo Reyes 3-2 |
| THE MASTERS | - |   |
| UK OPEN QUALIFIER 1 | Last 64 | lost to John Henderson 6-5 |
| UK OPEN QUALIFIER 2 | Last 128 | lost to Mark Webster 6-3 |
| UK OPEN QUALIFIER 3 | Last 128 | lost to Steve Lennon 6-0 |
| UK OPEN QUALIFIER 4 | Last 128 | lost to Wayne Jones 6-5 |
| UK OPEN QUALIFIER 5 | Last 64 | lost to Ted Evetts 6-4 |
| UK OPEN QUALIFIER 6 | Last 256 | lost to Shaun Griffiths 6-4 |
| PLAYERS CHAMPIONSHIP 1 | Last 128 | lost to Mike De Decker 6-2 |
| PLAYERS CHAMPIONSHIP 2 | Last 128 | lost to Mick Todd 6-3 |
| UK OPEN | - |   |
| PLAYERS CHAMPIONSHIP 3 | Last 64 | lost to Ronny Huybrechts 6-1 |
| PLAYERS CHAMPIONSHIP 4 | Last 128 | lost to Ron Meulenkamp 6-4 |
| GERMAN DARTS CHAMPIONSHIP | Last 32 | lost to Dave Chisnall 6-0 |
| PLAYERS CHAMPIONSHIP 5 | Last 16 | lost to Richard North 6-4 |
| PLAYERS CHAMPIONSHIP 6 | Last 64 | lost to Simon Whitlock 6-1 |
| PLAYERS CHAMPIONSHIP 7 | Last 64 | lost to Jeffrey de Graaf 6-5 |
| PLAYERS CHAMPIONSHIP 8 | Last 128 | lost to Robert Owen 6-5 |
| GERMAN DARTS MASTERS (ET) | - |   |
| GERMAN DARTS OPEN | Last 16 | lost to Gerwyn Price 6-4 |
| PLAYERS CHAMPIONSHIP 9 | Last 32 | lost to Richie Corner 6-4 |
| PLAYERS CHAMPIONSHIP 10 | Last 128 | lost to Ryan Searle 6-5 |
| EUROPEAN DARTS GRAND PRIX | Last 32 | lost to Gerwyn Price 6-3 |
| GIBRALTAR DARTS TROPHY | Last 16 | lost to Michael Smith 6-5 |
| PREMIER LEAGUE | - |   |
| PLAYERS CHAMPIONSHIP 11 | Last 64 | lost to Kyle Anderson 6-4 |
| PLAYERS CHAMPIONSHIP 12 | Last 128 | lost to Andy Hamilton 6-2 |
| DUBAI DARTS MASTERS | - |   |
| WORLD CUP OF DARTS | - |   |
| EUROPEAN DARTS MATCHPLAY | - |   |
| PLAYERS CHAMPIONSHIP 13 | Last 128 | lost to Kyle Anderson 6-1 |
| PLAYERS CHAMPIONSHIP 14 | Last 64 | lost to Chris Dobey 6-3 |
| AUSTRIAN DARTS OPEN | Last 48 | lost to Jamie Lewis 6-5 |
| EUROPEAN DARTS OPEN | Last 16 | lost to Gerwyn Price 6-3 |
| SHANGHAI DARTS MASTERS | - |   |
| PLAYERS CHAMPIONSHIP 15 | Quarter Final | lost to Daryl Gurney 6-2 |
| PLAYERS CHAMPIONSHIP 16 | Last 128 | lost to Peter Hudson 6-5 |
| U.S. DARTS MASTERS | - |   |
| WORLD MATCHPLAY | - |   |
| PLAYERS CHAMPIONSHIP 17 | Last 64 | lost to Peter Jacques 6-1 |
| PLAYERS CHAMPIONSHIP 18 | Last 64 | lost to William O'Connor 6-3 |
| AUCKLAND DARTS MASTERS | - |   |
| MELBOURNE DARTS MASTERS | - |   |
| PERTH DARTS MASTERS | - |   |
| DUTCH DARTS MASTERS | - |   |
| GERMAN DARTS GRAND PRIX | - |   |
| CHAMPIONS LEAGUE OF DARTS | - |   |
| INTERNATIONAL DARTS OPEN | Last 48 | lost to William O'Connor 6-4 |
| PLAYERS CHAMPIONSHIP 19 | Last 64 | lost to Stephen Bunting 6-5 |
| PLAYERS CHAMPIONSHIP 20 | Last 128 | lost to Josh Payne 6-3 |
| WORLD GRAND PRIX | - |   |
| PLAYERS CHAMPIONSHIP 21 | Last 128 | lost to Max Hopp 6-2 |
| PLAYERS CHAMPIONSHIP 22 | Last 128 | lost to Brendan Dolan 6-5 |
| EUROPEAN DARTS TROPHY | Last 48 | lost to James Richardson 6-3 |
| GERMAN DARTS MASTERS (WS) | - |   |
| EUROPEAN CHAMPIONSHIP | Last 32 | lost to Jonny Clayton 6-1 |
| WORLD SERIES OF DARTS FINALS | Quarter Final | lost to James Wade 10-6 |
| GRAND SLAM OF DARTS | - |   |
| PLAYERS CHAMPIONSHIP FINALS | - |   |