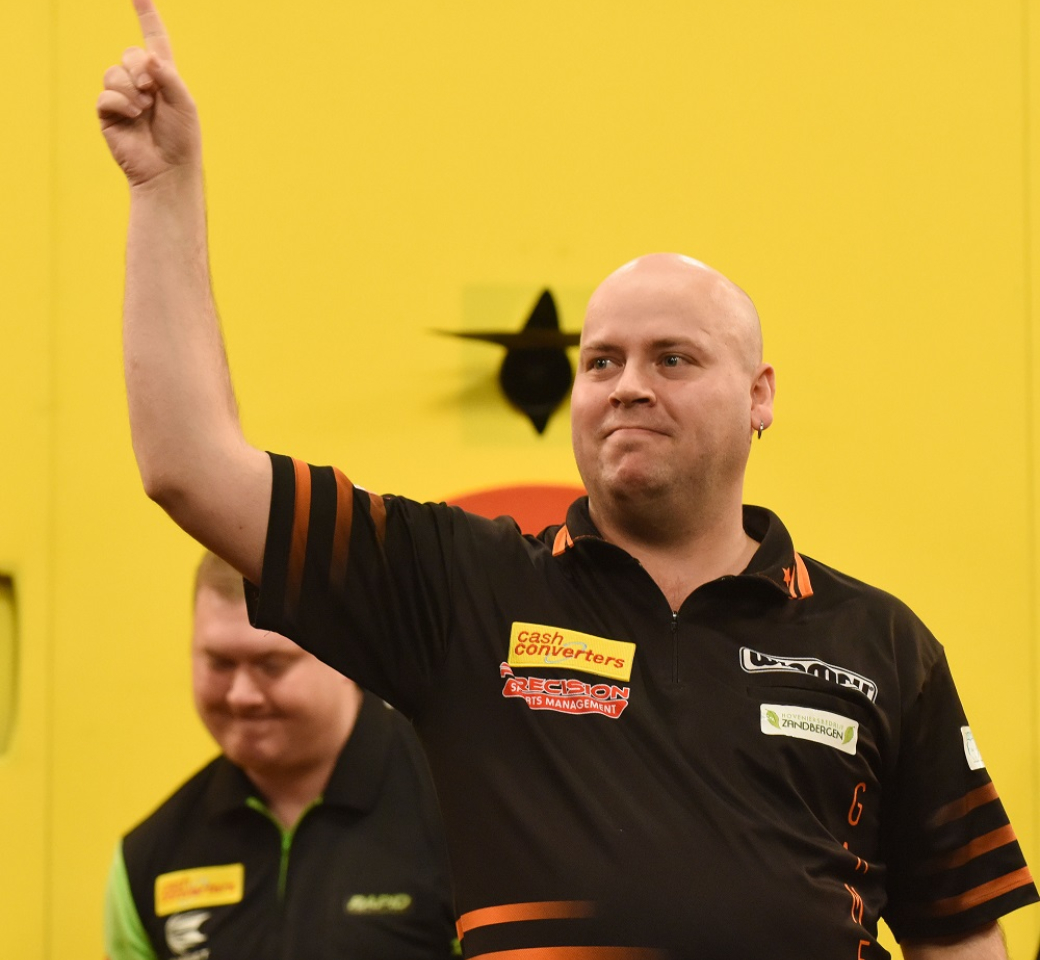 Christian Kist
The Lipstick
PDC World Ranking

97

Televised titles

1

Non-Televised PDC Titles

0

Televised Nine-Dart Finishes

0
Walk-On Music

Thunderstruck by AC/DC

Date of Birth

April 22 1986

Darts Used

22g

Home Town

Vroomshoop
CHRISTIAN is another of the crop of talented Dutch stars to emerge in the past decade.
Kist made a huge impact by winning the Lakeside Championship title in 2012 in his debut at the event, and went on to reach the Grand Slam of Darts quarter-finals later that year.
He subsequently joined the PDC circuit in 2014 by winning a Tour Card at Qualifying School, and quickly showed his class by qualifying for the UK Open, European Championship, Players Championship Finals and PDC World Championship later that year.
Kist has since reached his first PDC televised quarter-final at the 2016 Players Championship Finals.
Player Stats
Select below to see result & roll of honour information.
| | |
| --- | --- |
| BDO World Championship | 2012 |
| | | |
| --- | --- | --- |
|   | Most Recent | Best Performance |
| 2019 WORLD CHAMPIONSHIP | - | Last 32 - 2016 |
| 2019 UK OPEN | Last 64 | Last 16 - 2014 |
| 2019 WORLD MATCHPLAY | - | Last 32 - 2017 |
| 2019 WORLD GRAND PRIX | - | Last 32 - 2017 |
| 2019 EUROPEAN CHAMPIONSHIP | - | Last 32 - 2014, 2015, 2017 |
| 2018 GRAND SLAM OF DARTS | - | Quarter Final - 2012 |
| 2018 PLAYERS CHAMPIONSHIP FINALS | - | Quarter Final - 2016 |
| | | |
| --- | --- | --- |
|   | Most Recent | Best Performance |
| 2019 THE MASTERS | - | - |
| 2019 PREMIER LEAGUE | - | - |
| 2019 WORLD CUP OF DARTS  | - | - |
| 2019 U.S. MASTERS | - | - |
| 2019 GERMAN MASTERS | - | - |
| 2019 BRISBANE MASTERS | - | - |
| 2019 MELBOURNE MASTERS | - | - |
| 2019 NEW ZEALAND MASTERS | - | - |
| 2019 CHAMPIONS LEAGUE OF DARTS | - | - |
| 2019 WORLD SERIES OF DARTS FINALS | - | - |
| | | |
| --- | --- | --- |
| TOURNAMENT WIN | - |   |
| FINAL | Players Championship 16 (September 2016) | lost to Michael van Gerwen 6-1 |
| SEMI FINAL | Players Championship 16 (September 2016) | beat Mensur Suljovic 6-5 |
| QUARTER FINAL | Players Championship 13 (April 2019) | lost to Nathan Aspinall 6-3 |
| | | |
| --- | --- | --- |
| WORLD CHAMPIONSHIP | Last 64 | lost to Brendan Dolan 3-1 |
| THE MASTERS | - |   |
| UK OPEN QUALIFIER 1 | Last 128 | lost to William O'Connor 6-3 |
| UK OPEN QUALIFIER 2 | Last 128 | lost to Jermaine Wattimena 6-2 |
| UK OPEN QUALIFIER 3 | Last 16 | lost to Cristo Reyes 6-3 |
| UK OPEN QUALIFIER 4 | Last 32 | lost to Gerwyn Price 6-5 |
| UK OPEN QUALIFIER 5 | Last 128 | lost to Dave Chisnall 6-5 |
| UK OPEN QUALIFIER 6 | Last 16 | lost to Adrian Lewis 6-1 |
| PLAYERS CHAMPIONSHIP 1 | Last 64 | lost to Aden Kirk 6-3 |
| PLAYERS CHAMPIONSHIP 2 | Last 128 | lost to Jan Dekker 6-4 |
| UK OPEN | Last 64 | lost to Dirk van Duijvenbode 10-5 |
| PLAYERS CHAMPIONSHIP 3 | Last 64 | lost to William O'Connor 6-2 |
| PLAYERS CHAMPIONSHIP 4 | Last 16 | lost to Dirk van Duijvenbode 6-5 |
| GERMAN DARTS CHAMPIONSHIP | Last 32 | lost to Peter Wright 6-5 |
| PLAYERS CHAMPIONSHIP 5 | Last 64 | lost to Scott Taylor 6-0 |
| PLAYERS CHAMPIONSHIP 6 | Last 32 | lost to James Richardson 6-5 |
| PLAYERS CHAMPIONSHIP 7 | Last 64 | lost to Mark Langendorf 6-2 |
| PLAYERS CHAMPIONSHIP 8 | Last 128 | lost to Mark Barilli 6-4 |
| GERMAN DARTS MASTERS (ET) | - |   |
| GERMAN DARTS OPEN | Last 32 | lost to Jelle Klaasen 6-0 |
| PLAYERS CHAMPIONSHIP 9 | Last 128 | lost to Kevin Painter 6-4 |
| PLAYERS CHAMPIONSHIP 10 | Last 32 | lost to Ryan Searle 6-3 |
| EUROPEAN DARTS GRAND PRIX | Last 48 | lost to Jonny Clayton 6-2 |
| GIBRALTAR DARTS TROPHY | Last 32 | lost to Michael Smith 6-5 |
| PREMIER LEAGUE | - |   |
| PLAYERS CHAMPIONSHIP 11 | Last 128 | lost to Steve Hine 6-2 |
| PLAYERS CHAMPIONSHIP 12 | Last 32 | lost to Joe Cullen 6-5 |
| DUBAI DARTS MASTERS | - |   |
| WORLD CUP OF DARTS | - |   |
| EUROPEAN DARTS MATCHPLAY | Last 48 | lost to Kyle Anderson 6-5 |
| PLAYERS CHAMPIONSHIP 13 | Last 64 | lost to Terry Temple 6-1 |
| PLAYERS CHAMPIONSHIP 14 | Last 128 | lost to Joe Murnan 6-3 |
| AUSTRIAN DARTS OPEN | Last 48 | lost to Jamie Bain 6-1 |
| EUROPEAN DARTS OPEN | Last 32 | lost to Mensur Suljovic 6-4 |
| SHANGHAI DARTS MASTERS | - |   |
| PLAYERS CHAMPIONSHIP 15 | Last 128 | lost to Steve Lennon 6-1 |
| PLAYERS CHAMPIONSHIP 16 | Last 16 | lost to Keegan Brown 6-3 |
| U.S. DARTS MASTERS | - |   |
| WORLD MATCHPLAY | Last 32 | lost to Gary Anderson 10-7 |
| PLAYERS CHAMPIONSHIP 17 | Last 16 | lost to Yordi Meeuwisse 6-5 |
| PLAYERS CHAMPIONSHIP 18 | Last 32 | lost to James Wade 6-5 |
| AUCKLAND DARTS MASTERS | - |   |
| MELBOURNE DARTS MASTERS | - |   |
| PERTH DARTS MASTERS | - |   |
| DUTCH DARTS MASTERS | Last 16 | lost to Krzysztof Ratajski 6-1 |
| GERMAN DARTS GRAND PRIX | - |   |
| CHAMPIONS LEAGUE OF DARTS | - |   |
| INTERNATIONAL DARTS OPEN | Last 32 | lost to Kim Huybrechts 6-1 |
| PLAYERS CHAMPIONSHIP 19 | Last 128 | lost to Berry van Peer 6-4 |
| PLAYERS CHAMPIONSHIP 20 | Last 128 | lost to Nathan Aspinall 6-5 |
| WORLD GRAND PRIX | Last 32 | lost to Simon Whitlock 2-1 |
| PLAYERS CHAMPIONSHIP 21 | Last 64 | lost to Kevin Painter 6-5 |
| PLAYERS CHAMPIONSHIP 22 | Last 128 | lost to Peter Jacques 6-5 |
| EUROPEAN DARTS TROPHY | Last 48 | lost to Jan Dekker 6-0 |
| GERMAN DARTS MASTERS (WS) | - |   |
| EUROPEAN CHAMPIONSHIP | Last 32 | lost to Jelle Klaasen 6-0 |
| WORLD SERIES OF DARTS FINALS | - |   |
| GRAND SLAM OF DARTS | - |   |
| PLAYERS CHAMPIONSHIP FINALS | Last 64 | lost to Simon Whitlock 6-3 |
| | | |
| --- | --- | --- |
| WORLD CHAMPIONSHIP | Last 64 | lost to Michael van Gerwen 3-1 |
| THE MASTERS | - |   |
| UK OPEN QUALIFIER 1 | - |   |
| UK OPEN QUALIFIER 2 | - |   |
| UK OPEN QUALIFIER 3 | - |   |
| UK OPEN QUALIFIER 4 | Last 256 | lost to Carl Wilkinson 6-4 |
| UK OPEN QUALIFIER 5 | Last 256 | lost to Steffen Siepmann 6-5 |
| UK OPEN QUALIFIER 6 | Last 256 | lost to Wes Newton 6-3 |
| PLAYERS CHAMPIONSHIP 1 | Last 128 | lost to Keegan Brown 6-5 |
| PLAYERS CHAMPIONSHIP 2 | Last 128 | lost to Cristo Reyes 6-4 |
| UK OPEN | - |   |
| PLAYERS CHAMPIONSHIP 3 | Last 128 | lost to Alan Norris 6-4 |
| PLAYERS CHAMPIONSHIP 4 | Last 64 | lost to Jimmy Hendriks 6-4 |
| PLAYERS CHAMPIONSHIP 5 | Last 64 | lost to Ronny Huybrechts 6-3 |
| PLAYERS CHAMPIONSHIP 6 | Last 128 | lost to Danny Noppert 6-4 |
| EUROPEAN DARTS OPEN | - |   |
| GERMAN DARTS GRAND PRIX | - |   |
| PLAYERS CHAMPIONSHIP 7 | Last 128 | lost to Kyle Anderson 6-5 |
| PLAYERS CHAMPIONSHIP 8 | Last 64 | lost to Ricky Evans 6-3 |
| GERMAN DARTS OPEN | - |   |
| AUSTRIAN DARTS OPEN | - |   |
| PLAYERS CHAMPIONSHIP 9 | Last 64 | lost to Richard North 6-2 |
| PLAYERS CHAMPIONSHIP 10 | Last 128 | lost to Jermaine Wattimena 6-5 |
| EUROPEAN DARTS GRAND PRIX | - |   |
| DUTCH DARTS MASTERS | Last 48 | lost to Kyle Anderson 6-3 |
| PREMIER LEAGUE | - |   |
| PLAYERS CHAMPIONSHIP 11 | Last 32 | lost to Michael Smith 6-4 |
| PLAYERS CHAMPIONSHIP 12 | Last 32 | lost to Josh Payne 6-2 |
| GERMAN DARTS MASTERS | - |   |
| WORLD CUP OF DARTS | - |   |
| GIBRALTAR DARTS TROPHY | - |   |
| PLAYERS CHAMPIONSHIP 13 | Last 128 | lost to Kyle Anderson 6-4 |
| PLAYERS CHAMPIONSHIP 14 | Last 128 | lost to Steve Lennon 6-1 |
| DANISH DARTS OPEN | - |   |
| PLAYERS CHAMPIONSHIP 15 | Last 64 | lost to Gabriel Clemens 6-4 |
| PLAYERS CHAMPIONSHIP 16 | Last 128 | lost to Josh Payne 6-3 |
| EUROPEAN DARTS MATCHPLAY | - |   |
| U.S. DARTS MASTERS | - |   |
| SHANGHAI DARTS MASTERS | - |   |
| WORLD MATCHPLAY | - |   |
| AUCKLAND DARTS MASTERS | - |   |
| MELBOURNE DARTS MASTERS | - |   |
| BRISBANE DARTS MASTERS | - |   |
| GERMAN DARTS CHAMPIONSHIP | - |   |
| PLAYERS CHAMPIONSHIP 17 | Last 128 | lost to Peter Wright 6-3 |
| PLAYERS CHAMPIONSHIP 18 | Last 64 | lost to Tony Newell 6-5 |
| DUTCH DARTS CHAMPIONSHIP | - |   |
| INTERNATIONAL DARTS OPEN | - |   |
| CHAMPIONS LEAGUE OF DARTS | - |   |
| PLAYERS CHAMPIONSHIP 19 | Last 128 | lost to Simon Whitlock 6-4 |
| PLAYERS CHAMPIONSHIP 20 | Last 128 | lost to Rowby-John Rodriguez 6-5 |
| WORLD GRAND PRIX | - |   |
| EUROPEAN DARTS TROPHY | - |   |
| PLAYERS CHAMPIONSHIP 21 | Last 64 | lost to Dimitri Van den Bergh 6-5 |
| PLAYERS CHAMPIONSHIP 22 | Last 128 | lost to Dawson Murschell 6-3 |
| EUROPEAN CHAMPIONSHIP | - |   |
| WORLD SERIES OF DARTS FINALS | - |   |
| GRAND SLAM OF DARTS | - |   |
| PLAYERS CHAMPIONSHIP FINALS | - |   |
| | | |
| --- | --- | --- |
| WORLD CHAMPIONSHIP | - |   |
| THE MASTERS | - |   |
| PLAYERS CHAMPIONSHIP 1 | Last 128 | lost to Gary Eastwood 6-4 |
| PLAYERS CHAMPIONSHIP 2 | Last 128 | lost to Zoran Lerchbacher 6-5 |
| PLAYERS CHAMPIONSHIP 3 | Last 128 | lost to Ted Evetts 6-0 |
| PLAYERS CHAMPIONSHIP 4 | Last 64 | lost to Mark McGeeney 6-3 |
| PLAYERS CHAMPIONSHIP 5 | - |   |
| PLAYERS CHAMPIONSHIP 6 | - |   |
| UK OPEN | Last 64 | lost to Nathan Aspinall 10-9 |
| PLAYERS CHAMPIONSHIP 7 | Last 64 | lost to Ross Smith 6-2 |
| PLAYERS CHAMPIONSHIP 8 | Last 64 | lost to Keegan Brown 6-3 |
| EUROPEAN DARTS OPEN | - |   |
| GERMAN DARTS CHAMPIONSHIP | - |   |
| PLAYERS CHAMPIONSHIP 9 | Last 64 | lost to James Wade 6-2 |
| PLAYERS CHAMPIONSHIP 10 | Last 64 | lost to Mark McGeeney 6-1 |
| PLAYERS CHAMPIONSHIP 11 | Last 64 | lost to Christian Bunse 6-4 |
| PLAYERS CHAMPIONSHIP 12 | Last 64 | lost to James Wade 6-0 |
| GERMAN DARTS GRAND PRIX | - |   |
| GERMAN DARTS OPEN | - |   |
| PLAYERS CHAMPIONSHIP 13 | Quarter Final | lost to Nathan Aspinall 6-3 |
| PLAYERS CHAMPIONSHIP 14 | Last 128 | lost to Ryan Meikle 6-2 |
| AUSTRIAN DARTS OPEN | - |   |
| EUROPEAN DARTS GRAND PRIX | - |   |
| PLAYERS CHAMPIONSHIP 15 | Last 128 | lost to Dave Chisnall 6-2 |
| PLAYERS CHAMPIONSHIP 16 | Last 64 | lost to Dave Chisnall 6-4 |
| PREMIER LEAGUE | - |   |
| DUTCH DARTS MASTERS | - |   |
| WORLD CUP OF DARTS | - |   |
| DANISH DARTS OPEN | - |   |
| PLAYERS CHAMPIONSHIP 17 | Last 64 | lost to Danny Noppert 6-2 |
| PLAYERS CHAMPIONSHIP 18 | Last 128 | lost to Jamie Hughes 6-2 |
| CZECH DARTS OPEN | - |   |
| U.S. DARTS MASTERS | - |   |
| GERMAN DARTS MASTERS | - |   |
| PLAYERS CHAMPIONSHIP 19 | Last 16 | lost to Gary Anderson 6-2 |
| PLAYERS CHAMPIONSHIP 20 | Last 16 | lost to Jan Dekker 6-3 |
| WORLD MATCHPLAY | - |   |
| PLAYERS CHAMPIONSHIP 21 | Last 128 | lost to Berry van Peer 6-3 |
| PLAYERS CHAMPIONSHIP 22 | Last 128 | lost to Jermaine Wattimena 6-4 |
| BRISBANE DARTS MASTERS | - |   |
| MELBOURNE DARTS MASTERS | - |   |
| NEW ZEALAND DARTS MASTERS | - |   |
| AUSTRIAN DARTS CHAMPIONSHIP | - |   |
| EUROPEAN DARTS MATCHPLAY | - |   |
| PLAYERS CHAMPIONSHIP 23 | Last 128 | lost to Glen Durrant 6-3 |
| PLAYERS CHAMPIONSHIP 24 | Last 128 | lost to Mervyn King 6-2 |
| INTERNATIONAL DARTS OPEN | - |   |
| PLAYERS CHAMPIONSHIP 25 | Last 128 | lost to Steve Lennon 6-1 |
| PLAYERS CHAMPIONSHIP 26 | Last 128 | lost to Robert Owen 6-2 |
| GIBRALTAR DARTS TROPHY | - |   |
| PLAYERS CHAMPIONSHIP 27 | Last 128 | lost to Martin Schindler 6-1 |
| PLAYERS CHAMPIONSHIP 28 | Last 128 | lost to Terry Temple 6-4 |
| WORLD GRAND PRIX | - |   |
| PLAYERS CHAMPIONSHIP 29 | Last 64 | lost to Keegan Brown 6-3 |
| PLAYERS CHAMPIONSHIP 30 | Last 128 | lost to Dirk van Duijvenbode 6-1 |
| CHAMPIONS LEAGUE OF DARTS | - |   |
| EUROPEAN CHAMPIONSHIP | - |   |
| WORLD SERIES OF DARTS FINALS | - |   |