The 2022 Cazoo Premier League took place at venues across Europe from February-June.
A new-look Premier League was played across 17 nights as eight of the world's top stars competed for the coveted title and £1m in prize money.
CLICK HERE TO SIGN UP TO A MAILING LIST TO RECEIVE EMAIL UPDATES FOR 2023 CAZOO PREMIER LEAGUE TICKETS.
2022 Cazoo Premier League Fixtures
Night One - Motorpoint Arena, Cardiff
Thursday February 3
Quarter-Finals
Jonny Clayton 6-2 Joe Cullen
James Wade 6-3 Gerwyn Price
Peter Wright 6-3 Michael Smith
Gary Anderson 6-4 Michael van Gerwen
Semi-Finals
Jonny Clayton 6-4 James Wade
Peter Wright 6-5 Gary Anderson
Final
Peter Wright 6-1 Jonny Clayton
Night Two - M&S Bank Arena, Liverpool
Thursday February 10
Quarter-Finals
Michael van Gerwen 6-1 Peter Wright
Jonny Clayton 6-3 Michael Smith
Joe Cullen 6-3 James Wade
Gerwyn Price 6-3 Gary Anderson

Semi-Finals
Jonny Clayton 6-4 Michael van Gerwen
Joe Cullen 6-5 Gerwyn Price

Final
Jonny Clayton 6-4 Joe Cullen
Night Three - The SSE Arena, Belfast
Thursday February 17
Quarter-Finals
Gerwyn Price 6-3 Michael Smith
Michael van Gerwen 6-3 Joe Cullen
Peter Wright 6-4 Gary Anderson
James Wade 6-3 Jonny Clayton
Semi-Finals
Gerwyn Price 6-5 Michael van Gerwen (Price hits nine-darter in leg five)
James Wade 6-4 Peter Wright
Final
Gerwyn Price 6-4 James Wade (Price hits nine-darter in leg three)
Night Four - Westpoint Exeter
Thursday March 3
Quarter-Finals
Michael van Gerwen 6-1 Jonny Clayton
Michael Smith 6-5 Joe Cullen
Peter Wright 6-2 Gerwyn Price
James Wade 6-4 Gary Anderson
Semi-Finals
Michael van Gerwen 6-2 Michael Smith
Peter Wright 6-2 James Wade
Final
Michael van Gerwen 6-0 Peter Wright
Night Five - The Brighton Centre
Thursday March 10
Quarter-Finals
Michael Smith 6-1 Gary Anderson
Jonny Clayton 6-5 Peter Wright
Michael van Gerwen 6-5 James Wade
Joe Cullen Bye (Gerwyn Price withdrew)
Semi-Finals
Michael Smith 6-1 Jonny Clayton
Michael van Gerwen 6-1 Joe Cullen
Final
Michael van Gerwen 6-4 Michael Smith
Night Six - Motorpoint Arena, Nottingham
Thursday March 17
Quarter-Finals
Michael Smith 6-1 James Wade
Gerwyn Price 6-4 Michael van Gerwen
Gary Anderson 6-5 Jonny Clayton
Peter Wright 6-4 Joe Cullen
Semi-Finals
Michael Smith 6-4 Gerwyn Price
Gary Anderson 6-3 Peter Wright
Final
Gary Anderson 6-4 Michael Smith
Night Seven - Rotterdam Ahoy
Thursday March 24
Quarter-Finals
Peter Wright 6-5 James Wade
Joe Cullen 6-5 Gary Anderson
Jonny Clayton 6-5 Gerwyn Price
Michael van Gerwen 6-5 Michael Smith
Semi-Finals
Joe Cullen 6-4 Peter Wright
Michael van Gerwen 6-3 Jonny Clayton

Final
Joe Cullen 6-5 Michael van Gerwen
Night Eight - Utilita Arena, Birmingham
Thursday March 31
Quarter-Finals
Michael van Gerwen 2-6 James Wade
Joe Cullen 6-3 Gerwyn Price
Peter Wright 6-5 Gary Anderson
Jonny Clayton 6-1 Michael Smith
Semi-Finals
James Wade 6-2 Joe Cullen
Peter Wright 4-6 Jonny Clayton
Final
James Wade 1-6 Jonny Clayton
Night Nine - First Direct Arena, Leeds
Thursday April 7
Quarter-Finals
Peter Wright 6-2 Michael Smith
Michael van Gerwen Bye (Gary Anderson withdrew)
Jonny Clayton 6-1 Joe Cullen
James Wade 6-5 Gerwyn Price
Semi-Finals
Michael van Gerwen 6-3 Peter Wright
James Wade 6-4 Jonny Clayton
Final
Michael van Gerwen 6-1 James Wade
Night Ten - AO Arena, Manchester
Thursday April 14
Quarter-Finals
Peter Wright 4-6 Gerwyn Price
Gary Anderson 2-6 James Wade
Michael van Gerwen 5-6 Jonny Clayton
Joe Cullen 6-2 Michael Smith
Semi-Finals
Gerwyn Price 2-6 James Wade
Jonny Clayton 3-6 Joe Cullen
Final
James Wade 6-5 Joe Cullen
Night 11 - P&J Live, Aberdeen
Thursday April 21
Quarter-Finals
Jonny Clayton 6-2 Gary Anderson
Peter Wright 6-5 Joe Cullen
James Wade 6-5 Michael Smith
Michael van Gerwen 6-3 Gerwyn Price

Semi-Finals
Jonny Clayton 6-5 Peter Wright
Michael van Gerwen 6-3 James Wade

Final
Jonny Clayton 6-5 Michael van Gerwen
Night 12 - 3Arena, Dublin
Thursday April 28
Quarter-Finals
James Wade 6-5 Michael van Gerwen
Gerwyn Price 6-3 Joe Cullen
Michael Smith 6-2 Gary Anderson
Jonny Clayton 6-3 Peter Wright
Semi-Finals
James Wade 6-1 Gerwyn Price
Michael Smith 4-6 Jonny Clayton
Final
James Wade 6-5 Jonny Clayton
Night 13 - OVO Arena, Glasgow
Thursday May 5
Quarter-Finals
Peter Wright 2-6 Gary Anderson
Jonny Clayton 6-2 James Wade
Gerwyn Price 3-6 Michael Smith
Michael van Gerwen 6-5 Joe Cullen
Semi-Finals
Gary Anderson 4-6 Jonny Clayton
Michael Smith 5-6 Michael van Gerwen
Final
Jonny Clayton 6-3 Michael van Gerwen
Night 14 – Utilita Arena, Sheffield
Thursday May 12
Quarter-Finals
Joe Cullen Bye James Wade
Gerwyn Price 6-4 Gary Anderson
Michael van Gerwen 6-1 Peter Wright
Michael Smith 6-5 Jonny Clayton
Semi-Finals
Gerwyn Price 6-3 Joe Cullen
Michael van Gerwen 6-5 Michael Smith
Final
Gerwyn Price 6-5 Michael van Gerwen
Night 15 – The O2, London
Thursday May 19
Quarter-Finals
Jonny Clayton 6-3 Gerwyn Price
Michael Smith 6-5 Michael van Gerwen
Peter Wright 6-3 James Wade
Joe Cullen 6-1 Gary Anderson
Semi-Finals
Jonny Clayton 6-4 Michael Smith
Joe Cullen 6-1 Peter Wright
Final
Joe Cullen 6-4 Jonny Clayton
Night 16 - Utilita Arena, Newcastle
Thursday May 26
Quarter-Finals
Jonny Clayton 6-5 Gary Anderson
Joe Cullen 6-4 Peter Wright
Michael Smith 6-4 Michael van Gerwen
Gerwyn Price 6-4 James Wade
Semi-Finals
Jonny Clayton 6-4 Joe Cullen
Michael Smith 6-3 Gerwyn Price
Final
Michael Smith 6-3 Jonny Clayton
Play-Offs - Mercedes-Benz Arena, Berlin
Monday June 13
Semi-Finals
Joe Cullen 10-4 Jonny Clayton
Michael van Gerwen 10-4 James Wade
Final
Michael van Gerwen 11-10 Joe Cullen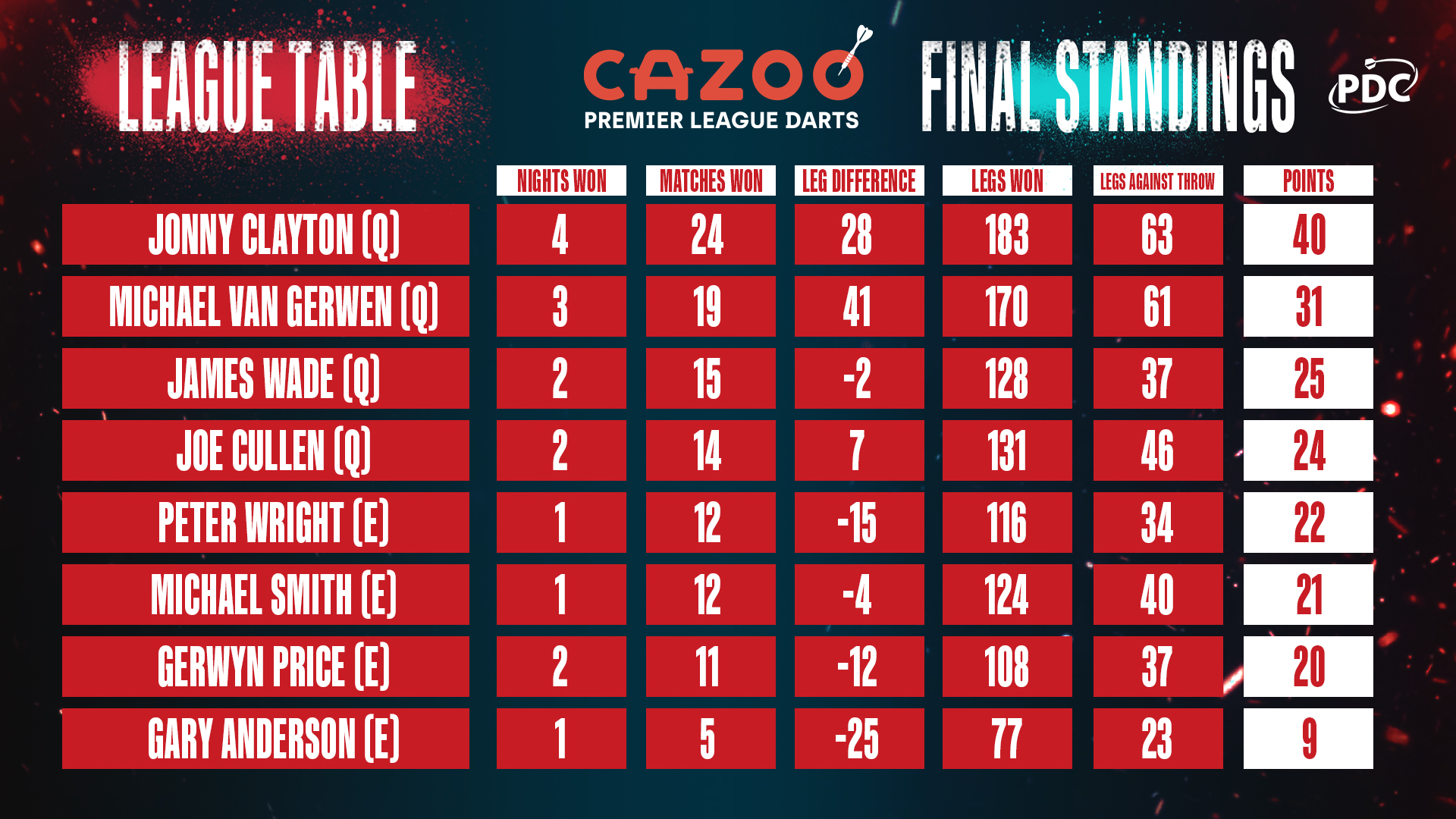 Prize Fund
Winner: £275,000
Runner-Up: £125,000
Semi-Finalists: £85,000 each
Fifth in League Table: £75,000
Sixth in League Table: £70,000
Seventh in League Table: £65,000
Eighth in League Table: £60,000
Nightly Winner Bonus: £10,000 x16
Total: £1,000,000