2018 Coral UK Open
Friday March 2
Afternoon Session
First Round
Paul Nicholson 6-5 Terry Jenkins
Ryan Harrington 6-5 Richie Burnett
Lee Evans 6-3 Dimitri Van den Bergh
John Part 6-2 John Morris
Alex Roy 6-2 Mark Walsh
Michael Burgoine Bye (Andrew Davidson withdrew)
Rene Eidams 6-4 Andrew Johnson
Michael Barnard Bye (Scott Robertson withdrew)
Bradley Brooks 6-4 Chris Quantock
Benito van de Pas 6-5 Cristo Reyes
Andrew Pullen Bye (Mark Rice withdrew)
Michael Rasztovits 6-3 Simon Tate
Luke Humphries 6-0 Liam Kelly
Robert Rickwood Bye (Rene Berndt withdrew)
Dirk van Duijvenbode Bye (Mick McGowan withdrew)
Harry Ward 6-0 Daniel Lee
Kirk Shepherd 6-4 Adam Hunt
Ryan Meikle 6-5 Mickey Mansell
Darryl Pilgrim 6-2 Ian Jopling
Joe Davis 6-5 Dan Read
David Airey 6-4 Benjamin McClelland
Martin Biggs Bye (Chris Lacey withdrew)
Ricky Evans 6-1 Andreas Hajiminia
Cody Harris 6-1 Tony Mitchell
Mark Craddock Bye (Craig Winstanley withdrew)
Andy Hamilton Bye (William O'Connor withdrew)
Paul Whitworth 6-3 Martin Atkins
Paul Hogan 6-5 Darren Brown
Ron Meulenkamp 6-4 Andy Hibbert
George Killington 6-4 Andy Jenkins
Jason Mold 6-5 Prakash Jiwa
John Scott 6-4 Darren Johnson
Second Round
Alex Roy 6-4 Toni Alcinas
Gerwyn Price 6-2 James Wilson
Dirk van Duijvenbode 6-4 Alan Norris
Raymond van Barneveld 6-5 Mike Norton
Vincent van der Voort 6-3 Martin Biggs
Paul Nicholson 6-5 Richard North
David Evans 6-4 Benito van de Pas
Chris Dobey 6-5 Lee Evans
Paul Hogan Bye (John Goldie withdrew)
Ryan Harrington 6-3 Danny Noppert
David Airey 6-1 Stuart Kellett
Dave Chisnall 6-2 Rene Eidams
Kirk Shepherd 6-3 Vincent Kamphuis
Nathan Rafferty 6-3 Jason Mold
Robert Owen 6-4 Michael Burgoine
Jermaine Wattimena 6-0 Andy Hamilton
Luke Humphries 6-3 Wayne Jones
Stephen Bunting 6-2 Bradley Brooks
Joe Cullen 6-2 Jose Justicia
Keegan Brown 6-3 George Killington
Gabriel Clemens 6-0 Andrew Gilding
Jason Lowe 6-4 John Scott
Nathan Aspinall 6-3 Andrew Pullen
Ricky Evans 6-2 Carl Wilkinson
Michael Barnard 6-2 Cody Harris
Ron Meulenkamp 6-1 Joe Davis
John Part 6-0 Paul Whitworth
Harry Ward 6-1 Ted Evetts
Michael Rasztovits Bye (Maik Langendorf withdrew)
Ryan Meikle 6-4 Mark Craddock
Robert Rickwood 6-0 James Richardson
Darryl Pilgrim 6-4 Geert Nentjes
Evening Session
Third Round
Rob Cross 10-8 Nathan Aspinall
Mervyn King 10-4 Raymond van Barneveld
Jeffrey de Zwaan 10-8 Michael van Gerwen
Gary Anderson 10-3 Robert Rickwood
Jason Lowe 10-3 David Airey
John Part 10-2 David Evans
David Pallett 10-8 Robert Thornton
Ricky Evans 10-6 Luke Humphries
Kyle Anderson 10-7 Vincent van der Voort
Jermaine Wattimena 10-8 Steve Beaton
Robert Owen 10-2 Jamie Lewis
Kim Huybrechts 10-8 Gabriel Clemens
Steve West 10-9 Darryl Pilgrim
Keegan Brown 10-8 Joe Cullen
Krzysztof Ratajski 10-7 Darren Webster
James Wade 10-6 Simon Stevenson
Nathan Rafferty 10-9 Peter Wright
Chris Dobey 10-2 Harry Ward
Corey Cadby 10-5 Michael Rasztovits
Matthew Edgar 10-4 John Henderson
Paul Hogan 10-6 Paul Nicholson
Michael Smith 10-5 Kirk Shepherd
Ian White 10-7 Simon Whitlock
Daryl Gurney 10-9 Jelle Klaasen
Martin Schindler 10-7 Ryan Harrington
Dirk van Duijvenbode 10-5 Adrian Lewis
Gerwyn Price 10-6 Alex Roy
Stephen Bunting 10-3 Justin Pipe
Ryan Meikle 10-6 Dave Chisnall
Jonny Clayton 10-6 Michael Barnard
Ron Meulenkamp 10-4 Dave Prins
Bye - Jamie Hughes
With Zoran Lerchbacher (ranked 13th on UK Open Order of Merit) withdrawing, there were 63 players in the third round draw, meaning that one player received a Bye.
Saturday March 3
Afternoon Session
Fourth Round
Kim Huybrechts 10-5  Daryl Gurney
Gary Anderson 10-3 Ricky Evans
Rob Cross 10-7 Kyle Anderson
Corey Cadby 10-7 Martin Schindler
Chris Dobey 10-5 Jason Lowe
Mervyn King 10-8 Jonny Clayton
Michael Smith 10-4 Ryan Meikle
John Part 10-9 Ron Meulenkamp
Robert Owen 10-9 Nathan Rafferty
David Pallett 10-6 James Wade
Steve West 10-7 Matthew Edgar
Krzysztof Ratajski 10-5 Keegan Brown
Gerwyn Price 10-6 Dirk van Duijvenbode
Ian White 10-8 Jamie Hughes
Jermaine Wattimena 10-8 Stephen Bunting
Paul Hogan 10-8 Jeffrey de Zwaan
Evening Session
Fifth Round
John Part 10-8 Mervyn King
Gerwyn Price 10-9 Paul Hogan  
Gary Anderson 10-6 Jermaine Wattimena
Rob Cross 10-3 Krzysztof Ratajski
Robert Owen 10-7 Ian White
Steve West 10-9 Michael Smith
David Pallett 10-7 Kim Huybrechts
Corey Cadby 10-7 Chris Dobey
Sunday March 4
Afternoon Session (12.45pm)
Quarter-Finals
David Pallett 10-5 Steve West
Robert Owen 10-3 John Part
Corey Cadby 10-6 Gerwyn Price
Gary Anderson 10-5 Rob Cross
Best of 19 legs
Evening Session (7pm)
Semi-Finals
David Pallett 11-7 Gary Anderson
Corey Cadby 11-3 Robert Owen
Best of 21 legs
Final
Gary Anderson 11-7 Corey Cadby
Best of 21 legs
Withdrawals
Rene Berndt
Andrew Davidson
John Goldie
Maik Langendorf
Zoran Lerchbacher
Mick McGowan
William O'Connor
Mark Rice
Scott Robertson
Craig Winstanley
Session Times
Friday March 2
Afternoon Session (12pm)
First Round - Best of 11 legs
Second Round - Best of 11 legs
Played across eight stages
Evening Session (7pm)
Third Round - Best of 19 legs
Played across eight stages
Saturday March 3
Afternoon Session (12.30pm)
Fourth Round - Best of 19 legs
Played across four stages
Evening Session (7pm)
Fifth Round - Best of 19 legs
Played across two stages
Sunday March 4
Afternoon Session (12.45pm)
Quarter-Finals - Best of 19 legs
Played on Main Stage
Evening Session (7pm)
Semi-Finals - Best of 21 legs
Final - Best of 21 legs
Stage locations
Main Stage - Skyline Pavilion
Stage Two - Red's
Stages Three-Eight - Centre Stage
Prize Fund
Winner £70,000
Runner-Up £35,000
Semi-Finalists £17,500
Quarter-Finalists £11,500
Fifth Round Losers £6,500
Fourth Round Losers £3,500
Third Round Losers £1,750
Total £350,000
Format
First Round - Best of 11 legs
Second Round - Best of 11 legs
Third Round - Best of 19 legs
Fourth Round - Best of 19 legs
Fifth Round - Best of 19 legs
Quarter-Finals - Best of 19 legs
Semi-Finals - Best of 21 legs
Final - Best of 21 legs
GARY ANDERSON claimed his first Coral UK Open title with an 11-7 win over Australian sensation Corey Cadby in Sunday's final at the Butlin's Minehead Resort.
World number four Anderson scooped the £70,000 top prize and his first televised ranking title for over two years with the success.
Anderson defeated World Champion Rob Cross 10-5 in Sunday afternoon's quarter-finals and then overcame David Pallett 11-7 in the semi-finals, before holding off the former World Youth Champion to claim the title.
After Cadby opened up an early 4-1 lead - taking out 70 and 87 along the way - Anderson hit back to lead 5-4 with a four-leg burst of his own which was sparked by a 110 finish, before finishing a key 108 to lead 8-6.
Cadby hit back before finishes of 70 and 91 moved Anderson to the brink of a victory which he sealed with a 14-dart leg on double 18.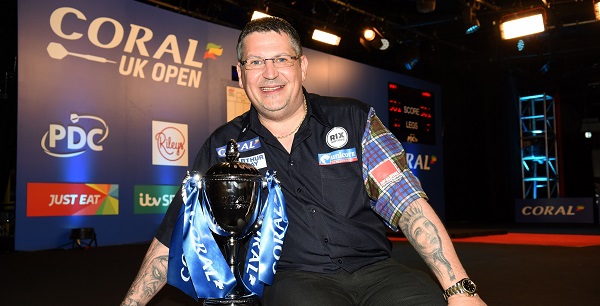 "It's fantastic for me," said Anderson. "I've come here to win the tournament and managed to do it, and it's great.
"I played well on Friday and Saturday and I was very happy with my game but I struggled in the last three games. My scoring wasn't there but my doubles went in when I needed them to.
"In the last three games I've been lucky - it's been a struggle. Corey is good and I've got a lot of time for him, he's a class act.
"I knew exactly what to expect and he's going to be about for a long, long time. It's getting harder every year with all the youngsters coming through and they'll take it in their stride."
Cadby, who picked up £35,000 as runner-up, continued his superb start to life as a professional since winning a Tour Card in January by reaching his first televised ranking final with Sunday wins over Gerwyn Price and Robert Owen.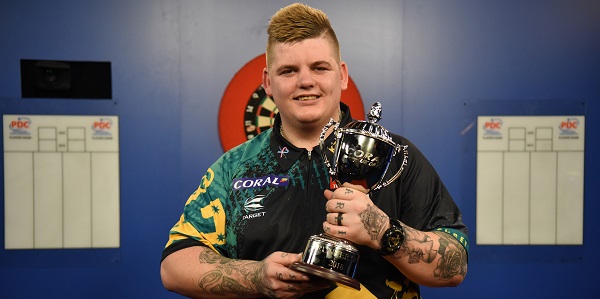 The Tasmania-born star will now return to Melbourne ahead of his wedding to fiancee Breana in a fortnight - on his 23rd birthday - and said: "What a year 2018 has been and I'm looking forward to the rest.
"I'm only young, I've got a lot to learn and I'm pretty happy to make the final. I'm not happy to be runner-up but I'll take it.
"I gave everything but you've got to hit the doubles at crucial times, you can't afford to miss and Gary came through and won."
The UK Open's reputation for giving a platform to emerging players to make their mark continued as Wales' Robert Owen and Shropshire-born David Pallett won through to their first televised semi-finals.
Owen saw off resurgent three-time World Champion John Part 10-3 in Sunday afternoon's quarter-finals with the performance of his career, before being overpowered by Cadby in the last four as the Australian stormed into a 9-0 lead.
"I was disappointed to lose to Corey but at the same time I can't really be too disappointed," said the 33-year-old from Ogmore Vale. "It's my first big TV semi-final and many other players never achieve that.
"Good things come to those who wait, and when you work hard it comes. I haven't played my best darts this weekend but it's a cracking start to the year."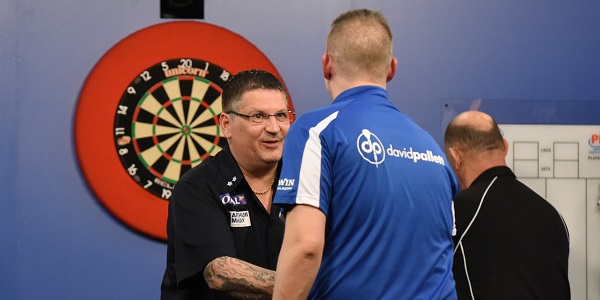 Pallett had lost his PDC Tour Card at the end of 2017, but the 28-year-old continued his promising start to the year by following up wins over former UK Open champions Robert Thornton and James Wade with a 10-5 quarter-final success against Steve West.
"I'm gutted with the way the semi-final went but it's been a good weekend for me," said Pallett, who has moved to Kettering this year.
"In the first ten legs, Gary wasn't firing on all cylinders and an average Dave Pallett took five legs from him. I didn't take advantage of it and you know when he's going to come back at you he's going to hit you, and he did.
"I lost my Tour Card but my form has been better than a lot of Tour Card holders out there and I'm full of confidence. I'd have snapped your hand off to reach the semi-finals at the start of the weekend and I'll learn from this."
Part enjoyed his best run in a TV event since reaching the 2012 Grand Slam of Darts quarter-finals, but after five wins in the earlier rounds the Canadian ran out of steam against Owen.
"Maybe I played better somewhere along the way but Robert had me under pressure from the start and I could not get going," said Part. "He shut me down and played a great game.
"I didn't feel like myself but he played some great darts. I'm disappointed but I'm very happy to be in the quarter-final of a major tournament, it's a step forward for me."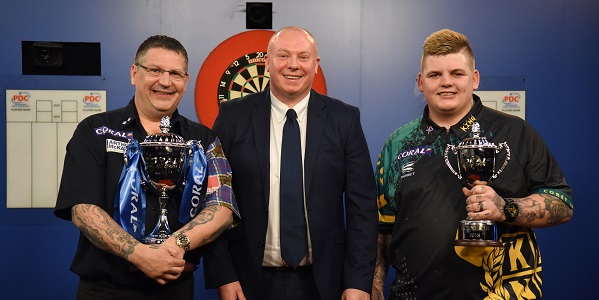 The Coral UK Open Champion... Gary Anderson!

We have a new name on the trophy!

Hear from the Champion... pic.twitter.com/4H1fsjkGtK

— PDC Darts (@OfficialPDC) March 4, 2018

QUARTER-FINALS ROUND-UP
GARY ANDERSON moved a step closer to winning his first Coral UK Open title after knocking out World Champion Rob Cross in Sunday's quarter-finals, while Corey Cadby, Robert Owen and David Pallett also progressed in Minehead.
2010 finalist Anderson won the last six legs of the standout quarter-final tie to seal a 10-6 victory against world number three Cross.
The Scot produced three ton-plus checkouts, including a brilliant 130, as he closed in on a first televised ranking title since his second World Championship triumph in 2016.
"I've not been in this position for a while," said Anderson, who will take on Pallett in the first semi-final on Sunday evening.
"I've just kept plugging away and It's going alright so far but it didn't really happen for either myself or Rob. I'm happy I managed to scrape through and I'm looking forward to tonight.
"You often end up playing players that you're not used to in this tournament because of the open draw and I never take anybody for granted. You've got to beat each player in front of you."
Pallett earned his spot in a first televised semi-final by defeating Steve West by ten legs to five to open the final day of the £350,000 event.
The 28-year-old clinched a break of throw in the tenth leg to lead 6-4 and never looked back as he punished his opponent for a string of missed doubles to seal the win.
"It was close in the early stages but I felt the first break would be crucial and that proved to be the case," said Pallett, who currently competes on the PDC Unicorn Challenge Tour, having failed to regain his Tour Card at the 2018 Qualifying School.
"I quit my job to focus on playing darts full-time at the start of this year so it was blow not to get on the ProTour but this makes the decision worthwhile.
"I've had some good wins over the weekend and I can't wait for the semi-final tonight."
Cadby continued his brilliant start to life as a PDC professional by seeing off 2017 UK Open runner-up Gerwyn Price to reach his first televised ranking semi-final. 
The Australian sensation, who won a UK Open Qualifier last month, landed five 180s and averaged just under 100 in a 10-6 success against the Welsh number one.
A clinical 93 finish earned Cadby the first break of throw in the eighth leg to take a 5-3 lead and he later immediately cancelled out a break back from Price to move 8-5 up, before producing a ten-darter to move within a leg of victory.
Price kept his hopes alive by taking out 80 but Cadby finished the job to maintain his unbeaten record in Minehead, having won the PDC Unicorn World Youth Championship final at the Butlin's resort in 2016.
"I'm going to win this," said a typically confident Cadby, who will face Owen in the last four.
"I'm strong enough to let my darts do the talking and it showed in that match. I kept my focus on my doubles and I'm pleased with how I played.
"It really doesn't bother me who I play in the semi-final or the final. I'm here to win."
Owen eased past John Part 10-3 to book his place in the last four, ending the fairytale run which saw the three-time World Champion reach the quarter-finals in a televised singles tournament for the first time since 2012. 
Welsh ace Owen's dream debut in the £350,000 tournament continued as he averaged 98.94 and fired in six 180s in a comfortable triumph against the Canadian great.
"I'm really pleased with how I played," said Owen. "I probably had one or two more gears, which bodes well for the semi-finals.
"I could only have dreamt of reaching the semis before this weekend but I'm there now and I'll take it in my stride and see if I can go even further."
The final session of the 2018 Coral UK Open will take place on Sunday evening, with the Anderson and Pallett meeting in the first semi-final before Cadby takes on Owen.
The final will then see a new UK Open champion crowned, who will pocket the £70,000 winner's cheque. 

SEMI-FINALS ROUND-UP
GARY ANDERSON and Corey Cadby will meet in the final of the Coral UK Open after the pair ended the hopes of first-time televised semi-finalists David Pallett and Robert Owen in Minehead on Sunday. 
Anderson reached his second UK Open final after a 11-7 success against 28-year-old Pallett, who does not currently have a professional Tour Card. 
The first three legs all went against the throw as Pallett moved 2-1 ahead with a 64 checkout, which he followed up with a 68 finish to move two legs clear.
Pallett held on to the advantage until the tenth leg when 2010 runner-up Anderson took out 80 to level up - a finish he completed again to lead 8-7.
The Scot then checked out 105 as he reeled off the last four legs to move into the decider. 
"If David had have played anything like he had for the rest of the weekend, he would have probably beaten me," said Anderson.
"I didn't play my best but I was pleased to get over the line."
Cadby stormed into his maiden televised ranking final with a crushing defeat of Welshman Owen.
Cadby incredibly raced into a 9-0 lead, landing double top to win each of the first four legs and a 111 finish in leg eight after Owen missed the bull for a 164 checkout.
The Welshman finally won a leg as he pinned double top to to take the tenth but Cadby responded with a brilliant 124 finish on the bull.
Owen landed 120 and 61 checkouts to clinch another two legs but Cadby fired in his fifth 180 and pegged double 18 to complete an 11-4 success.