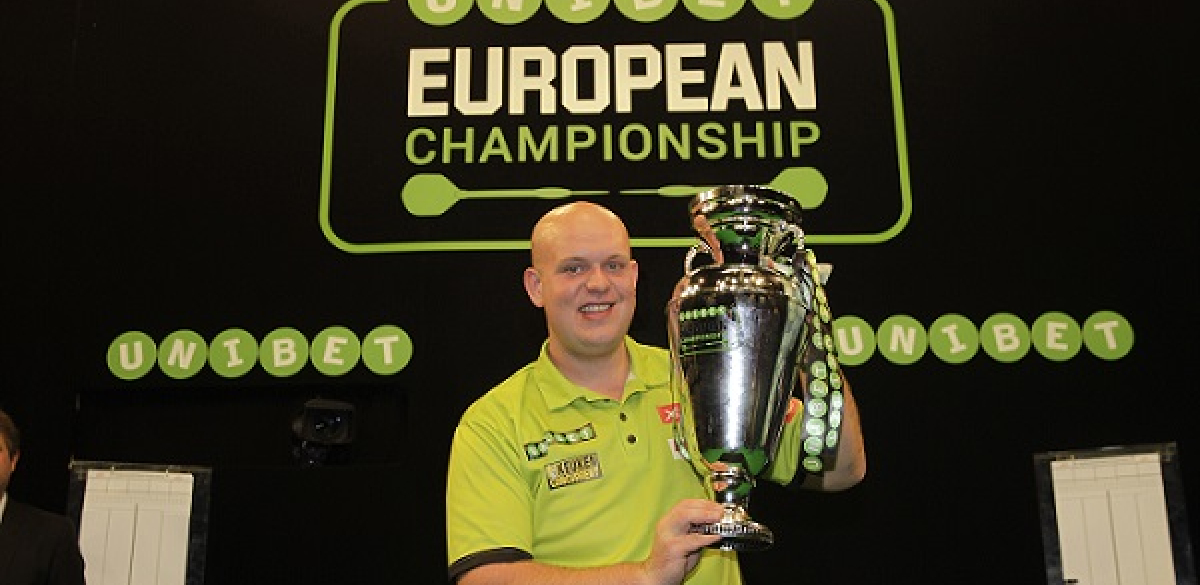 UNTOUCHABLE Michael van Gerwen claimed a third successive Unibet European Championship with a sensational 11-1 win over Austria's Mensur Suljovic at the Ethias Arena in Hasselt, Belgium.

The world number one followed up his 2016 successes in the UK Open, World Matchplay and World Grand Prix by claiming another huge triumph as he scooped the £100,000 first prize on Sunday night.

Having swept past fellow Dutchman Jelle Klaasen 10-3 in the quarter-finals, van Gerwen proved too strong for world number six James Wade in the semis as he came from 6-5 down to win 11-7.

He then produced an unstoppable display in the final with a master-class against Suljovic, who had knocked out Phil Taylor and Peter Wright to reach his first TV final before being blown away by the reigning champion.

Van Gerwen's 111.62 average was the highest in a televised ranking final and a record in a European Championship decider as he claimed his 22nd win of a remarkable 2016 and a third in a row in the event.

"It's a brilliant win for me," said van Gerwen. "My finishing was fantastic, my scoring power was there and I did everything that I had to at the right moments.

"Mensur is the most underestimated player in the PDC, I think, and he's a top class player. This was his first final but he is someone we have to look out for.

"I'm really glad that I've won this trophy for the third time in a row, it's absolutely amazing.

"It's a long day and you have three games, and you can't afford any mistakes. I knew earlier on that I had more in the tank and I'm glad that I produced it in the final.

"It was incredible. I played absolutely phenomenally in the final - everything I wanted went in and I'm absolutely over the moon. I'm feeling great about this performance.

"It's special because I've won this tournament three times in a row. I only live an hour away from here and I had a lot of supporters in the crowd - I feel absolutely great."

Van Gerwen's biggest scare during the tournament came in the first round, when Simon Whitlock missed one dart - at double 15 for a 150 finish - to claim victory in a dramatic deciding leg on Friday.

He added: "Simon is a guy who's in form and I didn't play my best game, but after that first round I was comfortable all the way to the final.

"I want to keep this form going now because there are big tournaments coming up every weekend now."

Van Gerwen opened the final with a 174 score and claimed the opening two legs before double nine gave Suljovic a leg, but the Austrian had little answer as his rival pulled clear.

Twice van Gerwen broke with 12-darters, including two 180s in one leg and a 110 finish to follow a 174 score in another, before also taking out 157 as he moved 7-1 up.

After finishing 72, he punished two missed doubles from Suljovic to move 9-1 up for posting double 16 and double nine to complete the rout with a 111.62 average as he completed a brilliant hat-trick of European Championship wins.

Suljovic moves up to seventh in the PDC Order of Merit after winning £40,000 in prize money, as well as producing the performance of his career to defeat Taylor in the quarter-finals with a sensational display.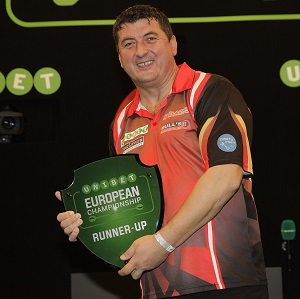 "I'm not disappointed - I'm happy to have made it to the final and I gave it my best," said Suljovic. "I knew I had to play my idol Phil Taylor but I'm happy to have come so far."

Wright had overcome Kyle Anderson in Sunday afternoon's quarter-finals to reach the last four in Hasselt for a second successive year, before losing out 11-8 to Suljovic.

"I missed lots of doubles and that was the difference against a player of Mensur's ability," said Wright. "You can't play silly darts like that but it's another semi-final for me and I can take that forward."

Wright was joined in the semis by James Wade, with the left-hander overcoming James Wilson 10-7 in the quarter-finals with the aid of superb checkouts of 161 and 141, but was unable to deny van Gerwen as he lost out in the last four for a second time in the event.

"I will take positives from this but I wasn't consistent enough against Michael," said Wade. "I wasn't good enough on the night but I know how good I am and I'm more than good enough to win these things - but talk's cheap."

The quarter-finals saw Klaasen lose out at that stage for a fourth successive year in the last eight, while Taylor's bid to win a fifth European Championship title was derailed despite him averaging over 104 against red-hot Suljovic.

Australian ace Anderson had reached a televised ranking quarter-final for just the second time in his career, while Wilson continued his rise towards the top 32 with his first run to this stage in a televised PDC event.

Unibet European Championship
Sunday October 30
Quarter-Finals
James Wilson 7-10 James Wade
Michael van Gerwen 10-3 Jelle Klaasen
Mensur Suljovic 10-3 Phil Taylor
Kyle Anderson 5-10 Peter Wright
Best of 19 legs

Evening Session
Semi-Finals
Michael van Gerwen 11-7 James Wade
Mensur Suljovic 11-8 Peter Wright
Best of 21 legs

Final
Michael van Gerwen 11-1 Mensur Suljovic
Best of 21 legs

Match Information & Stats
Quarter-Finals
James Wilson v James Wade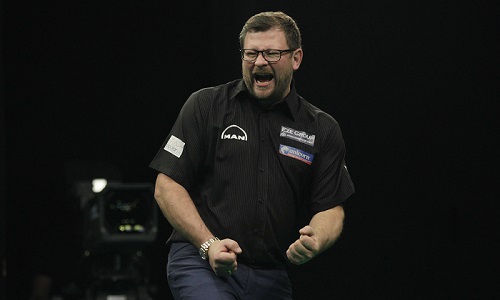 James Wade showed his big-stage experience as he moved into the Unibet European Championship with a 10-7 defeat of James Wilson, producing some killer finishes at key moments to continue his bid to win the title.

Wilson, the former BDO ranked number one who was appearing in his first PDC major quarter-final, started brightly as he took the first two legs, including hitting a 177 and a 96 finish in the second, to lead 2-0.

The pair traded 180s in the third as Wade got off the mark before Wilson landed two maximums to his opponent's one in a high-quality fourth as he moved 3-1 up.

The next two were shared as Wilson moved 4-2 up, but Wade then produced a surge of five successive legs, including key checkouts of 106 and 161 in back-to-back legs - to move ahead 7-4.

Wilson finished double eight, 101 and 72 to level, but Wade landed a maximum as he edged back ahead before taking out 81 and 141 to seal his semi-final spot.

Match Stats
| | | |
| --- | --- | --- |
| James Wilson | 7-10 | James Wade |
| 22 | 100+ | 19 |
| 8 | 140+ | 17 |
| 1 | 170+ | 0 |
| 4 | 180 | 4 |
| 87.01 | Average | 91.22 |
| 101 | High Finish | 161 |
| 2 | Breaks of Throw | 3 |
| 7/22 - 32% | Checkout % | 10/28 - 36% |

Michael van Gerwen v Jelle Klaasen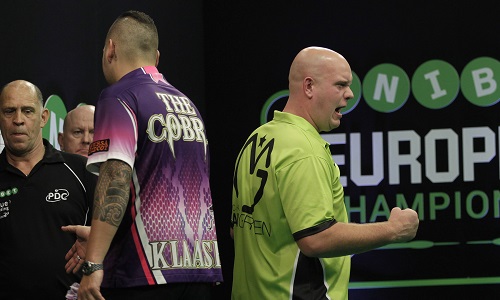 Michael van Gerwen condemned fellow Dutchman Jelle Klaasen to a fourth successive European Championship quarter-final defeat with a superb 10-3 triumph as he continued his own bid to complete a hat-trick of wins in the event.

A heavy-scoring contest saw Klaasen hold the early edge as he took out 75 in the opener and double eight in leg three, with van Gerwen taking the second despite a 180 from his rival, who was punished for three missed doubles.

Klaasen then missed his chance to break in leg four as van Gerwen levelled again, before the world number one produced a 130 finish to move ahead for the first time and then took out 72, double six and tops to move 6-2 up.

Klaasen posted another maximum and double five to respond in the ninth, but double 12 restored van Gerwen's advantage before he broke again with a key 12-darter to move 8-3 up, with the former Lakeside Champion having hit a 177 as he left 36.

Klaasen also landed a 168 score in leg 12, only to see van Gerwen hit double ten to move 9-3 up before tops for the reigning champion completed the win.

Match Stats
| | | |
| --- | --- | --- |
| Michael van Gerwen | 10-3 | Jelle Klaasen |
| 19 | 100+ | 15 |
| 9 | 140+ | 9 |
| 3 | 170+ | 1 |
| 4 | 180 | 4 |
| 106.79 | Average | 98.83 |
| 130 | High Finish | 75 |
| 4 | Breaks of Throw | 0 |
| 10/26 - 38% | Checkout % | 3/16 - 19% |

Mensur Suljovic v Phil Taylor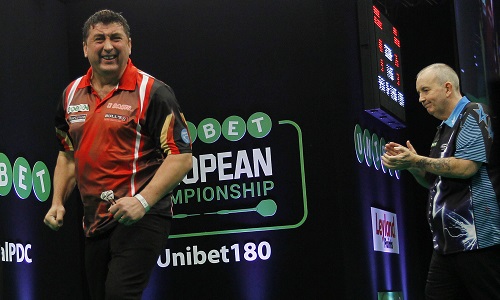 Mensur Suljovic produced the performance of his career to defeat four-time European Champion Phil Taylor 10-3 and reach his third major semi-final.

The Austrian ace had never previously defeated Taylor, but averaged 105.50 and finished ten doubles from 19 attempts in a clinical performance.

Despite a Taylor 180 in the first leg, Suljovic landed double eight to lead before tops saw the 16-time World Champion level - but he would have only one further dart at a double in the next five legs as the 44-year-old pulled away.

Legs of 14 and 11 darts gave Suljovic breathing space before he punished a missed tops from Taylor to move 4-1 up, and he landed a 180 and a 76 finish for an 11-darter in leg six before scoring 140, 174 and 140 in a 12-darter to lead 6-1.

Taylor hit a 180 in a 14-dart finish to hit back, but Suljovic's heavy scoring continued as he finished legs of 13 and 14 darts before another 76 finish moved him into a 9-2 lead.

Taylor responded with a fourth maximum and a 65 checkout, but Suljovic replied with a 180 in leg 13 before sealing victory on tops to book a semi-final spot.

Match Stats
| | | |
| --- | --- | --- |
| Mensur Suljovic | 10-3 | Phil Taylor |
| 17 | 100+ | 23 |
| 12 | 140+ | 7 |
| 3 | 170+ | 0 |
| 3 | 180 | 4 |
| 105.50 | Average | 104.36 |
| 76 | High Finish | 65 |
| 3 | Breaks of Throw | 0 |
| 10/19 - 53% | Checkout % | 3/7 - 43% |

Kyle Anderson v Peter Wright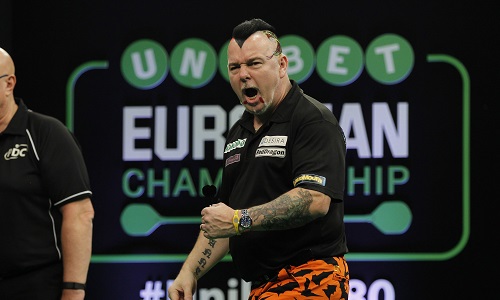 Peter Wright progressed to his second successive European Championship semi-final by coming from 2-0 down to defeat Kyle Anderson 10-5 in Hasselt.

Anderson punished a slow start from Wright to take the opening two legs on tops, to break, and double ten, before Wright took the next three legs - including a 61 finish as he broke throw - to edge ahead.He then punished

Anderson's miss at double 16 to move 4-2 up and won the next two for a four-leg cushion before the Australian responded on double four in leg nine.

Wright then took out 91 on the bull for a 7-3 lead, with Anderson landing the middle double for a 121 checkout and finishing 92 to stay in touch as the Scot edged towards a victory which he sealed with the aid of a fifth 180.

Match Stats
| | | |
| --- | --- | --- |
| Kyle Anderson | 5-10 | Peter Wright |
| 17 | 100+ | 20 |
| 5 | 140+ | 13 |
| 0 | 170+ | 0 |
| 4 | 180 | 5 |
| 90.87 | Average | 95.59 |
| 121 | High Finish | 91 |
| 3 | Breaks of Throw | 5 |
| 5/13 - 38% | Checkout % | 10/27 - 37% |

Semi-Finals
Michael van Gerwen v James Wade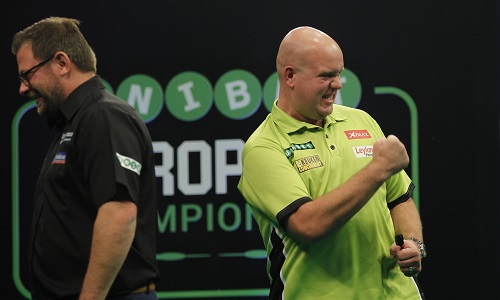 Michael van Gerwen battled past James Wade with an 11-7 semi-final win to continue his bid for a third successive European Championship win.

The world number one came from a leg down to move 3-1 up, taking out 135 on the bull for a key finish in leg four, only to see the left-hander hit back with three successive legs of his own to edge 4-3 up.

Finishes of 75 and 120 saw van Gerwen stay in touch at 4-4 and 5-5 before Wade took out a superb 119 checkout to regain the lead in the 11th leg.

Van Gerwen, though, finished 65, 68 and double 19 to move 8-6 up, with Wade responding with a 117 checkout only to see the Dutchman land three 180s and a 171 in the next two legs - which included a ten-darter - before finishing 70 to complete the win.

Match Stats
| | | |
| --- | --- | --- |
| Michael van Gerwen | 11-7 | James Wade |
| 23 | 100+ | 34 |
| 9 | 140+ | 8 |
| 2 | 170+ | 0 |
| 7 | 180 | 3 |
| 102.98 | Average | 95.76 |
| 135 | High Finish | 119 |
| 3 | Breaks of Throw | 1 |
| 11/21 - 52% | Checkout % | 7/15 |

Mensur Suljovic v Peter Wright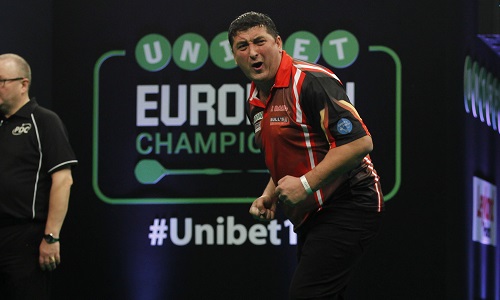 Mensur Suljovic won through to his first major ranking final, defeating Peter Wright 11-8 with a fine semi-final performance.

The Austrian followed up his superb quarter-final win over Phil Taylor with a gritty display against world number five Wright, who only led once after winning the game's opening leg

Suljovic levelled and led 2-1, and thought Wright remained level at two-all and three-all, the 44-year-old then took four successive legs, including key finishes of 86, 96 and 66, moved him 7-3 up.

Wright hit back to win five of the next seven legs as he closed the gap to 9-8, but Suljovic produced a key 93 bull finish to deny the Scot a chance to level before sealing a memorable win in style with a brilliant 118 finish on double 19.

Match Stats
| | | |
| --- | --- | --- |
| Mensur Suljovic | 11-8 | Peter Wright |
| 35 | 100+ | 22 |
| 15 | 140+ | 20 |
| 0 | 170+ | 0 |
| 1 | 180 | 6 |
| 97.15 | Average | 98.34 |
| 118 | High Finish | 80 |
| 5 | Breaks of Throw | 3 |
| 11/26 - 42% | Checkout % | 8/28 - 29% |

Final
Michael van Gerwen v Mensur Suljovic


Michael van Gerwen claimed a third successive Unibet European Championship title with a sensational 11-1 win over Austria's Mensur Suljovic at the Ethias Arena in Hasselt, Belgium.

The world number one followed up his 2016 successes in the UK Open, World Matchplay and World Grand Prix by claiming another huge triumph as he scooped the £100,000 first prize on Sunday night.

Having swept past fellow Dutchman Jelle Klaasen 10-3 in the quarter-finals, van Gerwen proved too strong for world number six James Wade in the semis as he came from 6-5 down to win 11-7.

He then produced an unstoppable display in the final with a master-class against Suljovic, who had knocked out Phil Taylor and Peter Wright to reach his first TV final before being blown away by the reigning champion.

Van Gerwen opened the final with a 174 score and claimed the opening two legs before double nine gave Suljovic a leg, but the Austrian had little answer as his rival pulled clear.

Twice van Gerwen broke with 12-darters, including two 180s in one leg and a 110 finish to follow a 174 score in another, before also taking out 157 as he moved 7-1 up.

After finishing 72, he punished two missed doubles from Suljovic to move 9-1 up for posting double 16 and double nine to complete the rout with a 111.62 average as he completed a brilliant hat-trick of European Championship wins.

Match Stats
| | | |
| --- | --- | --- |
| Michael van Gerwen | 11-1 | Mensur Suljovic |
| 18 | 100+ | 9 |
| 5 | 140+ | 7 |
| 2 | 170+ | 0 |
| 5 | 180 | 1 |
| 111.62 | Average | 85.91 |
| 157 | High Finish | 18 |
| 6 | Breaks of Throw | 1 |
| 11/15 - 73% | Checkout % | 1/3 - 33% |