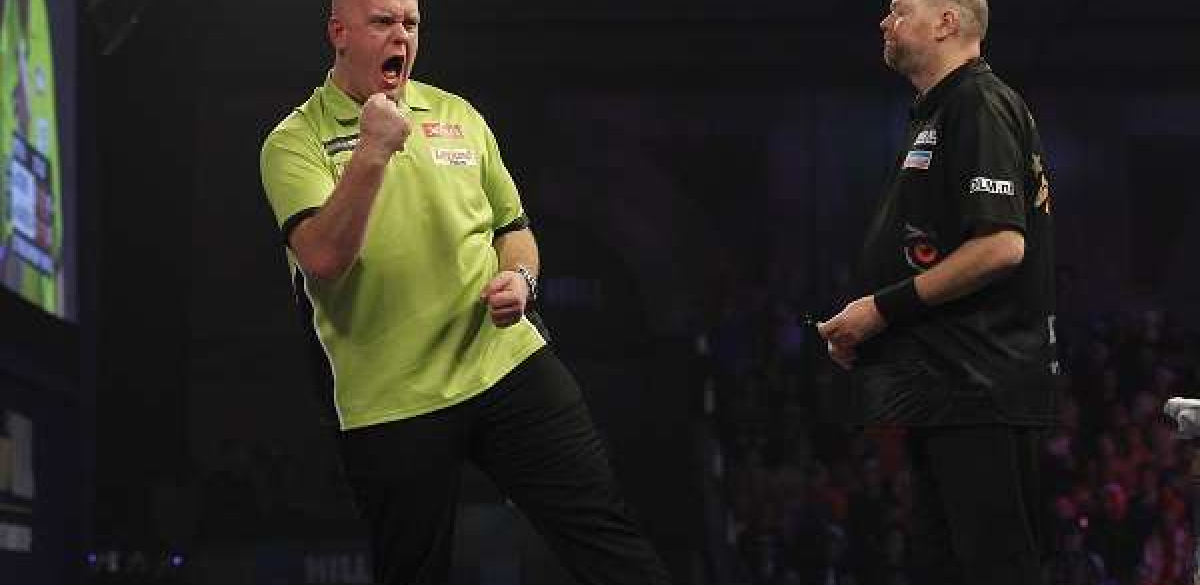 RECORD-BREAKING DISPLAY SEES VAN GERWEN SET UP FINAL CLASH WITH ANDERSON

MICHAEL VAN GERWEN produced the best ever William Hill World Darts Championship performance in his semi-final success against Raymond van Barneveld, as he set up a final meeting with Gary Anderson, who saw off Peter Wright at Alexandra Palace on Sunday.  

Van Gerwen broke Phil Taylor's record World Championship average with a sensational 114.05, smashing the previous best of 111.21, which Taylor set in 2002, as he avenged last year's Alexandra Palace defeat to his Dutch rival.

The number one seed recovered from a blistering start by Van Barneveld - which saw the five-time World Champion take the first set with clinical finishes of 107, 131 and 96 - by taking out a crucial 114 checkout when he trailed 2-1 in the second set, which he went on to win.

The pair then shared the next two sets but Van Gerwen won the following four by the same 3-1 margin to storm to victory and reach his first Alexandra Palace title since he lifted the Sid Waddell Trophy in 2014.

"It was a phenomenal performance," said Van Gerwen, who hit 15 of the match's 29 180s and also added a 124 finish.

"Raymond made me play like that really though. I had to play like that to win this game so credit has to go to him too, but this was amazing for me.

"I showed some real class and a really good performance. I broke another record and one that has been there for 15 years so it really is something special.

"I feel like anything is possible for me but I only have one goal and that is to lift the trophy.

"I also know that I have a very good player waiting for me in the final in Gary Anderson. I think it is the dream final that everybody wanted to see and it is going to be fantastic."

Van Barneveld's three-dart average of 109.34 also became the highest ever losing average in a World Championship tie - replacing the record set last week by Cristo Reyes in his second round defeat to Van Gerwen.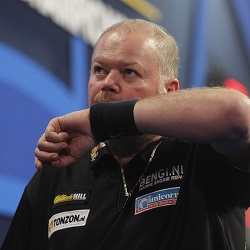 "He played incredibly I couldn't do anything against a performance like that," said Van Barneveld, who bowed out at the semi-final stage for the third successive year.

"I was playing really well to start with but he really showed up. The 114 he had in the second set was a crucial shot. He was brilliant like he has been all year.

"I wish Michael all the best in the final and I hope that he wins it for Holland but I am gutted that it won't be me."

Reigning champion Anderson had earlier defeated fellow Scot Peter Wright 6-3 to move one victory away from winning a third consecutive World Championship title, a feat only Eric Bristow and Phil Taylor have previously achieved. 

The number two seed, who is now 17 games unbeaten at Alexandra Palace since his defeat against Van Gerwen in the 2014 tournament, averaged 103.45 and rattled in 15 180s en route to another final.

Anderson took the first two sets but Wright battled back to make it three-all before the defending champion won eight consecutive legs - and nine out of the last ten - to close out a fabulous victory.

"I feel really comfortable here," said Anderson, who also had finishes of 118, 121, 127 and 157 in the triumph.

"To win it twice made me very proud and it was always just going to be a case of turning up this year and seeing what happened, but I'm in the final and I'll give it a really good go.

"Over the year, Michael has been the best player and might be the most deserving winner but unfortunately for him I'll be in the final and I'll be ready for a good game."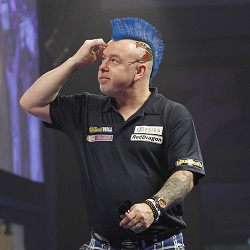 Wright, who hit ten 180s, failed to set up a repeat if the 2014 final against Van Gerwen but the number three seed leaves London with an impressive tournament average of 102.38 and £80,000 in prize money.

"I've got no excuse," said Wright. "I didn't play well enough on the day and Gary beat me up really. 

"I hope he goes on and wins his third World title, and I'll be back stronger next year."

The final, which will see the winner pocket a record £350,000, will be contested between the top two seed for the first time since 2009 - when Taylor overcame Van Barneveld - with the action commencing at 8pm on Monday evening.


WATCH LIVE 
The William Hill World Darts Championship will be broadcast live on the Sky Sports Darts channel.

Worldwide coverage is also available through a record number of live broadcasters, and online for PDCTV-HD Subscribers (outside of UK, Ireland & Netherlands) through www.LIVEPDC.TV .

For full ticket information, click here .

LIVE STATS 
Follow live stats & see match stats throughout the event via the official PDC Live Scores website - CLICK HERE 

William Hill World Darts Championship
Sunday January 1
Semi-Finals 
Gary Anderson (2) 6-3 Peter Wright (3)
Michael van Gerwen (1) 6-2 Raymond van Barneveld (12)

Semi-Finals - Best of 11 sets

Monday January 2 (8pm)
Final
Michael van Gerwen (1) v Gary Anderson (2)

Final - Best of 13 sets

MATCH UPDATES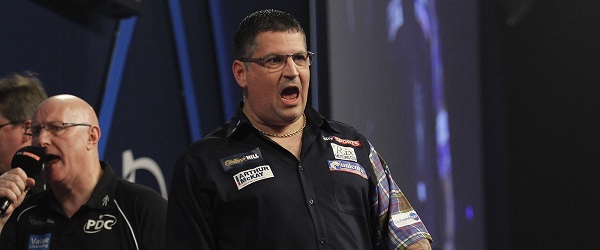 Gary Anderson (2) 6-3 Peter Wright (3) 
1-0 (3-0)
Wright opened the semi-final with a 180 but Anderson broke his throw in the first leg, punishing his opponent for six missed darts at doubles. Anderson then added a maximum before bedding double 16. He broke again by landing double four to wrap up the first set. 

2-0 (3-2)
Anderson hit his second maximum and took out 62. The reigning champion then produced a beautiful bullseye finish to complete a 127 combination. Wright hit back by pegging double 12 to end an unwanted run of ten consecutive doubles missed. Wright then fired in his second 180 and finished 76 on tops but Anderson produced a deciding leg of supreme quality, leaving a double after nine darts before going out in 12 darts.

2-1 (1-3)
Anderson broke with a 62 checkout in the first leg but Wright broke back immediately, before taking out 64 and then double 18 to complete a ten-darter for the set.

3-1 (3-2)
Both players hit 180s before Anderson capitalised on three missed double attempts by his opponent to edge ahead. He then doubled his lead with a 118 checkout to break but Wright executed the same finish to respond. The number three seed then hit his sixth 180 and finished 116 to level but Anderson rattled in two maximums in the deciding leg as he restored a two set cushion by pinning tops.

3-2 (2-3)
Anderson hit a ninth 180 and took out 69 for an immediate break of throw and went on to double his lead by finishing 79. Wright defied Anderson's tenth 180 by sinking double eight and then took out crucial finishes of 80 and 90 to win the set, after his opponent had missed a dart at the bull for a 4-1 lead.

3-3 (2-3)
Anderson hit another 180 before pinning double two. Wright levelled on double five but a 12th maximum helped Anderson move ahead 2-1. Wright nailed double 18 and, after Anderson missed two darts to take the set, landed double 12 to level the tie.

4-3 (3-1)
Anderson landed tops after Wright missed three darts at a double, but Wright levelled with a 61 finish. Anderson pegged double 16 for another break and then took out a brilliant 157 for the set.

5-3 (3-0)
Anderson increased his golden run to five straight legs as he upped his maximum count to 15 and pinned double 20, eight and two to move one set away from the finishing line. 

6-3 (3-0)
Anderson took out 121 to break and then bedded double ten in each of the following two legs to complete victory with a run of eight consecutive legs.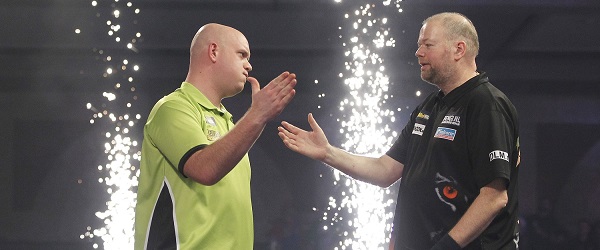 Michael van Gerwen (1) 6-2 Raymond van Barneveld (12) 
0-1 (0-3)
Van Barneveld started brilliantly, taking out finishes of 107, 131 and 96 to win the first set with ease.  

1-1 (3-2)
Van Gerwen took out 14 before Van Barneveld followed back-to-back maximums with a 41 finish. He then took out a spectacular 160 checkout to break but Van Gerwen broke back with a crucial 114 out-shot and then landed tops in the decider to level the tie.

2-1 (3-1)
Van Barneveld hit a sixth 180 in taking the first leg but Van Gerwen took the next three legs on doubles 20, 11 and eight. 

2-2 (1-3)
Van Barneveld's flawless finishing continued as he kept up his perfect record on doubles with finishes of 58 and 127. Van Gerwen pulled a leg back and Van Barneveld then finally missed a double attempt but returned to peg tops for the set.

3-2 (3-1) 
Van Barneveld landed his 11th 180 before taking the first leg on double 18 but Van Gerwen won the following three legs by pinning tops twice and double ten to edge in front once again.

4-2 (3-1)
Van Gerwen pinned double five but Van Barneveld levelled on double eight. Van Gerwen took the set, though, finishing 66 and double 16.

5-2 (3-1)
Van Gerwen added his 11th 180 and took out 82 before doubling his lead on double 18. Van Barneveld found the same bed but Van Gerwen took out 68 after hitting a 13th maximum to move within a set of the final.

6-2 (3-1)
Van Gerwen threw two 180s amongst eight perfect darts but missed double 12 for a nine-darter. Van Barneveld then finished 84 on the bull but Van Gerwen pegged double top and then took out 90, finishing the match off with two double 18s to book his place in the final.