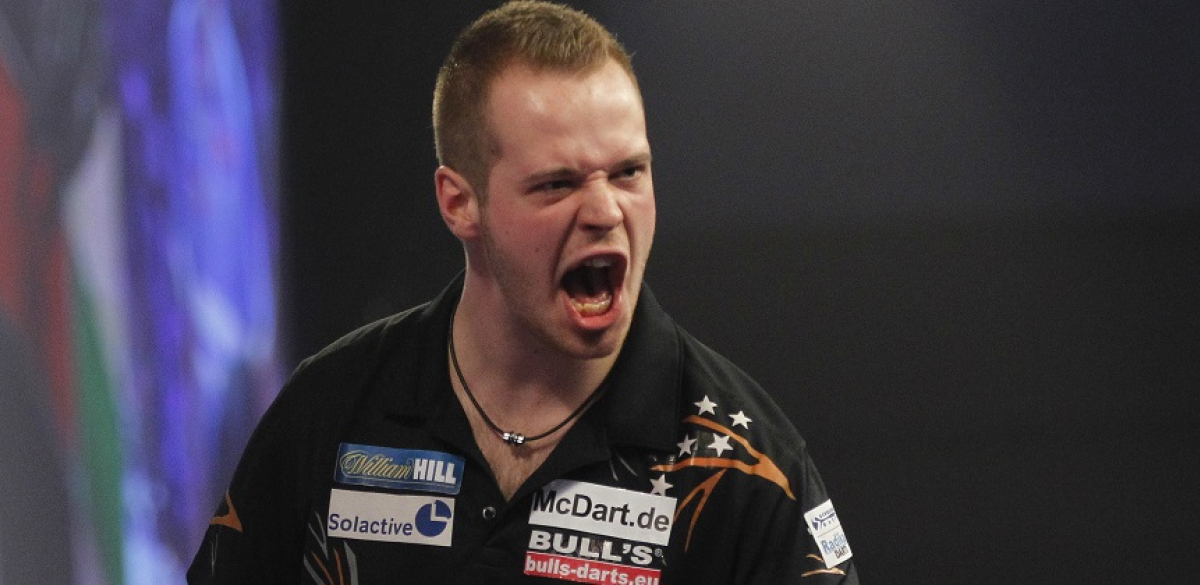 MAX HOPP heads the field of Host Nation Qualifiers for the HappyBet German Darts Masters in Jena.
The knockout event ahead of this weekend's £135,000 tournament saw four qualifying spots up for grabs.
Former PDC Unicorn World Youth Champion Hopp was a narrow 6-5 winner over Andree Welge, Tomas Seyler and Nico Blum as he secured his spot in the Easter event.
Horvat saw off Bernd Roith 6-1 in their decider as he qualified, while Marijanovic overcame Punls 6-2 and Siepmann defeated Lars Reinecke 6-1 to secure his European Tour debut.
The HappyBet German Darts Masters will be broadcast online for PDCTV-HD Subscribers worldwide through www.livepdc.tv , and also streamed through a series of bookmakers' websites.
HappyBet German Darts Masters
Host Nation Qualifier
First Round
Martin Schindler Bye
Michael Döppling 6-0 Benjamin Heilek
Torsten Wöhlk 6-5 Marcel Hausotter
Lars Reinecke 6-0 Jason Wiens
Alexander Brandt 6-1 Nico Schlund
Marvin Esser 6-4 Gino Drobick
Steffen Siepmann 6-1 Julian Wempen
Rico Prager 6-1 Thomas Neugebauer
Robert Marijanovic 6-1 Ingo Vogt
Patrick Senf 6-3 Christian Busch
Sebastian Heilek 6-1 Toni Buettner
Pierre Finck 6-4 Sascha Öltze
Marvin Wehder 6-3 Christian Bunse
Robert Allenstein 6-0 Alfred Tettampel
Marko Puls 6-5 Tobias Plötz
Pascal Wirotius 6-2 Jens Büttner
Max Hopp 6-5 Lutz Ilzhöfer
Andree Welge 6-0 Dustin Strehlow
Tomas Seyler 6-0 Rene Wiertschok
Marc Legant 6-0 Kevin Stösser
Nico Blum 6-1 Kevin Illge
Erik Tautfest 6-1 Robin Beger
Fabian Hoffmeister 6-3 Florian Sturm
Stephan Hoffmann 6-2 Kai Siepmann
Bernd Roith 6-4 Tobias Seibert
Fabian Herz 6-0 David Kessler
Karsten Kornath 6-1 Tony Rodschinski
Martin Christiansen 6-0 Kevin Knopf
Markus Kessler 6-0 Kay Borchwaldt
Simeon Heinz 6-0 Martin Borgwardt
Rene Berndt 6-1 Frank Kallenbach
Dragutin Horvat 6-2 Rene Eidams
Second Round
Martin Schindler 6-2 Michael Dpppling
Lars Reinecke 6-1 Torsten Wöhlk
Alexander Brandt 6-3 Marvin Esser
Steffen Siepmann 6-1 Rico Prager
Robert Marijanovic 6-0 Patrick Senf
Pierre Finck 6-0 Sebastian Heilek
Robert Allenstein 6-4 Marvin Wehder
Marko Puls 6-2 Pascal Wirotius
Max Hopp 6-5 Andree Welge
Tomas Seyler 6-2 Marc Legant
Nico Blum 6-4 Erik Tautfest
Fabian Hoffmeister 6-3 Stephan Hoffmann
Bernd Roith 6-2 Fabian Herz
Martin Christiansen 6-1 Karsten Kornath
Simeon Heinz 6-2 Markus Kessler
Dragutin Horvat 6-5 Rene Berndt
Third Round
Lars Reinecke 6-2 Martin Schindler
Steffen Siepmann 6-5 Alexander Brandt
Robert Marijanovic 6-2 Pierre Finck
Marko Puls 6-5 Robert Allenstein
Max Hopp 6-5 Tomas Seyler
Nico Blum 6-3 Fabian Hoffmeister
Bernd Roith 6-2 Martin Christiansen
Dragutin Horvat 6-2 Simeon Heinz
Quarter-Finals
Steffen Siepmann 6-1 Lars Reinecke
Robert Marijanovic 6-2 Marko Puls
Max Hopp 6-5 Nico Blum
Dragutin Horvat 6-1 Bernd Roith
HNQ1: Steffen Siepmann
HNQ2: Robert Marijanovic
HNQ3: Max Hopp
HNQ4: Dragutin Horvat