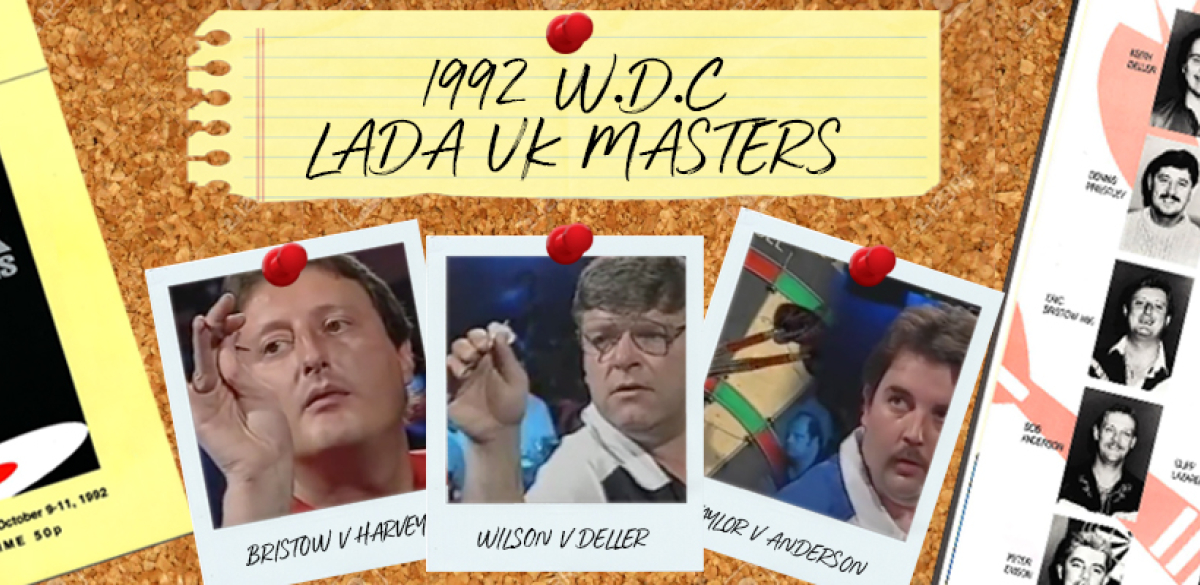 OCTOBER marks the 25-year anniversary of the inaugural WDC event, with the Lada UK Masters being the first act in what would eventually be the sport's famous split.
Following a decline in the number of televised darts events, the World Darts Council saw a group of players, managers and manufacturers come together in a bid to breathe new life into the sport.
The Lada UK Masters in October 1992 was the WDC's inaugural event and proved to be a key moment in shaping the future of darts.
Our first article looked at the Lada UK Masters itself, with this second feature looking at the subsequent events which led to darts' split.
Although the 1993 BDO World Championship took place involving players affiliated to the WDC, it would be the last unified World Championship as John Lowe took victory in a momentous tournament by defeating Alan Warriner in the final
Following the WDC's stagings of the UK Matchplay and Samson Darts Classic in the early part of 1993, the 16 players were subsequently banned by the BDO - with the dispute ending up in court.
Leading player managers Dick Allix, Tommy Cox and John Markovic led the players into the split alongside other key figures in the WDC.
Reflecting on the ramifications of the 1992 Lada UK Masters, Marcus Robertson, who handled PR for the WDC, said: "Really, the split had happened and we were papering over the cracks by getting that 1993 World Championship on.
"Once we got beyond that and Sky offered to do our own World Championship in 1993, that was the end of that. I think the players themselves knew that this was the turning point.
"Dick and Tommy take a lot of the credit but, boy, were the players gutsy - the fantastic unity of purpose among them was just extraordinary.
"The only irony is that the 1993 UK Masters was won by Mike Gregory, who under a huge amount of pressure eventually went back to the BDO."
Dick Allix & Tommy Cox, pictured at their PDC Hall of Fame Induction in 2010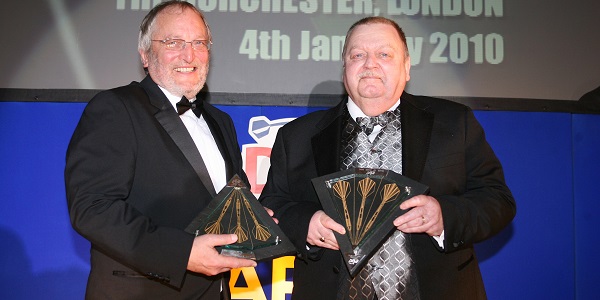 Dick Allix admits: "I expected an immediate response from the BDO, but they didn't do anything. Nothing happened and it was weird.
"War was supposed to break out and it didn't. Then we did the next one and war still didn't break out.
"Olly came to WDC meetings, which Michael Lowy, and subsequently Robert Pringle, chaired and he was always invited to take part. He was always told that this was a service for him and the BDO, but he didn't believe in PR.
"He said that PR, as in Marcus, was over-paid and over-rated, but I would argue that you couldn't push the case to get back on television when you're not even on the back pages of any newspaper, anywhere. For me PR was, and is, the important part of what any sport does."
By April 1993, with three WDC events having been held on regional TV in the UK, the stand-off came to a head when the BDO voted to ban players and officials associated with the WDC.
"We were called to a BDO AGM in a sports centre and all the County representatives were there, and I can only liken to being taken to the guillotine," says Allix.
"We were catcalled and booed and called liars, it was awful and we didn't get anywhere. That steeled Tommy and I to say that it would never happen again.
"We had to beg and borrow money to get the court case up and running - I remember a financier giving me a cheque for £20,000 and I ran up Drury Lane to get it to the solicitors, Clinton's, otherwise we wouldn't have got to court.
"We were so close to not funding the court case enough - Tommy re-mortgaged his house and other people contributed.
"As the lawyers pointed out, it was a pyrrhic victory. There were no damages but it made the game free.
"The very first World Championship we did at the Circus Tavern was a big watershed, even though we had to do it as a round-robin because we didn't have enough players.
"Once we got a Sky contract we could go out and get sponsors because we had national television, rather than just regional television.
"I suppose the thing I marvel at is the resilience of those players, and of Marcus, Tommy, me and John Markovic, who of course didn't live to see it all. Nobody gave up and that spirit of not being beaten was tremendous.
"Olly's plan was to divide and conquer and it didn't work. I think he was amazed, and when we were in the middle of the court case he said 'I can't believe I didn't break you'.
"Quietly, I was amazed that only Mike Gregory and Chris Johns went back, but the more Olly did, the more it steeled the players to see it through. "
Late 1993 saw Johns and Gregory step back from their association with the WDC to return to the BDO system in a controversial move, leaving 14 players to continue with the breakaway.
"Chris wasn't the biggest name of those who had broken away," reflects TV commentator John Gwynne. "He didn't play in the 1992 UK Masters, I think he was frightened off and I've reflected on that since, and life must have been lonely for him.
"He was the only one from Wales who decided to go with the "rebels" and I should imagine down in the valleys that life would have been pretty awkward for him, and he probably thought twice about it.
"Mike Gregory was a leading player in those days, played in the World Championship final in 1992 against Phil Taylor.
"Mike won the two UK Masters events in 1992 and 1993 and then he decided to go back to the BDO. I think even he would admit that it's the worst thing he ever did, because he was accepted then by neither side."
Tommy Cox admitted: "There were times when it took over our lives. Had we not done what we did, darts would be in a sorry state now.
"People said it wouldn't happen because the old body would break us, would play on weaknesses, but the players stuck together. We couldn't have done it without those players.
"The players now are reaping the benefits of the massive prize money that Barry's helped to bring into the game want to give a big vote of thanks to the players who were part of that original 14 who laid the foundations."
John Gwynne with Marcus Robertson at the 2014 PDC Annual Awards Dinner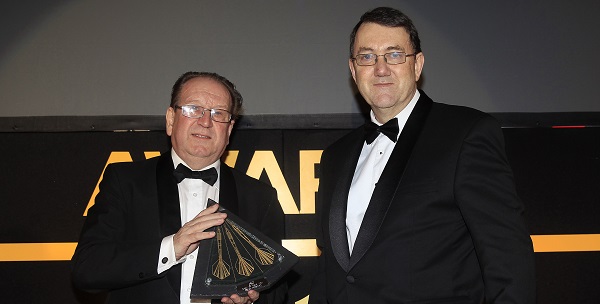 The conclusion of the legal action came with a Tomlin Order being agreed in 1997, although Gwynne – who commentated on all WDC events – admits that tensions remained high between the organisations for many years, although BDO players now compete in the PDC's Grand Slam of Darts.
"In those days, anybody from the Counties or anybody attached to the BDO would get an automatic ban if they were associated in any small way with what was going on inside the WDC," he says.
"I never considered myself part of the breakaway, I always considered myself a journalist, but I was considered a part of the breakaway by people in the BDO.
"I was at Frimley Green covering the Embassy for ten years for the BBC Radio overlapping with the PDC World Championship that I did for Sky so I've got some pretty interesting stories and though some were excellent, very friendly, I wasn't well received by everybody."
Phil Taylor & Rod Harrington in 2009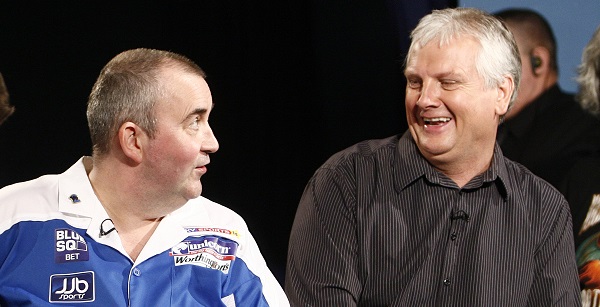 Leading player Rod Harrington also played a prominent role representing the WDC players during the legal action, and since joining the PDC Board of Directors has helped to introduce the ProTour system and Development Tour for youth players.
He added: "Just before Barry Hearn came in as Chairman, I looked at snooker, golf, tennis and football to see what we could glean from those sports.
"Golf went through a similar thing when the European Tour was formed when they head-to-head with the R&A, tennis and snooker also did and cricket had the same sort of problems and went through what we did to become a top professional sport.
"I took things from a few different sports and that's why the systems now are what they are. The game now is in a great place and that's all stemmed from what the WDC did 25 years ago."
Many of the figures involved in the formation of the WDC and PDC have since gone on to be inducted into the PDC Hall of Fame, including Dick Allix and Tommy Cox, referees Freddie Williams and Bruce Spendley, John Raby and players Eric Bristow, John Lowe and Phil Taylor.
Allix went on to work for the organisation two decades, initially as Chief Executive and also as Event Director responsible for the staging of tournaments alongside Tournament Director Cox, who retired in 2016.
"I've got immense pride," states Allix. "To me the whole ethos was that if you were good enough, you'll play and I think the PDC stands for that today.
"We only ever promised the players that we would get it back to where it was, but I think we more than surpassed that.
"The other turning point was in 2000 when we said that although we'd been clever to get it this far but I think we'd be really clever if we got Barry on board and the real big-hitters on board because they could take it to the next level.
"The next bridge to pushing forward was with Barry, and he did things that we would never have done on our own.
"People still say that they never envisaged that it would get this big, and it still seems to get bigger and bigger and that's staggering.
"Cliff Lazarenko always said that if it worked and we succeeded in where we were going, he wouldn't benefit – although those 14 players did later get given shares - but he was glad that he had done it so that future players would reap the rewards."
The Famous 14 - Founding Players in the WDC
Bob Anderson
Eric Bristow
Keith Deller
Peter Evison
Ritchie Gardner
Rod Harrington
Jamie Harvey
Cliff Lazarenko
John Lowe
Dennis Priestley
Kevin Spiolek
Phil Taylor
Alan Warriner
Jocky Wilson