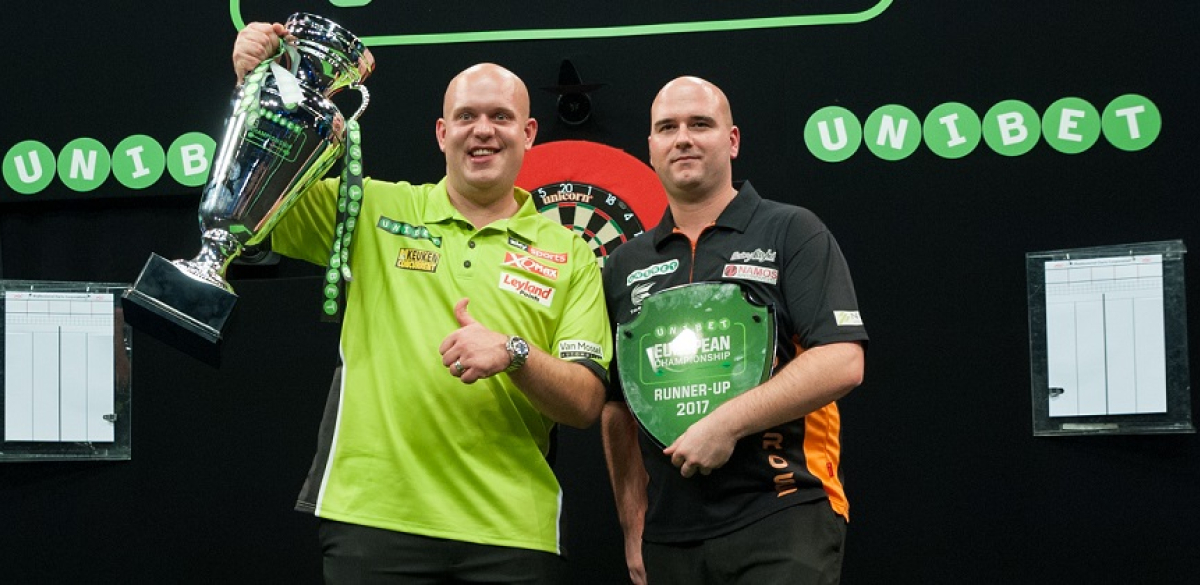 MICHAEL VAN GERWEN withstood a nine-dart finish from Kyle Anderson and the challenge of Rob Cross to claim his fourth successive Unibet European Championship title in Hasselt on Sunday night.
Dutch star Van Gerwen's dominance of the European Championship continued as he scooped the £100,000 first prize and retained the title once again, although he was pushed all the way on a thrilling final day.
Having seen off Simon Whitlock 10-5 in the quarter-finals, Van Gerwen found himself staring defeat in the face during a see-saw semi-final with another Australian, Kyle Anderson.
Anderson led 2-0 and 3-2 before Van Gerwen took four legs in a row to move ahead, but then the Auckland Darts Masters winner achieved perfection in leg 11, hitting two 180s before finishing 141.
Van Gerwen hit back to lead 8-5, but Anderson then took four legs to put himself back ahead before the game went to a deciding 21st leg, where the Australian missed two match darts before the World Champion finished 76 to snatch victory.
Van Gerwen then took on shooting star Cross in the final, and was pushed all the way before finally reclaiming the title with an 11-7 triumph - matching Phil Taylor's achievement of four successive wins in the event from 2008-2011.
The final's opening five legs went with throw to leave Cross 3-2 up, despite a 104 finish from Van Gerwen, before the world number one fired in a ten-darter in leg six and a 12-darter to break and move 4-3 up.
Cross hit back with a 12-darter, bizarrely scoring 39, 180 and 180 before finishing 102 with an improvised single one, treble 17 and bullseye combination to square the game at four-all.
After Van Gerwen claimed the ninth leg, Cross also landed an 11-darter to level once more, but Van Gerwen took four of the next five to pull clear at 9-6.
Van Gerwen then landed a seventh 180 and a 130 bullseye finish in a 12-darter to move a leg away from the win, and though Cross replied on tops it was the Dutchman who sealed a stunning victory on double 16.
"I think it was a great final," said Van Gerwen, who averaged 108.91 in an imperious display in the final. "Rob kept putting me under pressure and I had to play well.
"I didn't realise my average in the final was so high but I'm really happy with that.
"I didn't play my best game in the semi-final but I'm really glad I won this title - it feels good for me and it means a lot to me. I always want to perform and I want to keep playing well."
Cross had won through to his first TV final by continuing his brilliant debut year on the circuit as he saw off Michael Smith 10-4 in the quarter-finals and then raced past Daryl Gurney 11-3 in the semi-finals.
The former electrician from Sussex, who has won four ranking titles and reached two European Tour finals this year, picked up £40,000 as runner-up and also qualifies for next month's bwin Grand Slam of Darts in Wolverhampton.
Cross averaged 102.39 in defeat in the final, and admitted: "I had one flat session and that's what cost me, those five legs after the second break, but I've had a fantastic week.
"Michael is phenomenal and he's a player for me to look up to with what he's doing in the game and his dominance. What I've done in ten months is amazing but I want to keep progressing and enjoying it too."
World Grand Prix champion Gurney had been bidding to claim his second televised title as he produced a fine performance in a 10-5 quarter-final win over Peter Wright, but was unable to repeat the feat against Cross.
Anderson had reached his first televised ranking semi-final with a 10-7 win over Mensur Suljovic in the last eight, and alongside £20,000 prize money he also claimed a £25,000 bonus for his nine-dart finish at the Ethias Arena.
"I loved every minute of it," reflected Anderson, of a semi-final in which he landed 11 maximums.  "The nine-darter was great but I wanted to get to the final and to win this tournament.
"I had my opportunity but the double ten and double five were on the wrong side of the wire and full credit to Michael."
CLICK HERE FOR STATS IN THE MATCH CENTRE
Unibet European Championship
Sunday October 29
Afternoon Session
Quarter-Finals
Michael van Gerwen 10-5 Simon Whitlock
Kyle Anderson 10-7 Mensur Suljovic
Peter Wright 5-10 Daryl Gurney
Rob Cross 10-4 Michael Smith
Best of 19 legs
Evening Session
Semi-Finals
Michael van Gerwen 11-10 Kyle Anderson - Kyle Anderson Hits Nine-Dart Finish
Daryl Gurney 3-11 Rob Cross
Best of 21 legs
Final
Michael van Gerwen 11-7 Rob Cross
Best of 21 legs
Michael van Gerwen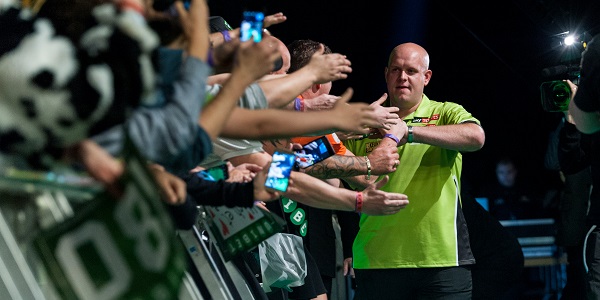 Michael van Gerwen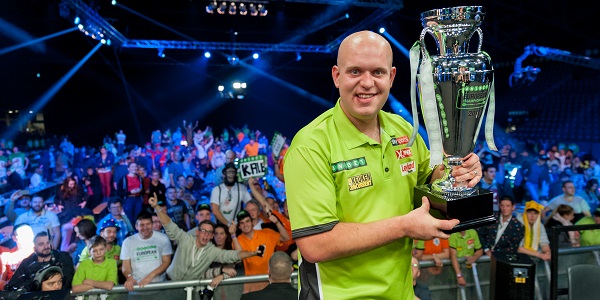 Rob Cross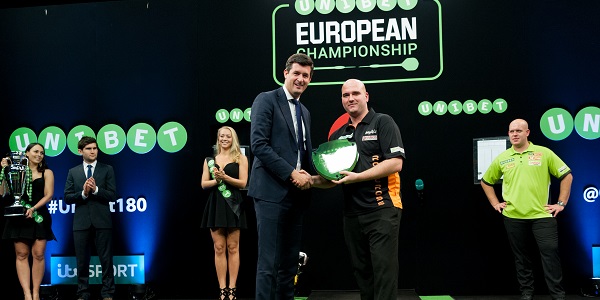 Semi-Finals
Kyle Anderson landed a nine-dart finish during his Unibet European Championship semi-final with Michael van Gerwen, but was left to rue two missed match darts in a thrilling deciding leg as the Dutchman prevailed 11-10.
The Australian had twice landed two 180s in a leg during the opening ten legs of the contest when, trailing 6-4, he began leg 11 with another brace of maximums, before taking out 141 to achieve the perfect leg.
Anderson's achievement puts him in line to claim the £25,000 nine-dart finish bonus, and comes almost four years after he previously achieved perfection at the World Championship.
Anderson had led 2-0 and 3-2 in the early stages, before four successive legs gave Van Gerwen the advantage at 6-3, and when the Australian missed his chance to level in leg 12, the reigning champion landed double four for a 7-5 lead before a 92 finish gave him a three-leg cushion.
Anderson again responded, winning the next four legs to move 9-8 up as he capitalised three times on missed doubles from Van Gerwen, who then reversed the roles in leg 18 before taking out a superb 121 to move 10-9 up.
Anderson finished 61 on double 18 to force a deciding leg and, despite a maximum from Van Gerwen, was first to a finish - but he crucially wired darts at double ten and five to reach the final, and his rival took out 76 in two darts for victory.
"Kyle played well, he hit loads of 180s and a fantastic nine-darter but he missed two darts for the match," said Van Gerwen. "You have to make sure you take your own chances and I'm really glad I did in the end."
Anderson said: "I loved every minute of it. Michael says he had a couple of bad shots, but that's what pressure does to you sometimes and we were both under pressure.
"The nine-darter was great but I wanted to get to the final and to win this tournament. I had my opportunity but the double ten and double five were on the wrong side of the wire and full credit to Michael."
Rob Cross claimed a place in his first TV final as his amazing debut year on the circuit continued with an 11-3 semi-final win over Daryl Gurney, who was unable to repeat the clinical performance which had seen him defeat Peter Wright earlier in the day.
Cross claimed the opening seven legs without reply, including an 11-darter in one leg and three breaks of throw, before Gurney won three out of four, with the aid of back-to-back 14-darters, to pull back to 8-3.
Cross, though, stopped Gurney's fightback in its tracks with a brilliant ten-darter before hitting back-to-back 14-darters of his own to seal his spot in the final.
Kyle Anderson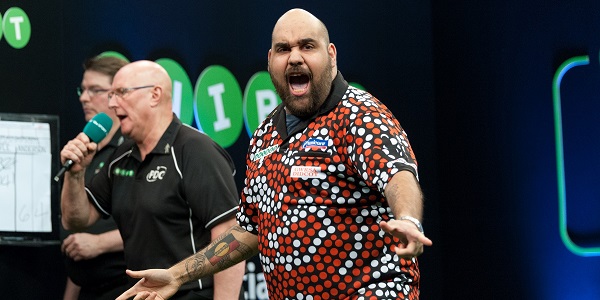 Michael van Gerwen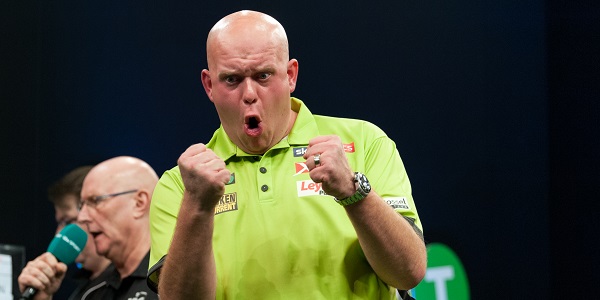 Rob Cross & Daryl Gurney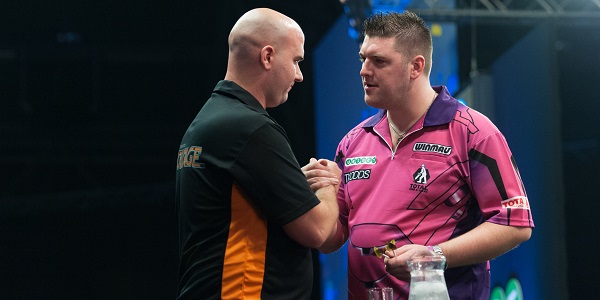 Quarter-Finals
Michael van Gerwen's challenge to win a fourth successive European Championship title continued with a classy 10-5 defeat of Simon Whitlock, as the Dutchman averaged just over 100 and took out a 170 finish.
Whitlock shared the opening two legs, but saw Van Gerwen finish 72, 84 and 74 in a run of four successive legs as he moved into a 5-1 cushion.
That was extended to 8-2 before Whitlock responded with back-to-back legs, but Van Gerwen powered home the maximum finish to lead 9-4 before closing out the win.
"I wasn't superb but there's more in the tank for later on," said Van Gerwen. "I showed a couple of fantastic things, like the 170, and had a couple of good legs at the right moments.
"I feel good, I want to play well and I want to win this tournament."
Kyle Anderson won through to his maiden TV ranking semi-final with a 10-7 defeat of Mensur Suljovic in their quarter-final, ending the Austrian's bid to reach back-to-back European Championship finals in Hasselt.
Suljovic opened with a 14-darter, but that would be the only time he led during the contest as Anderson levelled with an 11-darter before finishing 83 on the bull and double five to move 3-1 up.
The Austrian hit back to win two of the next three, before Anderson took out a key 116 and then landed double two to open up a 6-3 advantage.
Suljovic finished 95 and 79 in a run of three successive legs to level, but was crucially denied a chance to move back ahead as Anderson took out 130 on the bull and then 120 to move clear at 8-6, before holding on to seal a semi-final spot.
The Auckland Darts Masters champion is now aiming to claim his first TV ranking title on Sunday evening, and said: "I scored well and took out some big finishes at the right time which helped me out.
"I've got to play well in the semi-final against Michael but you've got to play well in every game. I'm not scared of his ability, I know what he can do but I know what I can do.
"If I hit doubles like I can and score like I can, it's going to be a close game."
Daryl Gurney's bid to claim his second TV title of the month continued as the World Grand Prix champion overcame Peter Wright 10-5 with a clinical display, finishing ten doubles from 19 attempts to reach the last four.
Gurney stormed into a 5-0 lead as he capitalised on a slow start from Wright to take out 100, 72 and 78 during a fine opening.
Wright hit back to win four of the next five legs as he pulled back to 6-4, landing back-to-back 11-darters which featured four 180s in two legs.
Gurney, though, crucially took the next three to pull clear before punishing another miss from Wright to clinch the win on double eight.
"I make it hard for myself sometimes but I'm just glad to get through that game," said Gurney, who had lost to Wright in the UK Open and World Matchplay semi-finals earlier this year.
"I had a good start but I expected Peter to come back at me, and I knew I had to just hold myself on my throw to keep myself in front."
Rob Cross won through to his maiden TV semi-final with a superb 10-4 defeat of Michael Smith, averaging 100.85 and htiting ten doubles from 18 attempts in a fine display.
A bright start saw Cross open up an early 3-1 lead before Smith took back-to-back legs to level, only to see the former electrician finish 116 and 85 to wrestle back the advantage.
Cross also finished 130 and 84 as five successive legs moved him 8-3 up, with double 14 seeing Smith reply briefly before the Hastings ace took out 69 and double 16 to secure a last four date with Gurney on Sunday evening.
"It's all new for me but I feel good and I'm dealing with the pressures," said Cross. "I think that pressure's man-made anyway so you can only ever pressurise yourself, no-one else can do it for you.
"I'm only in the semi-finals now and there's still a job there to be done. I like Daryl and I think if we both come out and play our hearts out it will be a big game."
Michael van Gerwen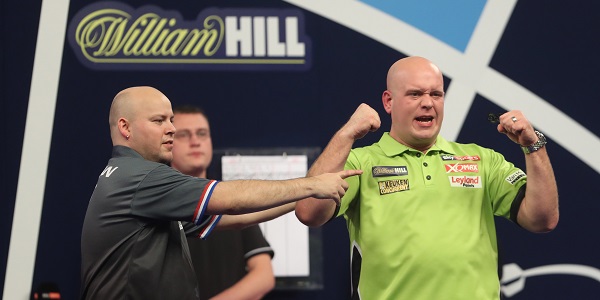 Simon Whitlock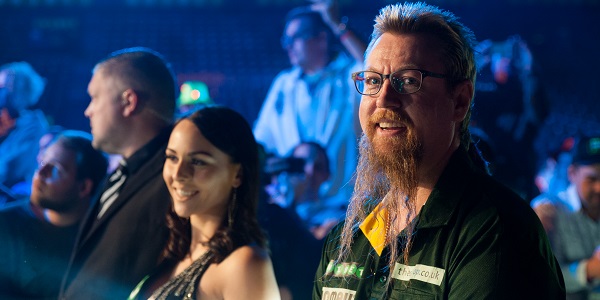 Kyle Anderson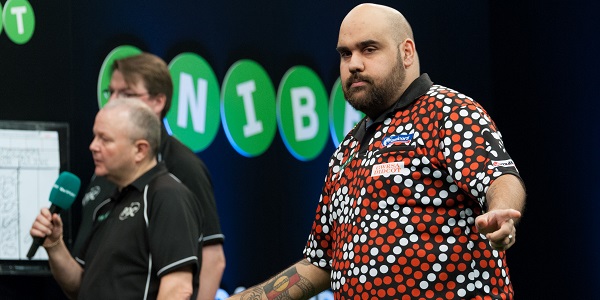 Mensur Suljovic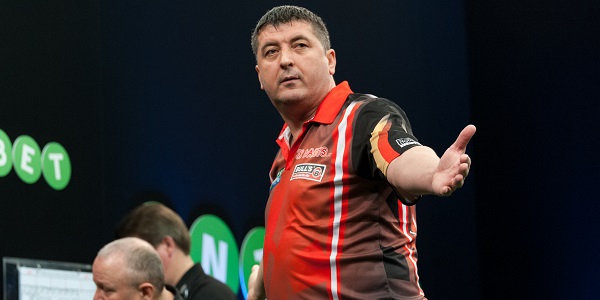 Daryl Gurney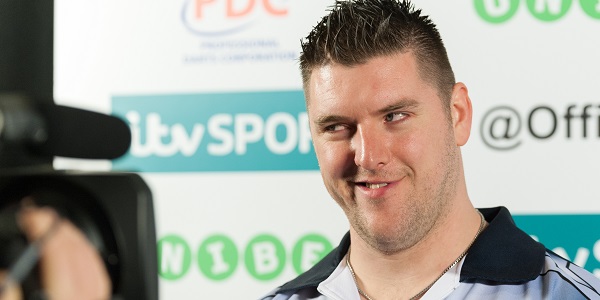 Peter Wright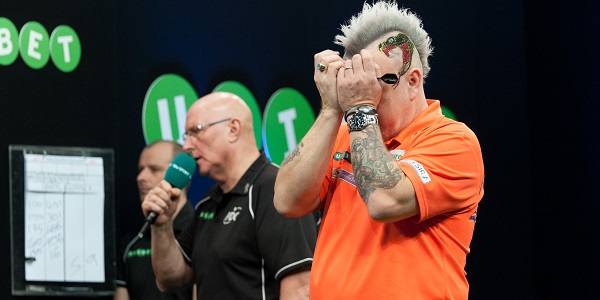 Rob Cross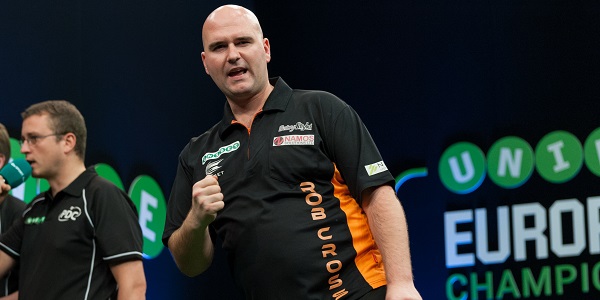 Michael Smith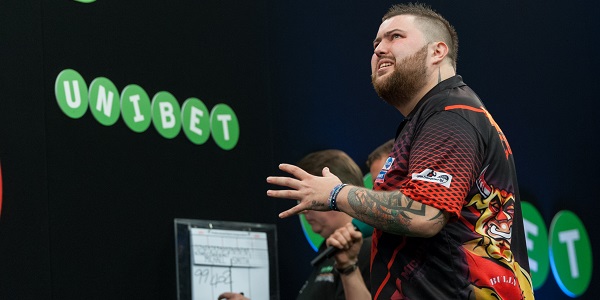 Pictures by Kelly Deckers