ROB HEWSON and Niels Zonneveld shared victories as the opening PDC Unicorn Development Tour weekend of 2018 came to a close at Wigan's Robin Park Tennis Centre on Sunday.
Lincolnshire's Hewson, 22, claimed his first Development Tour success in Event Three to open Sunday's double-header as he took the £2,000 top prize.
Hewson had never previously reached a Development Tour final since first competing in 2012, but won eight games on his way to victory.
His opening whitewash of Paul Reid was followed by defeats of Adam Paxton, Tom Lonsdale and Fred Box, before Hewson then saw off Saturday's nine-dart star, Canada's Dawson Murschell, with a 4-2 success.
He then overcame Jaikob Selby 5-2, enjoyed a 5-3 semi-final win over Tommy Wilson and repeated the scoreline against Melvin de Fijter in the final.
De Fijter's run to the final was the Dutchman's best since he began competing on the PDC circuit last year, as he saw off Harry Ward, Owen Maiden and Mike De Decker in the latter stages.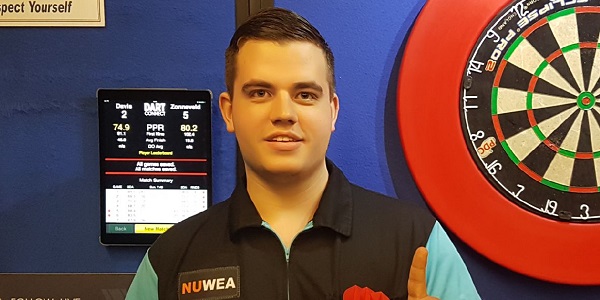 The weekend concluded with Event Four later on Sunday, as Niels Zonneveld became the second Dutch winner of the weekend, following Wessel Nijman's Event Two triumph 24 hours earlier.
The 19-year-old from Uitgeest enjoyed whitewash wins over Aiden Cope, Scott Jackson and Declan Cox during the event, and also defeated Maiden, Bradley Halls, Daniel Thomas and William Borland on his way to the final.
There, Zonneveld was a 5-2 winner over Joe Davis to pick up the £2,000 top prize.
Brighton's Davis, a two-time UK Open qualifier, won through to his first Development Tour final as he overcame both Nijman and Hewson before edging out Geert Nentjes 5-4 in the semi-finals.
The next PDC Unicorn Development Tour weekend will be held on May 26-27 at Halle 39 in Hildesheim as the German venue hosts four tournaments each worth £10,000 in prize money.
SEE FULL RESULTS IN THE MATCH CENTRE AT THIS LINK
PDC Unicorn Development Tour
Sunday April 15, Robin Park Tennis Centre, Wigan
Event Three
Last 16
Rob Hewson 4-2 Dawson Murschell
Jaikob Selby 4-2 Nicholas Ellis
Tommy Wilson 4-2 Nathan Rafferty
Patrick van den Boogaard 4-2 Jimmy Hendriks
Carl Batchelor 4-3 George Gardner
Mike De Decker 4-3 Danny Key
Owen Maiden 4-3 Berry van Peer
Melvin de Fijter 4-1 Harry Ward
Quarter-Finals
Rob Hewson 5-2 Jaikob Selby
Tommy Wilson 5-4 Patrick van den Boogaard
Mike De Decker 5-2 Carl Batchelor
Melvin de Fijter 5-3 Owen Maiden
Semi-Finals
Rob Hewson 5-3 Tommy Wilson
Melvin de Fijter 5-1 Mike De Decker
Final
Rob Hewson 5-3 Melvin de Fijter
Event Four
Last 16
Ted Evetts 4-1 Rory Jolly
Geert Nentjes 4-0 Justin Smith
Rob Hewson 4-3 James Thompson
Joe Davis 4-2 Wessel Nijman
Niels Zonneveld 4-2 Daniel Thomas
Declan Cox 4-2 Adam Paxton
Jimmy Hendriks 4-0 Jordan Boyce
William Borland 4-3 Rhys Griffin
Quarter-Finals
Geert Nentjes 5-3 Ted Evetts
Joe Davis 5-3 Rob Hewson
Niels Zonneveld 5-0 Declan Cox
William Borland 5-1 Jimmy Hendriks
Semi-Finals
Joe Davis 5-4 Geert Nentjes
Niels Zonneveld 5-3 William Borland
Final
Niels Zonneveld 5-2 Joe Davis