MICHAEL VAN GERWEN has vowed to win the Unibet Premier League after becoming the first player to qualify for the play-offs.
The world number one booked his place at The O2 on May 17 as he picked up three vital points at The Manchester Arena on Thursday night.
Van Gerwen now has his sights set on lifting the Premier League trophy for the fourth time after his ruthless 7-1 victory over Michael Smith and hard-fought 6-6 draw with Daryl Gurney.
"I'm going to win this one," said Van Gerwen, who was awarded the Dutch equivalent of an MBE on Thursday.
"My focus is now on preparing for The O2 and, of course, I want to win every game.
"I think I performed well through the season even though I had a few slip-ups, but I'm happy to be in the semi-finals.
"I think I'm going to finish top of the league and hopefully I can do that by finishing the regular season with two wins."
The three-time Premier League champion had to survive six match-darts to beat Peter Wright in last year's final, but the Dutchman insists lifting the trophy is all that matters.
"Even if the other players get close to me, it doesn't matter how close they get.
"As long as I win, that's the only thing that counts."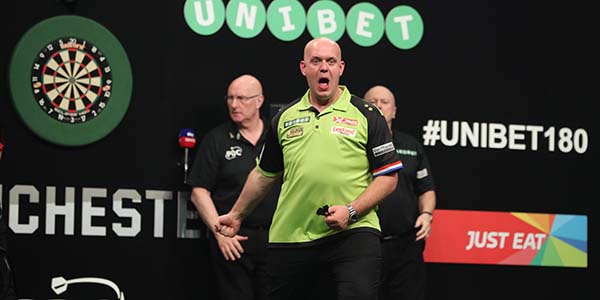 In his win over Smith, the Dutch star saw his average drop below 100 for the first time in 37 consecutive Premier League games, a run that stretched back to April 2016.
But Van Gerwen was focussed solely on picking up a crucial win to put him three points clear of second-placed Smith.
"There was a lot of pressure on me tonight but I felt good, I didn't make a lot of mistakes and now I can focus on The O2," the two-time World Champion added.
"I believe in myself. I know what I can do because I've been top of the table for the last five years.
"I know I can be better but it doesn't matter because I'm top of the table."
Van Gerwen will look to build on his win over Smith and secure top spot as he faces reigning World Champion Rob Cross in Birmingham on Thursday, May 3.
For tickets, visit www.theticketfactory.com or call 0844 33 88 222.