THE biggest tournament in darts is to expand further as the William Hill World Championship grows to include 96 competitors and a record £2.5 million prize fund, including a huge £500,000 to the 2018/2019 champion.
In the biggest development for the tournament since its move to London's Alexandra Palace a decade ago, the World Championship will continue its remarkable growth both on and off the oche this year.
The sport's biggest event has seen 72 players in recent years competing in a festival of darts across the Christmas and New Year period, with live coverage on Sky Sports being broadcast worldwide.
The introduction of 24 further qualifiers will see the field increase to 96 competitors, with additional professionals joining an expanded group of international qualifiers which will include two female contenders.
Six additional sessions will be added to this year's schedule to accommodate the extra matches, providing greater opportunities for fans to see the World Championship live following the sell-out interest at Alexandra Palace in recent years and a 30 percent increase in Sky Sports' live coverage to over 110 hours.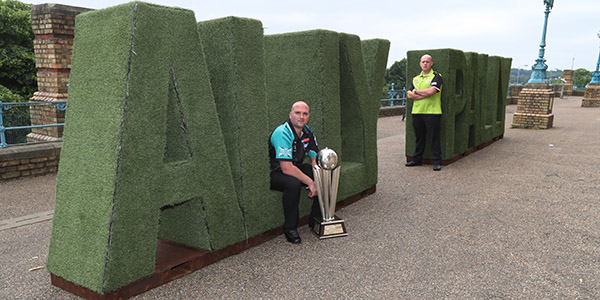 Title sponsors William Hill have also extended their commitment to darts' flagship tournament with a contract to further their support of the World Championship until 2022.
Tickets for the 2018/2019 World Championship will take place from December 13-January 1, will go on sale at the end of July, with 90,000 tickets to be available for fans.
"The William Hill World Darts Championship has become a phenomenon in worldwide sport given its incredible growth in recent years, but this announcement takes the tournament to a whole new level," said PDC Chairman Barry Hearn.
"The backing of our sponsors William Hill and worldwide broadcasters led by Sky Sports has been matched by the incredible interest from fans who flock to Alexandra Palace every Christmas and watch around the globe.
Darts' biggest event just got bigger...

96 Players
£2.5m Prize Money - £500k to Winner
28 sessions over 16 days

The 2018/19 William Hill World Darts Championship

➡️ https://t.co/VbTWBTNrYj pic.twitter.com/sQsBHQbcWX

— PDC Darts (@OfficialPDC) June 4, 2018
"The World Championship has grown year-on-year in the decade since our move from the Circus Tavern to Alexandra Palace, which is the perfect home for such a prestigious event.
"Moving to 96 players will not only reward more players from our ProTour, with 32 qualifiers joining the world's top 32 players in securing places in the World Championship, but also gives us the opportunity to expand the international qualifiers.
"Our worldwide growth, in particular through our affiliated tours, has seen greater interest than ever for spots from around the globe as emerging players battle to compete on the biggest stage in darts.
"We also felt that it was important to guarantee two places for female players, which will go to qualifiers from the UK and Rest of the World.
"Combined with the leading professional talents in darts, rising stars from around the world and new faces who win through the qualifiers, this promises to be an incredible tournament and a feast of festive darts for fans either at Ally Pally or watching the tournament later this year."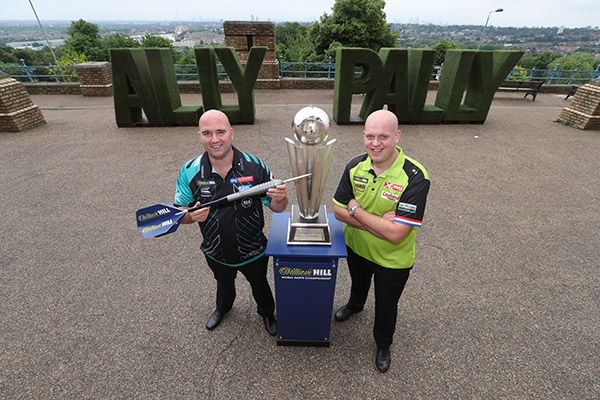 Grant Williams, Managing Director of William Hill Online, said: "We're delighted to extend our sponsorship of the World Darts Championship.
"We have a great relationship with Barry Hearn and his team at the PDC and we're thrilled to continue this partnership until at least 2022."
Female players will have the opportunity to compete later this year in a UK Qualifier or a Rest of the World Qualifier to claim their spot in the World Championship, where they could emulate previous competitors Gayl King and Anastasia Dobromyslova, with the news following on from Chinese qualifier Momo Zhou's participation in last weekend's World Cup of Darts.
The top four players from the 2018 PDC Asian Tour Order of Merit will also compete at Alexandra Palace, along with the leading two players from the PDC Unicorn Development Tour, PDC Nordic & Baltic rankings and the Order of Merit winners from the PDC Unicorn Challenge Tour and DartPlayers Australia and EuroAsian Darts Corporation circuits.
In addition, the top ranked American player and top-ranked Canadian player from the Championship Darts Corporation will join the 2018 North American Championship winner in earning a spot at Alexandra Palace.
The World Youth Championship and DPA Oceanic Masters will join knockout events to be held in China, Japan, India, Africa, New Zealand, South America, Germany, Ireland and four qualifiers across Europe ahead of November's PDPA Qualifier, which is the last chance for professionals to secure one of two places in the World Championship.
Those 32 international qualifiers will join the 32 ProTour Order of Merit qualifiers in the first round, with the 32 seeded players from the PDC Order of Merit joining the event in round two.
Tickets for the 2018/2019 William Hill World Darts Championship will go on Priority Sale to PDCTV-HD Annual Subscribers on Monday July 23 and on General Sale from Monday July 30. Hospitality Packages will go on sale from Tuesday July 31. Ticket information will be available at www.pdc.tv/tickets
The PDC have also worked with official ticketing partners SeeTickets to ensure an ethical resale website will be available for fans who have tickets which genuinely cannot be used, with further details to be confirmed in due course.
2018/2019 William Hill World Darts Championship
Schedule of Play
Thursday December 13
Evening Session
3x First Round matches
1x Second Round match
Friday December 14
Afternoon Session
3x First Round matches
1x Second Round match
Evening Session
3x First Round matches
1x Second Round match
Saturday December 15
Afternoon Session
3x First Round matches
1x Second Round match
Evening Session
3x First Round matches
1x Second Round match
Sunday December 16
Afternoon Session
3x First Round matches
1x Second Round match
Evening Session
3x First Round matches
1x Second Round match
Monday December 17
Evening Session
3x First Round matches
1x Second Round match
Tuesday December 18
Afternoon Session
3x First Round matches
1x Second Round match
Evening Session
2x First Round matches
2x Second Round matches
Wednesday December 19
Afternoon Session
3x First Round matches
1x Second Round match
Evening Session
4x Second Round matches
Thursday December 20
Afternoon Session
4x Second Round matches
Evening Session
4x Second Round matches
Friday December 21
Afternoon Session
4x Second Round matches
Evening Session
4x Second Round matches
Saturday December 22
Afternoon Session
3x Third Round matches
Evening Session
3x Third Round matches
Sunday December 23
Afternoon Session
3x Third Round matches
Evening Session
3x Third Round matches
Thursday December 27
Afternoon Session
3x Third Round matches
Evening Session
1x Third Round match
2x Fourth Round matches
Friday December 28
Afternoon Session
3x Fourth Round matches
Evening Session
3x Fourth Round Matches
Saturday December 29
Afternoon Session
2x Quarter-Finals
Evening Session
2x Quarter-Finals
Sunday December 30
Evening Session
Semi-Finals
Tuesday January 1
Evening Session
Final
Qualifiers
Top 32 from PDC Order of Merit
Top 32 from ProTour Order of Merit
Plus 32 International Qualifiers:
Two PDPA Qualifiers
2018 PDC Asian Tour Top Four
2018 PDC Unicorn World Youth Champion
2018 PDC Unicorn Development Tour Order of Merit top two
2018 PDC Unicorn Challenge Tour Order of Merit winner
PDC Nordic & Baltic Top Two
EADC Champion
Oceanic Masters Champion
DPA Order of Merit Winner
DPNZ Qualifier
German Superleague Champion
Central Europe Qualifier
South Europe Qualifier
West Europe Qualifier
East Europe Qualifier
PDC China Qualifier
Tom Kirby Memorial Irish Matchplay Champion
North American Championship Winner
CDC Top Ranked American Player
CDC Top Ranked Canadian Player
PDJ Japanese Qualifier
African Qualifier
South American Qualifier
UK Ladies Qualifier
Rest of the World Ladies Qualifier
Indian Qualifier
Prize Fund
| | |
| --- | --- |
| Winner | £500,000 |
| Runner-Up | £200,000 |
| Semi-Finalists | £100,000 |
| Quarter-Finalists | £50,000 |
| Fourth Round Losers | £35,000 |
| Third Round Losers | £25,000 |
| Second Round Losers | £15,000 |
| First Round Losers | £7,500 |
| Total | £2,500,000 |
Format
| | |
| --- | --- |
| First Round | Best of five sets |
| Second Round | Best of five sets |
| Third Round | Best of seven sets |
| Fourth Round | Best of seven sets |
| Quarter-Finals | Best of nine sets |
| Semi-Finals | Best of 11 sets |
| Final | Best of 13 sets |