RYAN MEIKLE and Ted Evetts shared victories as the third PDC Unicorn Development Tour weekend of 2018 concluded at the Robin Park Tennis Centre in Wigan on Sunday.
Suffolk thrower Meikle claimed his second Development Tour title, and his first PDC title of the year, with a 5-3 win over Austrian ace Rowby-John Rodriguez in the final of Event 11.
Meikle is one of the game's rising stars, picking up his two-year Tour Card in January, and continuing his progress in Wigan with Sunday's £2,000 Development Tour title.
The 21-year-old beat Tadhg Carroll, George Killington, Matthew Holbrook and Rhys Griffin as he progressed to the quarter-finals.
There, Meikle edged past Rusty-Jake Rodriguez 5-4 before whitewashing Evetts 5-0 in the semi-finals to set up a final tie with Rowby-John Rodriguez.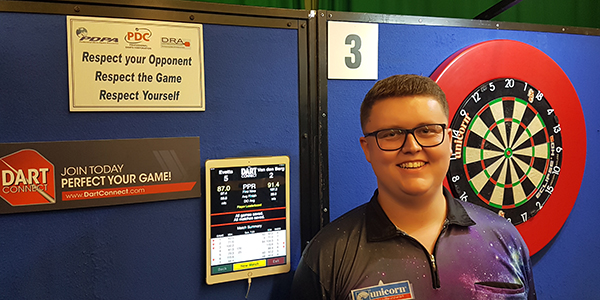 Event 12 saw Evetts bounce back from his semi-final loss earlier in the afternoon, recording wins over Seppe Giebens, Brad Ellis, Brian Raman, Adam Watson and Christian Bunse to reach the last eight.
The Southam star then beat yesterday's double-winner Martin Schindler 5-2 and Melvin de Fijter 5-3 to make the final where he defeated Belgian star Dimitri Van den Bergh by a 5-2 scoreline to claim his third Development Tour crown.
The PDC Unicorn Development Tour continues on September 8-9 with four more £10,000 tournaments at the Robin Park Tennis Centre in Wigan.
SEE FULL RESULTS IN THE MATCH CENTRE AT THIS LINK
PDC Unicorn Development Tour
Sunday June 10, Robin Park Tennis Centre, Wigan
Event 11
Last 16
Tommy Wilson 4-1 Brian Raman
Ted Evetts 4-2 Dawson Murschell
Rusty-Jake Rodriguez 4-0 George Gardner
Ryan Meikle 4-1 Rhys Griffin
Nico Blum 4-0 Adam Atkinson
Lee Budgen 4-2 Bradley Brooks
Rowby-John Rodriguez 4-2 Berry van Peer
Jimmy Hendriks 4-2 Scott Dale

Quarter-Finals
Ted Evetts 5-3 Tommy Wilson
Ryan Meikle 5-4 Rusty-Jake Rodriguez
Lee Budgen 5-4 Nico Blum
Rowby-John Rodriguez 5-3 Jimmy Hendriks

Semi-Finals
Ryan Meikle 5-0 Ted Evetts
Rowby-John Rodriguez 5-3 Lee Budgen

Final
Ryan Meikle 5-3 Rowby-John Rodriguez
Event 11
Last 16
Melvin de Fijter 4-1 Scott Dale
Rob Hewson 4-2 Joshua Richardson
Martin Schindler 4-3 Rhys Griffin
Ted Evetts 4-2 Christian Bunse
Mike van Duivenbode 4-1 Josh McCarthy
Christopher Haensch 4-2 Nico Schlund
Dimitri Van den Bergh 4-2 Greg Ritchie
William Borland 4-0 Geert Nentjes

Quarter-Finals
Melvin de Fijter 5-2 Rob Hewson
Ted Evetts 5-2 Martin Schindler
Mike van Duivenbode 5-4 Christopher Haensch
Dimitri Van den Bergh 5-3 William Borland

Semi-Finals
Ted Evetts 5-3 Melvin de Fijter
Dimitri Van den Bergh 5-3 Mike van Duivenbode
Final
Ted Evetts 5-2 Dimitri Van den Bergh