Christopher Kempf, the statistical analyst of the PDC, takes a look at what the Order of Merit tells us about the past and future of darts.
The 2018 World Championship resulted in two of the most dramatic ranking shifts in the history of the PDC.
Adrian Lewis' first round loss to Kevin Munch saw the two-time World Champion drop out of the top 16 for the first time in a decade and resulted in his failure to qualify for the Masters for the first time in the tournament's history.
Meanwhile, the world title earned by PDC débutant Rob Cross capped a meteoric rise from 169th at the beginning of the year to the world's third-highest ranked player in fewer than ten months.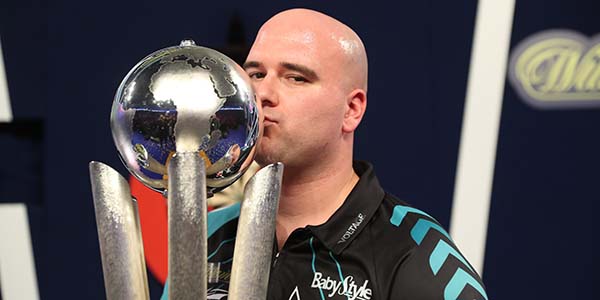 Because the Order of Merit ranks the most successful players according to income earned over a rolling two-year period, Lewis saw his Order of Merit total drop by £139,000 - nearly 50% - after failing to replace income earned as the 2016 World Championship finalist.
Cross, on the other hand, was not even a professional darts player at that point in time.
Thus, every pound of his prize money went straight to his Order of Merit total, pushing him ahead of Daryl Gurney and Gary Anderson and within striking distance of the number two spot.
Since January, Lewis' financial fortunes have recovered dramatically - numerous semi-final and final appearances on the ProTour have landed him back among the seeded players for the 2018 World Matchplay.
And while Cross has not been winning matches at quite the torrid pace of his 2017 debut year, he is guaranteed to remain within the top four in the PDC for the next year and a half.
Cross has about eight months left before his first earnings as a professional begin to expire from his ranking total, giving him plenty of time to diversify his sources of income and overtake Wright as the world number two.
However, he will need to replace the largest single prize in PDC history to date - his £400,000 World Championship prize - with another Ally Pally title come January 2020 in order to avoid a rankings collapse akin to Lewis.
% composition of Order of Merit total, by event type

OoM rank

 

World Championships

All TV events

European Tour

Floor events (PC, UKOQ)

1

Michael van Gerwen

24.0%

69.0%

22.7%

8.4%

2

Peter Wright

13.2%

54.0%

28.1%

17.8%

3

Rob Cross

58.1%

74.5%

9.9%

15.7%

4

Gary Anderson

36.5%

77.6%

0.6%

21.7%

5

Daryl Gurney

12.9%

66.0%

13.3%

20.6%

6

Mensur Suljovic

11.3%

47.7%

37.4%

14.9%

7

Simon Whitlock

10.9%

50.5%

21.9%

27.7%

8

Dave Chisnall

15.8%

58.7%

16.3%

25.0%

9

Michael Smith

14.2%

38.6%

33.2%

28.3%

10

James Wade

16.6%

59.3%

18.2%

22.5%

11

Ian White

15.8%

45.1%

19.1%

35.8%

12

Gerwyn Price

13.5%

56.8%

24.4%

18.8%

13

Raymond van Barneveld

44.3%

85.9%

3.3%

10.8%

14

Darren Webster

26.9%

57.5%

14.9%

27.6%

15

Kim Huybrechts

15.5%

47.9%

28.0%

24.1%

16

Adrian Lewis

15.6%

55.1%

11.3%

33.6%

17

Alan Norris

15.4%

54.8%

24.1%

21.1%

18

Joe Cullen

12.6%

39.4%

36.0%

24.6%

19

Jelle Klaasen

17.0%

47.9%

33.2%

18.8%

20

Benito van de Pas

17.3%

53.9%

22.4%

23.7%

21

Mervyn King

13.6%

46.6%

23.2%

30.1%

22

Stephen Bunting

10.3%

46.1%

26.6%

27.3%

23

Jonny Clayton

14.6%

44.5%

24.8%

30.8%

24

Steve Beaton

19.4%

52.7%

14.2%

33.1%

25

Steve West

21.3%

51.0%

19.3%

29.7%

26

Kyle Anderson

10.7%

53.3%

17.4%

29.3%

27

John Henderson

23.1%

51.7%

13.7%

34.6%

28

Robert Thornton

22.4%

60.3%

10.4%

29.3%

29

Jamie Lewis

65.2%

69.5%

9.6%

20.9%

30

James Wilson

18.2%

46.9%

15.9%

37.2%

31

Cristo Reyes

18.5%

47.5%

26.7%

25.7%

32

Justin Pipe

18.8%

59.2%

12.9%

27.9%
The PDC Order of Merit is not just a number - look closely at how each player makes their money and you can learn much about a player's strengths and strategy, and even look into the future to see how the rankings will change in the months ahead. 
Players with large amounts of income earned in floor events are well protected against sudden swings of fortune, since the frequency of the events guarantees a steady stream of income to the players who contest them regularly.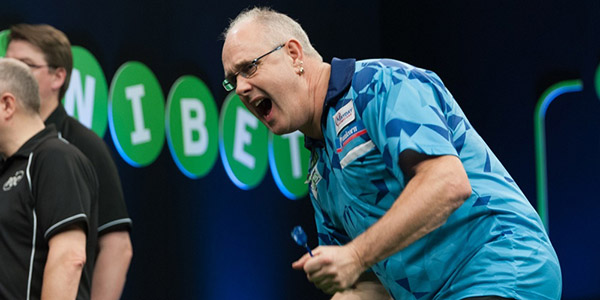 Of Ian White's £275,000 earned since July 2016, 35.8% was earned in Players Championships or UK Open qualifiers - the largest percentage of any player in the world's top 32, barring James Wilson.
While that high percentage demonstrates an admirably consistent level of play away from the TV cameras, it also indicates that White's potential for high major event earnings has not yet been realised.
White's continued presence near the top of the rankings has not enabled him to reach the superstardom of Phil Taylor, Michael van Gerwen or Lewis, but it has guaranteed him entry to half a decade's worth of major tournaments.
Players who are just beginning their professional careers will naturally derive almost all of their ranking income from floor events, as they may not qualify to enter any other tournaments.
Players who qualify for the European Tour events can more than quadruple their earnings per leg contested - Van Gerwen, the 26-time European Tour champion, regularly earns £500 per leg in his victories.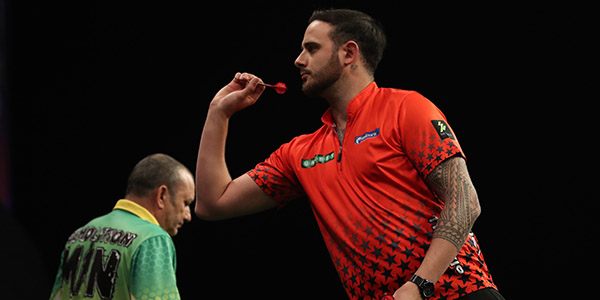 Another player who has made great strides in the rankings thanks to European Tour earnings is Joe Cullen, whose £80,000 in European Tour income since July 2016 is the fifth-highest in the PDC.
In spite of never having reached a final, Cullen regularly brings home prizes of £4,000 and £6,000 after winning a mere two or three matches.
On the other hand, some players have dropped out of the European Tour events altogether having been regular fixtures on the tour in previous years.
While Anderson has ceased to contest any events at all due to the demands of travel, Raymond van Barneveld's European Tour income has fallen to 3.3% of his total - only £9,000 over two years - even though he has attempted to qualify for several.
A whopping 85.9% of the Dutchman's current ranking income was earned in ranking tournaments, and more than half is derived from his last two World Championship appearances alone.
No other top-32 player earned a higher percentage of their Order of Merit total in the last six months of the 2016 season, and no player stands to plummet more in the rankings if he cannot match those earnings with new prize money earned in the second half of 2018.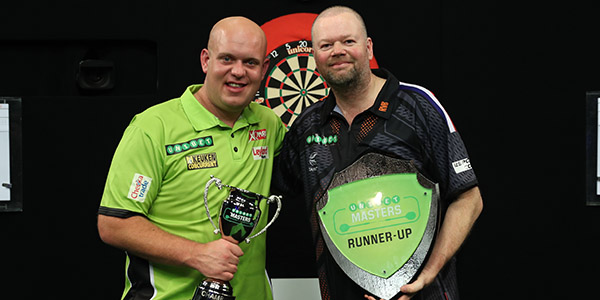 Depending on the major tournaments as a principal source of income is a risky strategy - if unable to match their earnings in the World Championship or the World Matchplay two years later, a player can suffer from an unexpected drop in the rankings that may be unconnected to his recent form. 
How secure is Van Gerwen's number one position atop the Order of Merit? For the time being, very.
The Dutchman maintains a lead of over £1,000,000 in ranking income over world number two Wright.

But it is not Wright who poses the greatest threat to Van Gerwen - indeed, Wright must earn at least £200,000 more than Cross before January in order to maintain the size of his lead over Cross in the rankings.
A second world title for Cross could even vault him ahead of Van Gerwen if the world number one fails to defend his £350,000 winnings as the 2017 World Champion, resulting in the first changing of the guard at the number one spot in five years. 
No one is defending less money over the next six months than Cross (£0), but there are also several other players with little to lose who could climb further up the ladder toward stardom.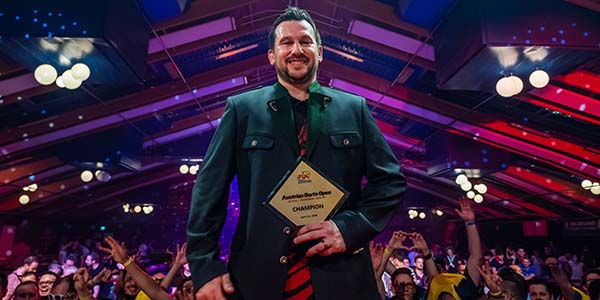 John Henderson (£21,500 earned in 2016, 13.4% of current OoM), Jonny Clayton (£30,000, 16.40%) and Jamie Lewis (£30,750, 19.6%) may all discover that the disappointment of a barren few months of darts is counter-balanced by the opportunity to surge ahead in the rankings two years later.
The likes of Van Gerwen, Anderson, Dave Chisnall and James Wade, who are all defending 45%+ of their earnings over the next six months, will need to match their 2016 form with similar success to stave off challenges from below.
The first big test for the future of the rankings comes at the end of the month with the World Matchplay in which Van Gerwen and Lewis could meet in the second round.
It would be a vital match for both players; with Van Gerwen defending his £100,000 winners' cheque from 2016.
An early exit could mean a huge £80,000 blow to his Order of Merit, wiping out three European Tour wins' worth of income in one match.
Meanwhile Lewis, hoping to maintain his momentum, will seek to replace his £27,000 of earnings with an even larger prize.
Players further down the rankings will look to take advantage of the potential earnings of £500 to £1,000 per leg merely for having qualified, and jump ahead of rivals who did not earn a place in Blackpool.
The players have their eyes on the prize - £115,000 and the Phil Taylor Trophy - but also on the past, for as much as players' destiny is determined by the darts they are about to throw, so too is it controlled by the darts they threw two years ago.