JELLE KLAASEN, Vincent van der Voort and Danny Noppert all secured places in both the International Darts Open and the European Darts Trophy.
Thursday's treble qualifying event saw eight European qualification spots on offer in each of September and October's £135,000 European Tour events in Riesa and Gottingen, along with four Host Nation qualifying places in this weekend's International Darts Open.
Klaasen recorded victories over Christian Kist and Michael Plooy in the finals of each event to secure his double-qualification as the former World Championship semi-finalist continued his quest to reach October's Unibet European Championship.
Former European Tour winner Van der Voort overcame young Belgian Dimitri van den Bergh in each final, while Noppert defeated Rowby-John Rodriguez and Arjan Konterman in his finals to continue his impressive qualification run on the continent.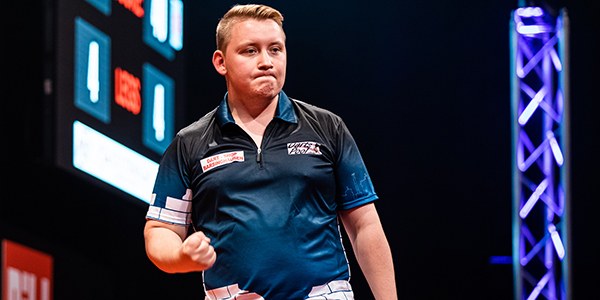 Thursday's qualifying event also saw the field for the International Darts Open completed as four Host Nation Qualifiers booked their spots in Riesa this weekend, led by German World Cup of Darts ace Martin Schindler.
The International Darts Open will take place in Riesa this weekend (September 14-16), while the European Darts Trophy will be staged in Gottingen from October 12-14.
Streaming will be available for all PDCTV-HD Subscribers worldwide as well as through a series of bookmakers' websites.
International Darts Open Host-Nation-Qualifier (ET12)
Finals
Dirk van Duijvenbode 6-1 Cristo Reyes
Ron Meulenkamp 6-2 Zoran Lerchbacher
Jose Justicia 6-2 Christian Kallinger
Jan Dekker 6-3 Mats Gies
Michael Plooy 6-1 Toni Alcinas
Vincent van der Voort 6-1 Dimitri van den Vergh
Jelle Klaasen 6-2 Christian Kist
Danny Noppert 6-5 Rowby-John Rodriguez
EQ1: Dirk van Duivenbode
EQ2: Ron Meulenkamp
EQ3: Jose Justicia
EQ4: Jan Dekker
EQ5: Michael Plooy
EQ6: Vincent van der Voort
EQ7: Jelle Klaasen
EQ8: Danny Noppert
ET12 Host Nation Qualifiers:
1 Gabriel Clemens
2 Robert Marijanovic
3 Ricardo Pietreczko
4 Martin Schindler
European Qualifier European Darts Trophy (ET13)
Finals 
Jeffrey de Zwaan 6-2 Rusty-Jake Rodriguez
Jelle Klaasen 6-0 Michael Plooy
Toni Alcinas 6-4 Jan Dekker
Vincent van der Voort 6-2 Dimitri van den Bergh
Jeffrey de Graaf 6-4 Ron Meulenkamp
Danny Noppert 6-5 Arjan Konterman
Jermaine Wattimena 6-4 Cristo Reyes
Kim Huybrechts 6-3 Dirk van Duijvenbode
EQ1: Jeffrey de Zwaan
EQ2: Jelle Klaasen
EQ3: Toni Alcinas
EQ4: Vincent van der Voort 
EQ5: Jeffrey de Graaf
EQ6: Danny Noppert
EQ7: Jermaine Wattimena
EQ8: Kim Huybrechts