LUKE HUMPHRIES and George Killington shared victories as the fourth PDC Unicorn Development Tour weekend of 2018 began at the East of England Arena in Peterborough on Saturday.
Berkshire thrower Humphries picked up his second Development Tour title of the year, and an eighth PDC crown of his career, after defeating Justin van Tergouw in the final of Event 13.
Dutch youngster Van Tergouw threw a magnificent 104.5 average in his 5-4 semi-final win over Kenny Neyens but was edged out by Humphries 5-4 in the final.
One of the game's rising stars, 23-year-old Humphries made his World Championship debut last December and continued his progress in Peterborough with the first of Saturday's £2,000 Development Tour titles.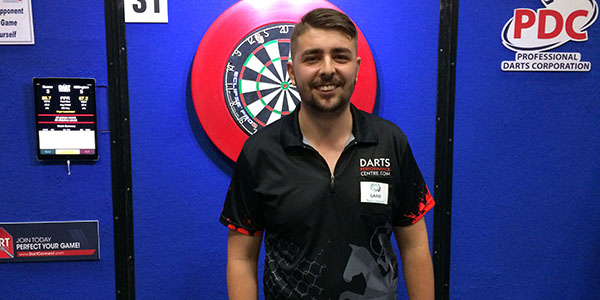 Event 14 saw Killington claim a first Development Tour victory in four years thanks to a 5-3 defeat of young German Christian Bunse.
Tottenham man Killington hit a ton-plus average in his last 16 triumph over Nathan Rafferty and continued his winning form all the way to his second PDC title.
The PDC Unicorn Development Tour weekend concludes on Sunday with two more £10,000 tournaments in Peterborough.
SEE FULL RESULTS IN THE MATCH CENTRE AT THIS LINK
PDC Unicorn Development Tour
Saturday September 22, East of England Arena, Peterborough
Event 13
Last 16
Luke Humphries 4-2 James O'Toole
Christian Bunse 4-1 Connor Arberry
Joe Davis 4-0 Dimitri Van den Bergh
Maikel Verberk 4-1 Ryan O'Connor
Rhys Hayden 4-2 Patrick van den Boogaard
Kenny Neyens 4-1 Lee Budgen
Scott Dale 4-3 Rowby-John Rodriguez
Justin van Tergouw 4-0 Geert Nentjes

Last Eight
Luke Humphries 5-3 Christian Bunse
Joe Davis 5-4 Maikel Verberk
Kenny Neyens 5-1 Rhys Hayden
Justin van Tergouw 5-4 Scott Dale

Last Four
Luke Humphries 5-3 Joe Davis
Justin van Tergouw 5-4 Kenny Neyens

Final
Luke Humphries 5-4 Justin van Tergouw
Event 14
Last 16
Callan Rydz 4-3 Dawson Murschell
Danny Van Trijp 4-0 Tommy Wilson
Fred Box 4-1 Ryan Meikle
Christian Bunse 4-2 Greg Ritchie
George Killington 4-1 Nathan Rafferty
Scott Dale 4-1 Jack Vincent
Mike De Decker 4-2 Rhys Griffin
Geert Nentjes 4-1 Martin Schindler

Last Eight
Danny Van Trijp 5-3 Callan Rydz
Christian Bunse 5-2 Fred Box
George Killington 5-3 Scott Dale
Geert Nentjes 5-2 Mike De Decker

Last Four
Christian Bunse 5-2 Danny Van Trijp
George Killington 5-4 Geert Nentjes

Final
George Killington 5-3 Christian Bunse