BERRY VAN PEER and Luke Humphries claimed victories on the penultimate day of action on the 2018 PDC Unicorn Development Tour in Wigan.
Van Peer, who won the hearts of darts fans as he bravely battled against dartitis at the 2017 Grand Slam of Darts, picked up his third Development Tour title at the Robin Park Tennis Centre, and a first since 2015.
The young Dutchman defeated countryman Niels Zonneveld in the semi-finals before racing into a 4-0 lead in the final against Geert Nentjes, who is now closing in on a qualifying place for the William Hill World Darts Championship.
Nentjes fought his way back to 4-4 but Van Peer held his nerve to win the deciding leg and claim the second £2,000 top prize of the day.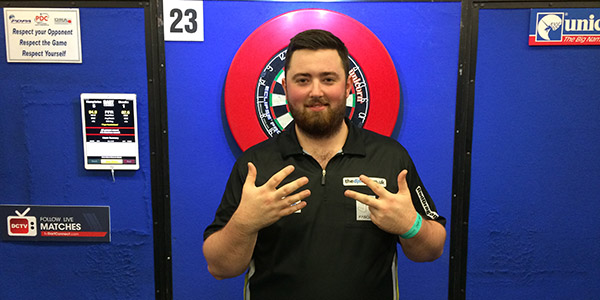 Earlier, Humphries picked up his third Development Tour title of the year, and an eighth of his impressive career to date, to fire himself up to first on the Order of Merit.
The Berkshire thrower, who is already assured of his place at Alexandra Palace thanks to his ProTour Order of Merit ranking, defeated Bradley Brooks 5-1 in the final.
In the semi-finals 18-year-old Brooks threw a 102.7 average to beat Jeffrey de Zwaan 5-3, with the World Matchplay semi-finalist averaging 103.7 in the game of the day.
De Zwaan had averaged 115.60 in his best display of the event as he whitewashed Brian Raman in the quarter-finals, the highest of 13 ton-plus averages achieved during the tournament.
Sunday sees the final two Development Tour events of 2018 take place, after which the top two players on the Order of Merit will qualify for the World Championship.
Places are also up for grabs in Monday's early rounds of the PDC Unicorn World Youth Championship, which will be held at the Robin Park Tennis Centre.
2018 PDC Unicorn Development Tour
Saturday November 3, Robin Park Tennis Centre, Wigan
Event 17
Last 16
Luke Humphries 4-1 Jimmy Hendriks
Mike De Decker 4-1 Nico Blum
George Killington 4-2 Kenny Neyens
Ryan Meikle 4-3 Steven Fitzpatrick
Bradley Brooks 4-3 Jack Main
Justin van Tergouw 4-1 Rusty-Jake Rodriguez
Brian Raman 4-1 Bradley Kirk
Jeffrey de Zwaan 4-0 Joshua Burksfield
Quarter-Finals
Luke Humphries 5-2 Mike De Decker
George Killington 5-3 Ryan Meikle
Bradley Brooks 5-3 Justin van Tergouw
Jeffrey de Zwaan 5-0 Brian Raman
Semi-Finals
Luke Humphries 5-2 George Killington
Bradley Brooks 5-3 Jeffrey de Zwaan
Final
Luke Humphries 5-1 Bradley Brooks
Event 18
Last 16
Brian Raman 4-1 Nicolai Rasmussen
Berry van Peer 4-2 Ryan Meikle
Luke Humphries 4-2 Sven Groen
Niels Zonneveld 4-3 Josh McCarthy
Danny Van Trijp 4-1 Rowby-John Rodriguez
Shane McGuirk 4-1 Harry Ward
Mike De Decker 4-2 Lewis Pride
Geert Nentjes 4-3 Nathan Rafferty

Quarter-Finals
Berry van Peer 5-4 Brian Raman
Niels Zonneveld 5-3 Luke Humphries
Shane McGuirk 5-0 Danny Van Trijp
Geert Nentjes 5-3 Mike De Decker

Semi-Finals
Berry van Peer 5-4 Niels Zonneveld
Geert Nentjes 5-1 Shane McGuirk

Final
Berry van Peer 5-4 Geert Nentjes

CLICK HERE FOR FIXTURES & RESULTS IN THE MATCH CENTRE.

2018 PDC Unicorn Development Tour Order of Merit 
| | | |
| --- | --- | --- |
| Position | Name | Total Prize Money |
| 1 | Humphries, Luke | £7,700 |
| 2 | Schindler, Martin | £5,950 |
| 3 | Evetts, Ted | £5,750 |
| 4 | Van den Bergh, Dimitri | £5,700 |
| 5 | Killington, George | £5,200 |
| 6 | Nentjes, Geert | £5,150 |
| 7 | Rodriguez, Rowby-John | £5,000 |
| 8 | Meikle, Ryan | £4,250 |
| 9 | Zonneveld, Niels | £4,200 |
| 10 | Cole, Jarred | £4,050 |
| 11 | Rafferty, Nathan | £3,750 |
| 12 | Neyens, Kenny | £3,400 |
| 13 | Bunse, Christian | £3,250 |
| 13 | Nijman, Wessel | £3,250 |
| 15 | Peer, Berry van | £3,150 |
| 15 | Hewson, Rob | £3,150 |
| 17 | Murschell, Dawson | £2,750 |
| 18 | Brooks, Bradley | £2,700 |
| 19 | Gardner, George | £2,600 |
| 20 | De Decker, Mike | £2,350 |
| 20 | Tergouw, Justin van | £2,350 |
| 22 | Hendriks, Jimmy | £2,300 |
| 22 | Griffin, Rhys | £2,300 |
| 24 | Wilson, Tommy | £2,250 |
| 25 | Rodriguez, Rusty-Jake | £2,050 |
| 26 | Kirk, Bradley | £2,000 |
| 26 | Davis, Joe | £2,000 |
Click here to see the full PDC Unicorn Development Tour Order of Merit