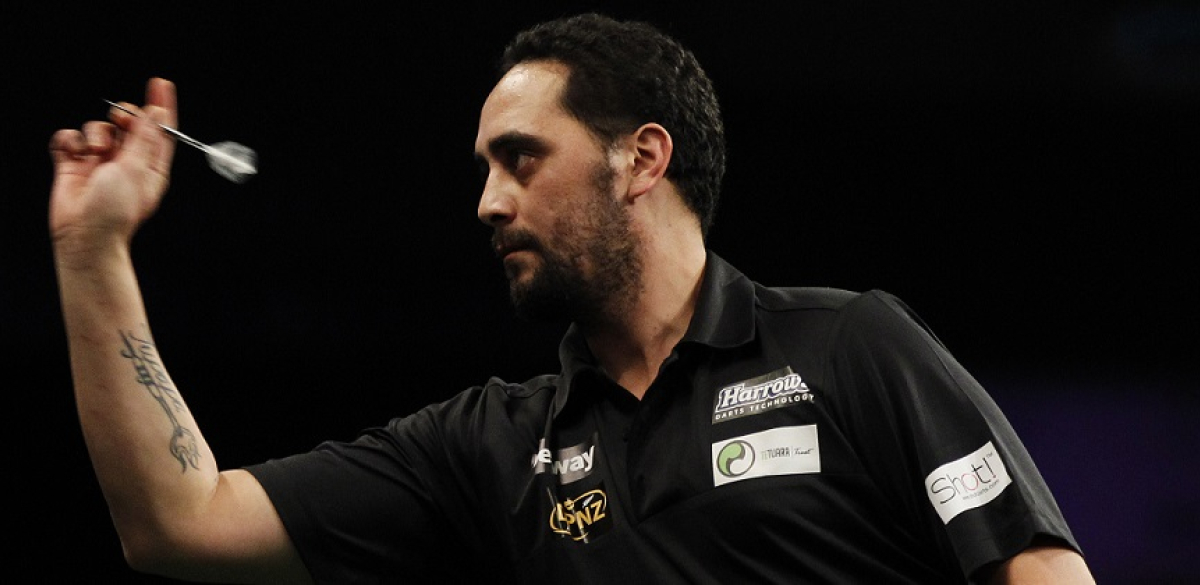 CODY HARRIS will star in the 2018/2019 William Hill World Darts Championship having secured qualification via the PDC Unicorn Challenge Tour.
Sunday saw the final two events of the year take place at the East of England Arena in Peterborough, after which the final Challenge Tour Order of Merit was confirmed.
Harris finished third on the Challenge Tour Order of Merit behind Michael Barnard, who had already sealed his World Championship return via the ProTour Order of Merit, and Ted Evetts, whose qualification was already assured via the Development Tour.
New Zealander Harris made his Alexandra Palace debut last December and, thanks to a strong year on the Challenge Tour including one tournament win, has ensured his return at this year's event.
Sunday's play saw Evetts, who also made his World Championship debut last December, claim victory in Event 20 and his runner-up place on the Challenge Tour with a 5-4 defeat of David Evans in the final.

Austria's Michael Rasztovits claimed the first £2,000 title of the day with a 5-3 win over Andy Boulton in the final of Event 19.
See full results from Events 19 and 20 in the MATCH CENTRE.
2018 PDC Unicorn Challenge Tour Final Order of Merit
1. Michael Barnard - £11,600
2. Ted Evetts - £6,100
3. Cody Harris - £5,650
4. Cameron Menzies - £5,300
5. Krzysztof Ratajski - £4,200
6. Andy Boulton - £4,050
6. Martin Atkins (Wigan) - £4,050
8. Dennis Nilsson - £4,000
9. David Evans - £3,850
10. Simon Preston - £3,800
11. Adam Huckvale - £3,400
12. Jamie Hughes - £3,350
13. Michael Rasztovits - £3,150
14. Jason Cullen - £3,100
15. Diogo Portela - £3,050
15. Jarred Cole - £3,050
17. Jonathan Worsley - £2,900
18. Yordi Meeuwisse - £2,800
19. Mark Frost - £2,750
20. Matthew Dennant - £2,550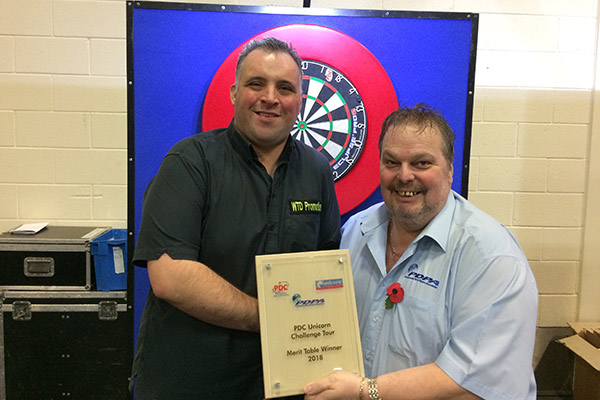 PDC Unicorn Challenge Tour Event 19
Last 16
Michael Rasztovits 5-2 Justin Smith
Michael Barnard 5-1 Ted Evetts
Nathan Rafferty 5-3 Lee Evans
Barry Lynn 5-2 Jack Main
Robert Smith 5-3 Ryan Palmer
Reece Robinson 5-2 Richie Corner
Andy Boulton 5-4 Cameron Menzies
Sean Ryan 5-3 Jonathan Worsley
Quarter-Finals
Michael Rasztovits 5-1 Michael Barnard
Nathan Rafferty 5-3 Barry Lynn
Reece Robinson 5-3 Robert Smith
Andy Boulton 5-2 Sean Ryan
Semi-Finals
Michael Rasztovits 5-4 Nathan Rafferty
Andy Boulton 5-3 Reece Robinson
Final
Michael Rasztovits 5-3 Andy Boulton
PDC Unicorn Challenge Tour Event 20
Last 16
Darren Beveridge 5-3 Rhys Griffin
Michael Barnard 5-4 Michael Rasztovits
Ted Evetts 5-4 Jason Wilson
Nick Fullwell 5-2 Ryan Murray
Andy Boulton 5-3 Matthew Dennant
David Evans 5-1 Colin Littlecott
Christopher Bent 5-2 Christoff Van De Wal
Barry Lynn 5-3 Diogo Portela
Quarter-Finals
Darren Beveridge 5-2 Michael Barnard
Ted Evetts 5-4 Nick Fullwell
David Evans 5-3 Andy Boulton
Barry Lynn 5-4 Christopher Bent
Semi-Finals
Ted Evetts 5-1 Darren Beveridge
David Evans 5-0 Barry Lynn
Final
Ted Evetts 5-4 David Evans