JAMIE HUGHES and Harry Ward were the two winners of PDC Tour Cards on Day One of the 2019 PDC UK Qualifying School in Wigan on Thursday.
The first of four days of action saw almost 400 players battle it out to secure a coveted two-year Tour Card, with the final two players from each day winning a Tour Card automatically and ranking points allocated to other players to form the UK Q School Order of Merit.
Two-time Lakeside Championship semi-finalist Hughes narrowly missed out on a Tour Card in January 2018 before strong performances on the Unicorn Challenge Tour, including one event win, earned him a place in ProTour events in September and October.
The Tipton thrower was in top form on the opening day of action at Wigan's Robin Park Tennis Centre, kicking off with wins over Jamie Barrowman, Sean Bell, John Bryan and Scott Dale to reach the Last 32.
There, Hughes produced sensational averages of 109.8, 109.3 and 108.5 to see off Callan Rydz, Kevin Thomas and Dafydd Edwards, before a resounding 5-1 win over Kirk Shepherd secured his status as a full-time professional on the PDC circuit for 2019 and 2020.
"This has always been the dream for me and I'm over the moon to win my Tour Card on Day One," said 32-year-old Hughes.
"Last year I was a big favourite to win a Tour Card but I ended up playing on the Challenge Tour which toughened me up and stood me in good stead to go again this year.
"When I have played on the ProTour I've been losing with ton-plus averages so that showed me where my game needs to be at and today I think I produced the standard you need to be at to compete."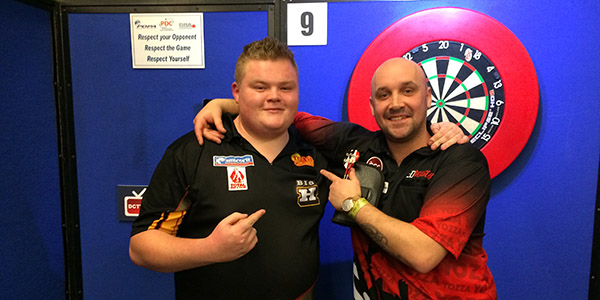 For 21-year-old Ward it was success at his fifth Qualifying School attempt, having competed on the Unicorn Development Tour and Challenge Tour since 2014.
Two-time UK Open qualifier Ward began the day with triumphs over Brian Doran, Ricky King, Dyson Parody and Lakeside Championship semi-finalist Jim Williams on his way to the last 16.
A 5-1 win over James Kempster followed, before a 5-3 defeat of experienced campaigner Richie Howson set up a decisive clash with former BDO number one Mark McGeeney.
Ward produced a 103 average, his highest of the day, in securing a 5-2 victory and his all-important Tour Card.
"It's an unbelievable feeling to have my Tour Card," said Ward.
"I saw three lads from the Development Tour win their Tour Cards at European Q School which made me think I can do it too.
"I've been in finals on the Challenge Tour and Development Tour and never got over the line, but today I saved my best game till last so I'm delighted with that."
There was disappointment on the opening day of Qualifying School for former World Champion John Part, experienced star Kevin Painter and reigning Lakeside Champion Glen Durrant, who all exited before the Last 64.
Part was overcome by Lakeside Women's Championship finalist Lorraine Winstanley in one notable result, while former UK Open finalist Barrie Bates was amongst Thursday's quarter-finalist.
Defeats in the last four for Shepherd and McGeeney stand them in good stead to claim Tour Cards from the Q School Order of Merit, should they not claim an automatic Tour Card in the remaining three days.
Play continues on Friday with Day Two, with a further two automatic PDC Tour Cards on offer in the UK Qualifying School, alongside ranking points for the Q School Order of Merit.
A total of six further automatic Tour Cards will be won over the next three days, with a further 11 places available via the UK Qualifying School Order of Merit.
See the draw, results and keep up with dart-by-dart coverage of every day of the 2019 PDC UK Qualifying School through DartConnect.
2019 PDC UK Qualifying School Day One
Last 16
Dafydd Edwards 5-4 Scott Baker
Jamie Hughes 5-1 Kevin Thomas
Kirk Shepherd 5-2 Nick Fullwell
Barrie Bates 5-4 Ash Hilditch
Harry Ward 5-1 James Kempster
Richie Howson 5-2 David Ladley
Andy Boulton 5-2 Stephen Burton
Mark McGeeney 5-3 Jonathan Worsley

Quarter-Finals
Jamie Hughes 5-1 Dafydd Edwards
Kirk Shepherd 5-4 Barrie Bates
Harry Ward 5-3 Richie Howson
Mark McGeeney 5-4 Andy Boulton

Semi-Finals
Jamie Hughes 5-1 Kirk Shepherd
Harry Ward 5-2 Mark McGeeney
2019 PDC UK Qualifying School Order of Merit
POS
Player
Nationality
POINTS
1
Mark McGeeney
ENG
6
1
Kirk Shepherd
ENG
6
3
Andy Boulton
ENG
5
3
Barrie Bates
WLS
5
3
Richie Howson
ENG
5
3
Dafydd Edwards
WLS
5
7
Jonathan Worsley
WLS
4
7
Stephen Burton
ENG
4
7
David Ladley
ENG
4
7
Nick Fullwell
ENG
4
7
Ash Hilditch
ENG
4
7
Scott Baker
ENG
4
7
James Kempster
WLS
4
7
Kevin Thomas
WLS
4
15
Darren Johnson
ENG
3
15
Callan Rydz
ENG
3
15
David Pallett
ENG
3
15
Thomas Lovely
ENG
3
15
Martin Atkins (Wigan)
ENG
3
15
Mick

 

Todd
ENG
3
15
Matt Padgett
ENG
3
15
Jason Wilson
ENG
3
15
Craig Gilchrist
WLS
3
15
Mitch Butler
WLS
3
15
Zak Cross
ENG
3
15
Cameron Menzies
SCT
3
15
Jarred Cole
ENG
3
15
Jim Williams
WLS
3
15
Conan Whitehead
ENG
3
15
Christopher Bent
ENG
3