MARK McGEENEY and Scott Baker both secured PDC Tour Cards on Day Two of the 2019 PDC UK Qualifying School in Wigan on Friday.
The second of four days of action saw almost 400 players battle it out to win a coveted two-year Tour Card, with the final two players from each day winning a Tour Card automatically and ranking points allocated to other players to form the UK Q School Order of Merit.
Competing in his first Q School, former BDO number one McGeeney came agonisingly close to winning a Tour Card on the first day of action, suffering defeat in the semi-finals but went one better on Day Two.
The Stockport thrower's day began with victories over Dave Prins, Scott Dale, Martin Atkins, Andy Chalmers and Mark Hickey as he reached the last 16.
McGeeney then recorded back-to-back 5-2 wins over Matt Clark and Jamie Bain, before edging out Carl Wilkinson 5-4 to attain his all-important Tour Card.
"It's a huge relief for me, my whole year has been building up to this," said McGeeney.

"Everyone said Q School would be tough but for me this is why I play the game, I want to compete with the best of the best.

"I loved playing in the Grand Slam and now my goal is to play at Ally Pally and the Winter Gardens and test myself against the world's top players."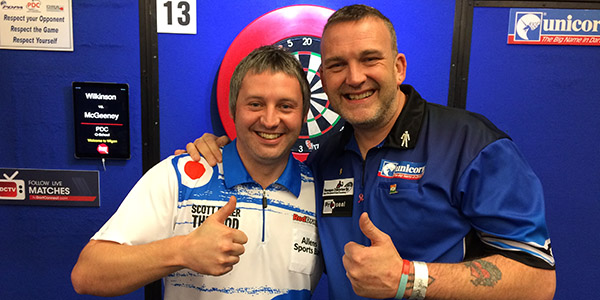 Baker, who has competed in the last two stagings of the Lakeside Championship, was also successful in his first attempt at Q School.
Back-to-back whitewashes of Mark Esposito and Lorraine Winstanley got Baker's day off to a perfect start before a sensational 107.7 average saw him overcome David Adshead 5-2.
Victories over former Tour Card holders Barrie Bates, Stephen Burton and Jonathan Worsley followed, before a 5-2 success over Lakeside Championship semi-finalist Jim Williams put him within one win of glory.
A convincing 5-1 triumph over American Danny Lauby confirmed Baker's status as a full-time professional on the PDC circuit for 2019 and 2020.
"I'm absolutely buzzing, I'm on top of the world right now," said Baker.

"I was playing well yesterday but today I managed to produce that little bit extra to get through.

"The setup here is worlds apart from what I'm used to and I surprised myself a bit with how well I played. Now I can't wait to get started on the ProTour."
It was a second day of disappointment for reigning Lakeside Champion Glen Durrant, three-time World Champion John Part and Brazil's World Cup star Diogo Portela, who all exited before the last 64 stage.
Former World Championship finalist Andy Hamilton and experienced Welshman Barrie Bates both went out in the Last 64, while former Players Championship Finals winner Kevin Painter exited in the last 32.
Despite suffering defeat at the final four stage, Lauby and Wilkinson are both well placed to claim Tour Cards via the Q School Order of Merit, should they not claim an automatic Tour Card in the remaining two days.
Play continues on Saturday with Day Three, with a further two automatic PDC Tour Cards on offer, alongside ranking points for the Q School Order of Merit.
A total of four further automatic Tour Cards will be won over the next two days, with a further 11 places available via the UK Qualifying School Order of Merit.
See the draw, results and keep up with dart-by-dart coverage of every day of the 2019 PDC UK Qualifying School through DartConnect.
2019 PDC UK Qualifying School Day Two
Last 16
Daniel Lauby 5-2 Antony Darlow
Robert Collins 5-4 Patrick Lynskey
Jim Williams 5-1 Adrian Gray
Scott Baker 5-2 Jonathan Worsley
Carl Wilkinson 5-3 Darren Johnson
Callan Rydz 5-1 Curtis Hammond
Jamie Bain 5-4 Matt Padgett
Mark McGeeney 5-2 Matt Clark
Quarter-Finals
Daniel Lauby 5-0 Robert Collins
Scott Baker 5-2 Jim Williams
Carl Wilkinson 5-0 Callan Rydz
Mark McGeeney 5-2 Jamie Bain
Semi-Finals
Scott Baker 5-1 Daniel Lauby
Mark McGeeney 5-4 Carl Wilkinson
2019 PDC UK Qualifying School Order of Merit
POS
Player
Nationality
POINTS
1
Jonathan Worsley
WLS
8
1
Carl Wilkinson
ENG
8
1
Andy Boulton
ENG
8
1
Jim Williams
WLS
8
1
Callan Rydz
ENG
8
6
Darren Johnson
ENG
7
6
Matt Padgett
ENG
7
6
Richie Howson
ENG
7
6
Barrie Bates
WLS
7
6
Jamie Bain
SCT
7
6
Stephen Burton
ENG
7
12
Adrian Gray
ENG
6
12
Christopher Bent
ENG
6
12
Daniel Lauby
USA
6
12
Patrick Lynskey
ENG
6
12
Kevin Thomas
WLS
6
12
Kirk Shepherd
ENG
6
18
John Davey
WLS
5
18
Dyson John Parody
GIB
5
18
Thomas Lovely
ENG
5
18
Cameron Menzies
SCT
5
18
Zak Cross
ENG
5
18
Antony Darlow
ENG
5
18
Mark Hickey
IRL
5
18
Conan Whitehead
ENG
5
18
Dafydd Edwards
WLS
5
18
David Ladley
ENG
5
18
Robert Collins
ENG
5
18
Jarred Cole
ENG
5
30
Ritchie Edhouse
ENG
4
30
Mick

 

Todd
ENG
4
30
Curtis Hammond
ENG
4
30
Darren Herewini
NZL
4
30
Nick Fullwell
ENG
4
30
Martin Atkins (Wigan)
ENG
4
30
Ash Hilditch
ENG
4
30
Matt Clark
ENG
4
30
Eikichi Nakanishi
JPN
4
30
Ian Lever
ENG
4
30
James Kempster
WLS
4