MATT CLARK and Reece Robinson claimed Tour Cards on Day Three of the 2019 PDC UK Qualifying School in Wigan on Saturday.
The third of four days of action saw almost 400 players return to battle it out to win a coveted two-year Tour Card, with the final two players from each day winning a Tour Card automatically and ranking points allocated to other players to form the UK Q School Order of Merit.
Former World Matchplay quarter-finalist Clark spent the 2018 campaign playing on the Unicorn Challenge Tour having lost his Tour Card at the end of 2017, but a series of strong displays on Day Three saw him secure a return to the professional circuit in 2019.
The Radcliffe thrower's day began with wins over Justin Smith, Simon Tate, Justin Broton and Royden Lam, before averaging 103 in his whitewash of Darren Beveridge to reach the last 16.
Triumphs over Keith Rooney and James Kempster followed, before Clark's best performance of the day saw him produce a 104.7 average in his 5-2 defeat of Gavin Carlin.
"I was wondering if I was getting too old for this but the way I played today showed I am still good enough, I've got years left in me yet," said 50-year-old Clark.
"The last few years have been very tough for me away from the oche but I can definitely see the light at the end of the tunnel now, I've got the belief back.
"I have to mention my friend Craig Mansell who has stood by me for ten years, even through the difficult times, and he told me I was going to win my Tour Card back this weekend."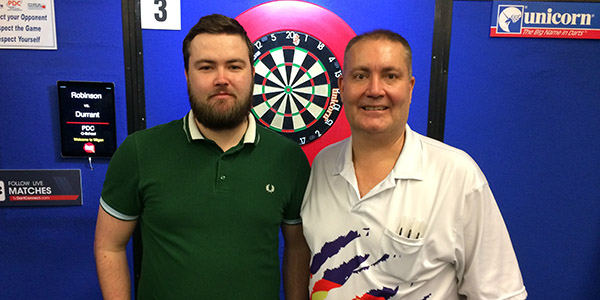 Robinson, who also competed on the Unicorn Challenge Tour in 2018, regained his Tour Card after a six year absence thanks to a 5-2 victory over three-time Lakeside Champion Glen Durrant in the semi-finals.
The 26-year-old Hull man recorded wins over Paul Walker, Stephen McNally, Callum Loose, Kevin Lane and Sam Hewson to reach the last 16.
There, Robinson edged past Jonathan Worsley 5-4, and repeated the scoreline to defeat David Pallett before claiming a memorable success over Durrant to win back his all-important Tour Card.
"I'm absolutely ecstatic, I'm still a young player and I believe I'm good enough to beat anyone in the world," said Robinson.
"I had a couple of years not playing as much as I should've been but this year I've practiced more than I ever have done and I fancied myself to do well here.
"I got to the semi-finals of a Challenge Tour event last year which made me think 'come on Reece, you're as good as anybody else here' so I just went at it after that."
It was a third day of disappointment for three-time World Champion John Part, former Players Championship Finals winner Kevin Painter and former World Championship finalist Andy Hamilton, who all exited before the last 64 stage.
Wes Newton enjoyed a run to the last 32, while 2018/19 World Championship competitor Lisa Ashton produced a 106 average, the highest of the day, en route to the last 16.
Despite suffering defeat at the semi-final stage, Durrant and Carlin are both well placed to claim Tour Cards via the Q School Order of Merit, should they not claim an automatic Tour Card in the remaining two days.
Play continues on Sunday, with a further two automatic PDC Tour Cards on offer, alongside ranking points for the Q School Order of Merit.
A total of two further automatic Tour Cards will be won on Sunday's fourth and final day, with a further 11 places available via the UK Qualifying School Order of Merit.
See the draw, results and keep up with dart-by-dart coverage of 2019 PDC UK Qualifying School through DartConnect.
Full Day Three Results

2019 PDC UK Qualifying School Day Three
Last 16
David Pallett 5-3 Adrian Gray
Reece Robinson 5-4 Jonathan Worsley
Glen Durrant 5-2 Scott Taylor
John Bowles 5-1 Kevin Garcia
Matt Clark 5-3 Keith Rooney
James Kempster 5-0 Carl Wilkinson
Gavin Carlin 5-0 Andrew Gilding
Martin O'Boyle 5-3 Lisa Ashton

Quarter-Finals
Reece Robinson 5-4 David Pallett
Glen Durrant 5-2 John Bowles
Matt Clark 5-4 James Kempster
Gavin Carlin 5-2 Martin O'Boyle

Semi-Finals
Reece Robinson 5-2 Glen Durrant
Matt Clark 5-2 Gavin Carlin
Below is the UK Qualifying School Order of Merit for six points and above.
To see the full Order of Merit, click here.