HARUKI MURAMATSU and Seigo Asada shared victories on the second weekend of the 2019 PDC Asian Tour.
Japanese ace Muramatsu took victory on home soil in Kobe in Saturday's 2019 Event Three, defeating Asada 5-3 in the final.
Asada bounced back to go all the way to victory in Sunday's Event Four, though, as he overcame Royden Lam in the decider.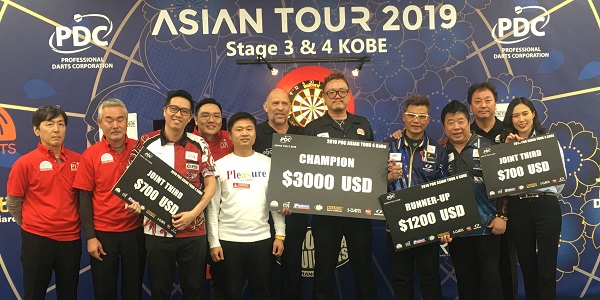 Muramatsu was a quarter-finalist in Event Four, losing out to Kevin Leung before his deciding-leg loss in the all-Hong Kong semi-final with Lam.
Lam enjoyed a strong weekend in Kobe, reaching Saturday's semi-finals as he sought a second Asian Tour victory of the year.
Paul Lim, another event winner on the opening weekend of the Asian Tour season last month, was a semi-finalist on Sunday before losing out to Asada.
The next PDC Asian Tour weekend will be held in Leyte on March 30-31, where a further two events will be held in the third of six double-headers this year.
2019 PDC Asian Tour
Event Three, Saturday February 16
Full results & stats
Quarter-Finals
Seigo Asada 5-3 Kensei Sagawa
Noel Malicdem 5-3 Lourence Ilagan
Royden Lam 5-3 Yuta Hamabe
Haruki Muramatsu 5-2 Melvin Kent Pelona
Semi-Finals
Seigo Asada 5-1 Noel Malicdem
Haruki Muramatsu 5-4 Royden Lam
Final
Haruki Muramatsu 5-3 Seigo Asada
Event Four, Sunday February 17
Full results & stats
Quarter-Finals
Paul Lim 5-2 Michael Viola
Seigo Asada 5-4 Lourence Ilagan
Royden Lam 5-1 Christian Perez
Kevin Leung 5-4 Haruki Muramatsu
Semi-Finals
Seigo Asada 5-0 Paul Lim
Royden Lam 5-4 Kevin Leung
Final
Seigo Asada 5-3 Royden Lam
For further details about the PDC Asian Tour and entry information, please visit www.pdc-asia.tv.
2019 PDC Asian Tour
Events Five & Six
March 30-31, Leyte Academic Center, Pawing, Palo, Leyte
Events Seven & Eight
June 22-23, G Club, Taipei
Events Nine & Ten
July 27-28, Kowloonbay International Trade & Exhibition Centre, Hong Kong
Events 11 & 12
Dates & Venue TBC