CHRISTOPHER KEMPF, the statistical analyst of the PDC, assesses Gerwyn Price's double Players Championship success.
Gerwyn Price enjoyed the best weekend of his career as he won back-to-back Players Championship events in Barnsley on February 23-24.
A winning streak of 14 matches (and counting) suddenly puts Gerwyn Price at a level which other players can only envy and admire.
James Wade, Peter Wright, Michael Smith, Rob Cross, Daryl Gurney...all of these players have never beaten so many players consecutively, and thus have never dominated a weekend of floor events as Price did just days ago.
Though Price remains infamous for his controversial Grand Slam win and has enjoyed a strong start in the 2019 Unibet Premier League, last weekend represented a remarkable reversal of fortune for a player whose floor form had not kept pace with his exploits on stage.
Until February 23, Price had endured a nearly three-year long drought of failing to reach the final of a floor event.
Suddenly Price is looking like a favorite to return to the final of the Ladbrokes UK Open and is an early contender to reach the Premier League Play-Offs, all on the back of a pathbreaking weekend that demonstrated his true potential.
While many players frequently record individual match averages above 100, doing so over the course of hundreds of legs, or over a period of several days, indicates a breakthrough in a player's form.
Since a 15-dart leg yields an average of 100.2, a player who consistently averages above that mark is regularly on pace to win legs in five visits.
This subtle statistical fact has been exploited to great advantage by Michael van Gerwen, who for years has been the only player in the world of professional darts able to maintain three-figure averages over any long period of time.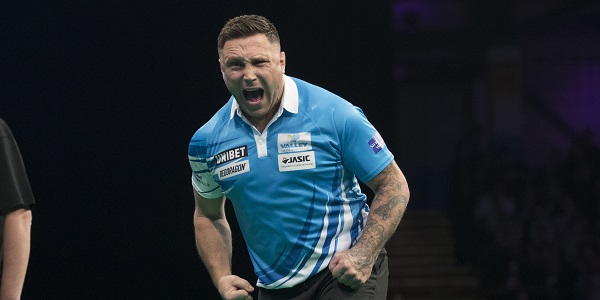 A weekend is a good start, but it merely indicates an upward trajectory for the Welshman, rather than evidence that Price will be able to keep this pace for months on end, as Van Gerwen does.
That said, while players' averages frequently decline from Saturday to Sunday due to mental or physical fatigue, Price actually was more accurate overall in his Sunday campaign, in part thanks to a colossal 112.73 average in a 6-0 whitewash of Zoran Lerchbacher, and a record-tying winning streak of 15 consecutive legs.
There was no aspect of Price's game that did not improve over the past weekend.
Averages, doubles, checkouts - Price's efforts yielded better results in one weekend than they had at any other point in his career.
Price left a finish in a majority of the legs he played after nine darts only, and 96% of the time after 12 darts, resulting in five 11-darters, 14 12-darters, and 73 legs won in 15 darts or fewer.
This level of output challenged Price's opponents to break throw in 12 and hold in 15 leg after leg, and with the exception of Jonny Clayton, who missed a match dart against his countryman on Saturday, none of them were able to overcome the challenge.
In just 131 legs, Price recorded 190 visits of 131 and up, scoring at least a 180, a 140 or a 134 in almost every single leg.
Price, who is perhaps the player most reliant on double 20 for winning legs, was deadly accurate on tops this past weekend, completing 23 out of 25 checkouts with three darts at that double, and 16 of 19 when on a score between 41 and 60, for which Price would be expected to get two darts at double.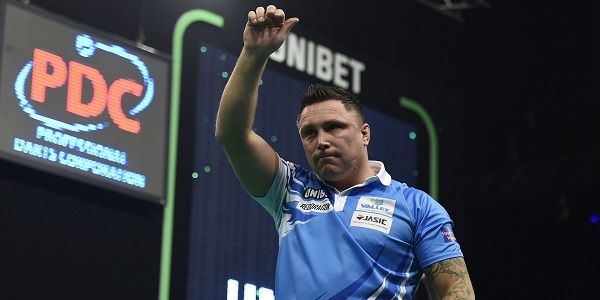 In all, he hit an estimated 46% of his doubles between Players Championship events Five and Six, a massive improvement over the 39% mark he achieved on stage in 2018, and over the 36% he managed in 2017.
With 14 checkouts of 101-170, moreover, Price reached an 18% probability of completing big three-figure finishes, a percentage which would have made him the best finisher in the PDC, had he maintained it over the course of 2018.
In those 131 legs, Gerwyn Price hit an estimated 492 treble 20s, giving him a stratospheric accuracy of 46.5% on the most important treble in the game, as well as 184 treble 19s (48% accuracy).
Since the big scoring trebles are such an integral part to the game of 501, drilling the beds with every visit is one of the best predictors of a successful effort in a darts match.
The above percentages would rival Van Gerwen's output from 2018, and have already exceeded the world number one's efforts in the first four Players Championship events.
The historically erratic Price has also managed to bring down the rate at which his darts go astray into the one or five beds from 10.6% to an estimated 8.2%.
When Price takes on van Gerwen in the Premier League come March 14, the Dutchman may struggle to find an answer to such torrential (and accuate) scoring if he is faced with anything like the Gerwyn Price of Barnsley.
There is one black mark on Price's resume that he will not be able to remedy immediately, and that still casts a shadow over his career: his league-worst record against the reigning World Champion, MvG: 0 wins, 13 losses.
While the £20,000 in earnings will be immensely beneficial to Price's ranking, winning floor events on a weekend on which the best player in the world was absent only proves so much.
Price has come close to toppling Van Gerwen in the past, but the experience of winning on the floor, on TV and on the European Tour could give Price the boost he needs to finally navigate the huge green obstacle in his path.
In order to be the best, and to be recognized as such, one must beat the best. Price will get plenty of opportunities to do so if he keeps playing like he did this past weekend.