OUR six pundits have submitted their predictions for Night Six of the 2019 Unibet Premier League in Nottingham.
Six famous faces are battling it out to be crowned top predictor at the conclusion of the league phase, with the winner to be presented with the inaugural Unibet Premier League Predictions League Trophy at The O2.
Former Premier League star Peter Manley stormed to the summit of the tightly-grouped table thanks to a seven point haul on Night Five in, with Dan Dawson leading the chasing pack in second.
Predictors will submit their scores every week ahead of that the Premier League night, with the updated table published every Friday on pdc.tv.

Do you fancy your chances as a predictor? Have a go yourself in the Fans' Prediction League.
One point will be awarded for a correct outcome, while three points will be awarded for a correct scoreline prediction.
Night Six Predictions:

Peter Manley:
Nathan Aspinall 3-7 Michael Smith
James Wade 7-3 Mensur Suljovic
Rob Cross 7-4 Raymond van Barneveld
Gerwyn Price 5-7 Michael van Gerwen
Peter Wright 7-3 Daryl Gurney
Rod Harrington:
Nathan Aspinall 4-7 Michael Smith
James Wade 7-4 Mensur Suljovic
Rob Cross 7-3 Raymond van Barneveld
Gerwyn Price 4-7 Michael van Gerwen
Peter Wright 7-3 Daryl Gurney
Colin Lloyd:
Nathan Aspinall 5-7 Michael Smith
James Wade 7-4 Mensur Suljovic
Rob Cross 7-2 Raymond van Barneveld
Gerwyn Price 5-7 Michael van Gerwen
Peter Wright 7-4 Daryl Gurney

Paul Nicholson:
Nathan Aspinall 7-5 Michael Smith
James Wade 7-3 Mensur Suljovic
Rob Cross 7-1 Raymond van Barneveld
Gerwyn Price 7-5 Michael van Gerwen
Peter Wright 7-3 Daryl Gurney

Alan Warriner-Little:
Nathan Aspinall 6-6 Michael Smith
James Wade 7-4 Mensur Suljovic
Rob Cross 7-2 Raymond van Barneveld
Gerwyn Price 4-7 Michael van Gerwen
Peter Wright 7-4 Daryl Gurney
Dan Dawson:
Nathan Aspinall 3-7 Michael Smith
James Wade 4-7 Mensur Suljovic
Rob Cross 7-2 Raymond van Barneveld
Gerwyn Price 3-7 Michael van Gerwen
Peter Wright 6-6 Daryl Gurney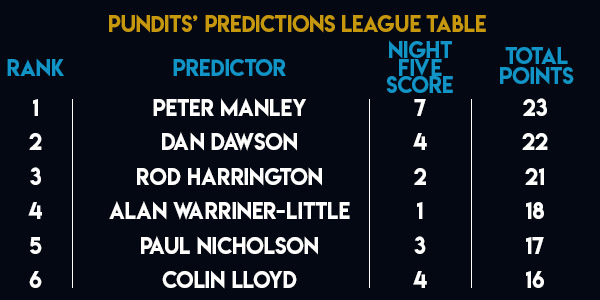 Night Six - Thursday March 14
Motorpoint Arena, Nottingham
Nathan Aspinall v Michael Smith
James Wade v Mensur Suljovic
Rob Cross v Raymond van Barneveld
Gerwyn Price v Michael van Gerwen
Peter Wright v Daryl Gurney
Tickets: 0843 373 3000 or click here