DARIN YOUNG and Jim Long picked up the opening two titles of the year on the 2019 Championship Darts Corporation Tour in Philadelphia on Saturday and Sunday.
American veteran Young claimed two CDC Tour titles in 2018, and began the 2019 campaign in perfect style with a 6-3 victory over Canada's Dave Richardson in the final of Event One at Columbia Social Club.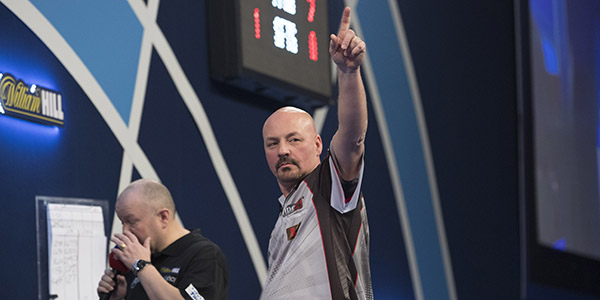 The former World Cup of Darts quarter-finalist came close to an opening weekend double, only to be denied in a deciding leg by 2018/19 World Championship competitor Jim Long, with the Canadian landing his first CDC Tour success.
The 2019 Championship Darts Corporation Tour continues with events Three and Four at the Royal Canadian Legion Branch 551 in Waterdown, Ontario on May 4-5.
2019 Championship Darts Corporation Tour
Event One
Quarter-Finals
Darin Young 6-4 Joseph Chaney
Leonard Gates 6-1 Chris White
Dave Richardson 6-5 Kiley Edmunds
Gary Mawson 6-2 Matt Campbell
Semi-Finals
Darin Young 6-4 Leonard Gates
Dave Richardson 6-5 Gary Mawson
Final
Darin Young 6-3 Dave Richardson
Event Two
Quarter-Finals
Darin Young 6-1 Ross Snook
Alex Reyes 6-4 Kiley Edmunds
Joe Huffman 6-3 David Cameron
Jim Long 6-5 Gary Mawson
Semi-Finals
Darin Young 6-2 Alex Reyes
Jim Long 6-0 Joe Huffman
Final
Jim Long 6-5 Darin Young