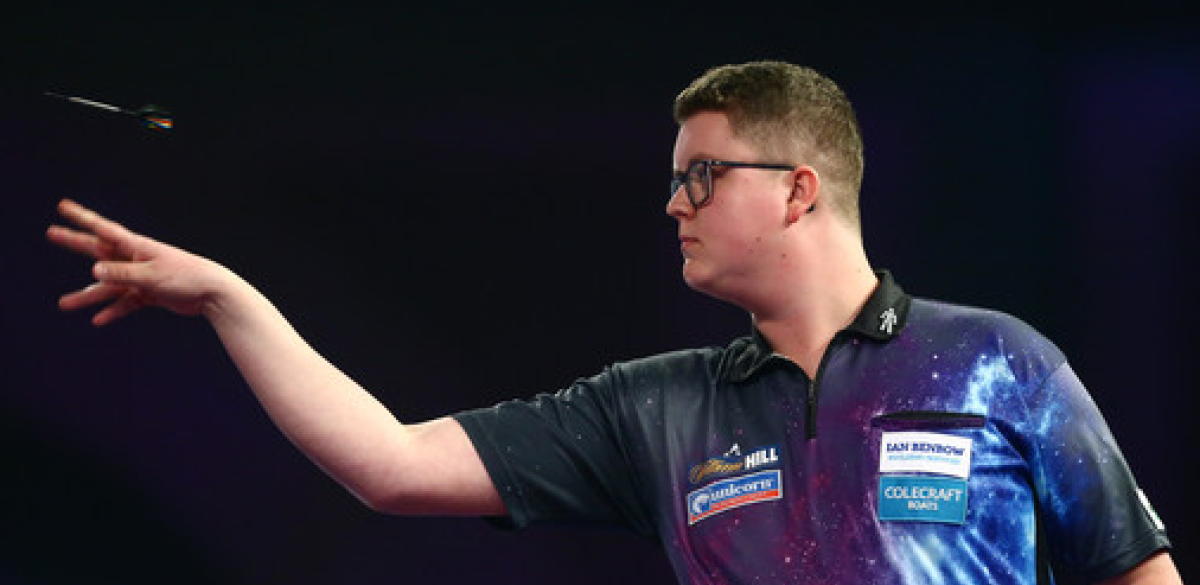 Ted Evetts and Shane McGuirk picked up titles on the opening day of the Unicorn Development Tour weekend in Hildesheim, Germany, while Geert Nentjes hit a nine-dart finish.
The fourth Development Tour weekend of the year saw over 150 players aged 16-23 compete in the first two of four events across the weekend at Halle 39.

Evetts claimed a 5-1 win over Dutchman Owen Roelofs in the final of Event 14 to secure a ninth Development Tour title of his career.
The 22-year-old had to come through three last-leg deciders on his way to the final as he extended his commanding lead at the top of the Development Tour Order of Merit.
Event 14 also saw rising Dutch star Nentjes strike his third PDC nine-dart finish of the year in his 4-3 defeat to Levy Frauenfelder.
Earlier in the day, McGuirk won his first Development Tour crown with a 5-4 victory over Keane Barry in an all-Irish Event 13 final.
McGuirk claimed the scalps of Evetts, Martin Schindler and Nathan Rafferty on his way to the tile.
At the conclusion of the series of 20 tournaments across 2019, the top two players on the Unicorn Development Tour Order of Merit will earn a place at Alexandra Palace for the 2019/20 William Hill World Championship.
The 2019 Development Tour continues on Sunday with Events 15 and 16 and Halle 39.
Sunday's play will commence at 10.30am with Event 15, to be followed immediately by Event 16. Event draws and results will be displayed in the Match Centre tab, while live scores and stats can be viewed in DartConnect.
2019 PDC Unicorn Development Tour
Saturday August 17, Halle 39, Hildesheim, Germany
Event 13 - View full list of results
Last 16
Nathan Rafferty 4-1 Danny van Trijp
Lewis Pride 4-2 Owen Maiden
Kieran Spurdle 4-1 Franz Roetzsch
Shane McGuirk 4-2 Ted Evetts
Luke Humphries 4-1 Marvin van Velzen
Jeffrey De Zwaan 4-1 Harry Ward
Keane Barry 4-3 Jarred Cole
Jurjen van der Velde 4-3 Hywel Manuel

Quarter-Finals
Nathan Rafferty 5-3 Lewis Pride
Shane McGuirk 5-1 Kieran Spurdle
Luke Humphries 5-4 Jeffrey De Zwaan
Keane Barry 5-1 Jurjen van der Velde

Semi-Finals
Shane McGuirk 5-1 Nathan Rafferty
Keane Barry 5-4 Luke Humphries

Final
Shane McGuirk 5-4 Keane Barry
Event 14 - View full list of results
Last 16
Owen Roelofs 4-0 Mike van Duivenbode
Dom Taylor 4-1 Christian Bunse
Wessel Nijman 4-0 Ben West
Bradley Brooks 4-3 Justin Smith
Adam Gawlas 4-2 Levy Frauenfelder
Berry van Peer 4-2 Nathan Girvan
Mike De Decker 4-1 Shane McGuirk
Ted Evetts 4-0 Ole Holtkamp

Quarter-Finals
Owen Roelofs 5-1 Dom Taylor
Wessel Nijman 5-0 Bradley Brooks
Adam Gawlas 5-3 Berry van Peer
Ted Evetts 5-4 Mike De Decker

Semi-Finals
Owen Roelofs 5-4 Wessel Nijman
Ted Evetts 5-2 Adam Gawlas

Final
Ted Evetts 5-1 Owen Roelofs