The Professional Darts Corporation is supporting the Rainbow Laces campaign at the Ladbrokes Players Championship Finals, continuing its partnership with Stonewall's annual initiative.
The 64-player event at the Butlin's Minehead Resort marks the start of Rainbow Laces 2019, which promotes inclusion in sport for LGBT people under the banner "Make Sport Everyone's Game".
The PDC previously supported the Rainbow Laces campaign during 2018, when 12 million people in Britain saw the campaign, including a third of sports fans.
This year's Rainbow Laces campaign runs from November 22-December 8 and includes the #ComeOutActive initiative - encouraging anyone to participate in sport wearing rainbow laces from November 23-30.
"Our support of Rainbow Laces in 2018 was well-received and it's great that we can be involved again this year with an important campaign," said PDC Chief Executive Matthew Porter.
"Darts has been recognised worldwide for its inclusivity as a sport and we fully support Stonewall's mantra that sport is open to everybody."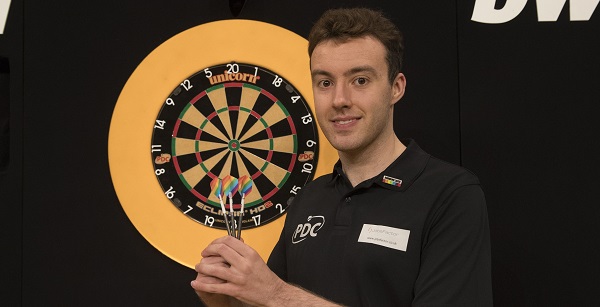 Alongside this year's Rainbow Laces campaign, PDC Referee and LGBT+ ambassador for darts Huw Ware has been unveiled as one of ten Stonewall Sports Champions who are involved across a range of sports.
"Following the success of last year, I'm thrilled that the PDC are teaming up once again with Stonewall to support the Rainbow Laces campaign," said Ware.
"The support of the darts community to last year's campaign was unprecedented, and it highlights that darts is fast becoming a sport for everybody regardless of their sexuality.
"I'm also honoured to be one of Stonewall's Sport Champions for the next 12 months, and look forward to working with the Champions and Stonewall on a broader sporting basis."
The PDC logo on stage at the Players Championship Finals will adopt the rainbow colours of the campaign's logo, while players and officials - including LGBT+ ambassador for darts Huw Ware - will be showing their support for Rainbow Laces during the ITV4-televised event.
For further information, visit stonewall.org.uk or search for stonewalluk on Twitter, Facebook, Instagram and YouTube. Join the movement by using #RainbowLaces on social media.