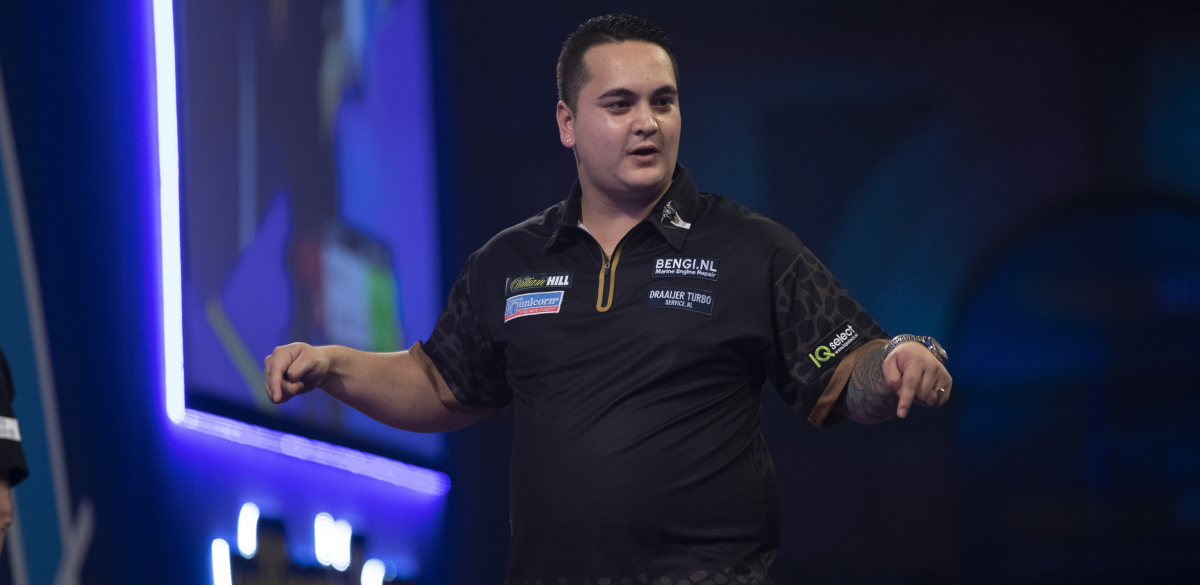 The field for the 2020 PDC Unicorn World Youth Championship has been finalised ahead of Monday's early rounds in Barnsley.
The £60,000 tournament will see a 96-player field competing at the Barnsley Metrodome, bidding to win spots in November's final.
Dutchman Jeffrey de Zwaan enters as the top seed as the only player in the field currently in the top 32 on the PDC Order of Merit.
Players in seeding positions two to ten are also current PDC Tour Card Holders, with 13-time Development Tour winner Ted Evetts among them, ahead of PDPA Associate Members from the PDC Order of Merit.
Play will commence from 1400 BST, with live scores, statistics and results shown on DartConnect.
The 96 players will be split into 32 groups of three for the round-robin phase of the event, with one player seeded per group.
The 32 group winners will progress to the knockout stage, before play continues on the day up to and including the semi-finals.
The World Youth Championship final will take place on Sunday November 29 between the semi-finals and final of the Players Championship Finals.
2020 PDC Unicorn World Youth Championship
Seeded Players
1. Jeffrey de Zwaan
2. Martin Schindler
3. Harry Ward
4. Ted Evetts
5. Geert Nentjes
6. Niels Zonneveld
7. William Borland
8. Callan Rydz
9. Ryan Meikle
10. Bradley Brooks
11. Jitse van der Wal
12. Lewis Williams
13. Brian Raman
14. Nathan Rafferty
15. Dom Taylor
16. Kevin Doets
17. Maikel Verberk
18. Keane Barry
19. Berry van Peer
20. Damian Mol
21. Joe Davis
22. Keelan Kay
23. Rhys Griffin
24. Sebastian Bialecki
25. Lee Lok Yin
26. Owen Roelofs
27. Adam Gawlas
28. Jaikob Selby-Rivas
29. Lewis Pride
30. Rusty-Jake Rodriguez
31. Jack Main
32. Gian van Veen
Development Tour Order of Merit Qualifiers
Sean Negrette
Nathan Potter
Man Lok Leung
Thomas Lovely
Liam Meek
Joshua Richardson
Daan Bastiaansen
Jarred Cole
Jamai van den Herik
Kevin Troppmann
Danny van Trijp
Henk Snijder
Reece Colley
Marcus Tommaso Brambati
John Brown
Nathan Girvan
Kalem Marsh
Mikey Rees
Justin Smith
Keith O'Neill
Cameron Doyle
Henry Cutting
Lewis Gurney
Ole Holtkamp
Moreno Blom
Sven Hesse
Luke Colwill
Levy Frauenfelder
Ben Cheeseman
Josh McCarthy
Robin Beger
Bertus Herks
William Blackwell
Charlie Symons
James Beeton
Brad Phillips
Bradley Halls
Owen Maiden
George Killington
Roman Benecky
Ben McCaffery
Jack Kirtland
Maartendirk Woord
Brent Plaisier
Adam Paxton
Sam Coenders
Aaron Ayres
Callum Wildridge
Daniel Perry
Timo van den Elshout
Michael Poole
Egor Tvorogov
Vilem Sedivy
Fred Box
Jack Male
Jurjen van der Velde
Alec Small
Ryan Payne
Scott Hope
Joshua Lloyd
Thomas Cromwell
Connor Pickett
Henry Reddin
Justin Hewitt