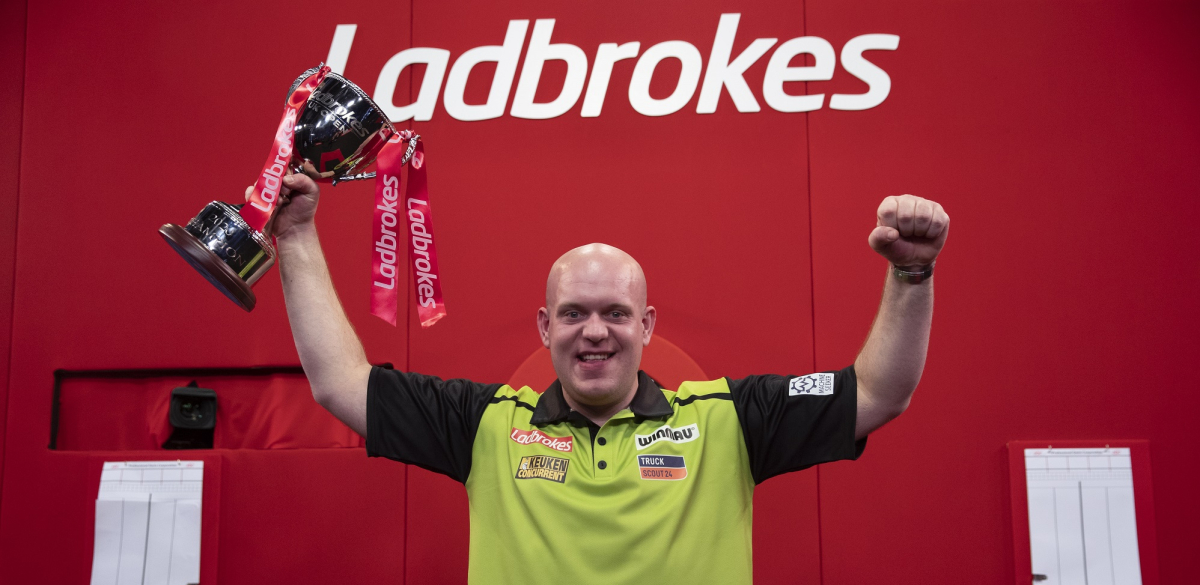 The 2021 Ladbrokes UK Open begins on Friday in Milton Keynes as 152 players compete in the unique multi-board event for the coveted title and £450,000 in prize money.
The 19th staging of the annual festival of darts - usually held at the Butlin's Minehead Resort in Somerset - will see the action take place across eight stages in one room at the Marshall Arena in 2021.
Michael van Gerwen claimed his third UK Open title 12 months ago, but the reigning champion could begin his title defence against the likes of World Champion Gerwyn Price or 2017 champion Peter Wright on Friday night due to the tournament's open draw format.
Van Gerwen, who saw his seven-year reign as world number one ended by Price at the World Championship, will be determined to clinch the year's first televised ranking title as he bids to reclaim the number one spot in 2021.
"It's one of the biggest tournaments of the year and one that I enjoy," said Van Gerwen, who is 4/1 favourite for the title with sponsor Ladbrokes.
"It's something different, it's like the FA Cup with the open draw format. That make is harder to prepare because you don't know who you are going to play.
"I need to make sure I use my experience to achieve a good level of performance.
"By the end of the year I want to try and be world number one again, bit it's going to be really tough because the prize money for the World Championship winner is massive.
"I'm still the man to beat like always. I need to handle the pressure and make sure I play well."
Van Gerwen will enter the event in Friday evening's fourth round, as part of the world's top 32 along with Price and former UK Open champions Wright, Gary Anderson, James Wade, Nathan Aspinall and Adrian Lewis.
World Champion Price, who went down 11-9 to Van Gerwen in last year's final, is seeking TV glory for the first time since his Alexandra Palace triumph in January.
The Welshman will be hoping to make it third time lucky having been runner-up to Wright in 2017, and Price says he holds fond memories of the tournament.
"It's one of my favourite tournaments because of the overall atmosphere, the sheer volume of games being played across the different stages. I just love it," explained Price, who has recovered from the ear infection which saw him compete in only two Super Series events last weekend.
"I tend to do quite well in the UK Open as well; I got to the final last year and slipped up against Michael [van Gerwen].
"I'm playing well though; obviously I wasn't at my best in the Super Series but there's reasons for that. Hopefully I'll get back to 100% match fitness before Friday so I can have another good run.
"It's a great format the way the draw is made for this tournament, but to be honest I don't ever really tend to look at who I might be playing, nor do I have anyone in mind I'd want to play.
"I just try to go down there and focus on my own game. I know if I'm playing at 100% then nine times out of ten I think I'm going to win."
Returning Dutch legend Raymond van Barneveld will make his televised comeback against Alan Soutar on the Main Stage in Friday afternoon's opening session.
Two-time UK Open champion Van Barneveld will compete on the big stage for the first time since his infamous loss to Darin Young at the World Championship in December 2019 after winning back his PDC Tour Card recently.
"It will be great to be back on a TV stage after so long," said Van Barneveld. "It might feel a bit strange at first with the new surroundings.
"Of course, it's a shame I can't make my comeback in front of fans but I know there will be a lot of people watching at home and I want to do well for them."
The five-time World Champion comes into the tournament on the back of sensationally winning his first PDC ranking title since 2013 on just his third day back on the PDC tour on Saturday at Super Series 1.
Van Barneveld said of his Players Championship triumph: "I was an amateur last week and one week later I'm winning a ProTour, that's what you can do if you believe in yourself.
"I was so focused on winning that Tour Card, then I came to the Super Series and I thought 'wow, this is another level' and I asked myself 'can I do this again?'
"Yes, of course I can if I believe. It's all about belief. I have to thank my management team who are making sure I practice every single day, which I've never done before in my life."
Van Barneveld's second round tie with impressive newcomer Soutar, a UK Open debutant, is one of nine matches scheduled to take place on the Main Stage at the Marshall Arena in Friday afternoon's opening session.
Main Stage matches will be broadcast live on ITV4 for UK viewers, through the PDC's international broadcast partners, including DAZN and RTL7, and on PDCTV for Rest of the World Subscribers.
A busy opening session at the unique multi-board event, featuring 152 players, will see the first three rounds take place on Friday afternoon.
The first round comprises the Tour Card Holders ranked 97-122 along with 32 qualifiers from the Development Tour, Challenge Tour and Qualifying Schools Orders of Merit.
Main Stage action will begin with two round one ties, with former World Youth Championship finalists Berry van Peer and Martin Schindler opening proceedings before American newcomer Danny Baggish takes on Brett Claydon.
While the Main Stage action begins at 1200 GMT, Friday's play begins at 1100 GMT on Stages Two-Eight.
Stage Two matches from the first round include former BDO Championship runner-up Jim Williams against Austria's Zoran Lerchbacher and former Lakeside Champion Richie Burnett versus Dutch youngster Geert Nentjes.
Action on Stage Two action on Friday and Saturday will be streamed exclusively for all PDCTV Subscribers worldwide.
The first round winners will be joined by Tour Card Holders 65-96 in round two, as Van Barneveld takes on Soutar and Lisa Ashton meets Aaron Beeney in the Main Stage games.
Friday's opening session will also see round three take place, with the second round winners joined by Tour Card Holders 33-64, as the winner of Van Barneveld v Soutar returns to the Main Stage for a meeting with Mickey Mansell.
The third round will also see Max Hopp face William O'Connor on the Main Stage, while 2004 UK Open semi-finalist Steve Beaton plays Mark McGeeney on Stage Two.
At the conclusion of the third round, the draw for the fourth round will be made live on the Main Stage as the world's top 32 players enter the tournament.
The fourth round will be played on Friday evening.
The action continues on Saturday March 7 with the fifth and sixth rounds across two sessions, before Sunday's closing stages are played out on the Main Stage.
Players will compete for a £100,000 top prize, with a total prize fund of £450,000 on offer being paid down to the last 96.
*Six Tour Card Holders - Wesley Harms, Robert Marijanovic, Daniel Larsson, Michael Unterbuncher, Darren Penhall and Boris Kcrmar - will not be competing, therefore six players received a first round bye when the draw was made.
In addition, Cristo Reyes and Florian Hempel have withdrawn for family reasons, and as such their planned opponents - Ryan Joyce in round three and Jitse van der Wal in round one respectively - receive a bye.
2021 Ladbrokes UK Open
Friday March 5
Afternoon Session (1100 GMT Start, 1200 GMT on Main Stage)
First, Second & Third Rounds 
Main Stage
Berry van Peer v Martin Schindler (R1)
Brett Claydon v Danny Baggish (R1)
Aaron Beeney v Lisa Ashton (R2)
Maik Kuivenhoven v Koltsov/Rusty-Jake Rodriguez (R2)
Alan Soutar v Raymond van Barneveld (R2)
Keane Barry v Nentjes/Burnett (R2)
Max Hopp v William O'Connor (R3)
Damon Heta v Siepmann/D Evans (R3)
Soutar/Van Barneveld v Mickey Mansell (R3)
Stage Two
Gordon Mathers v Kirk Shepherd (R1)
Boris Koltsov v Rusty-Jake Rodriguez (R1)
Zoran Lerchbacher v Jim Williams (R1)
Geert Nentjes v Richie Burnett (R1)
Martin Atkins v Bradley Brooks (R2)
Martijn Kleermaker v Wayne Jones (R2)
Peters/L Williams v Scott Mitchell (R2)
Ciaran Teehan v Claydon/Baggish (R2)
Mark McGeeney v Steve Beaton (R3)
Ross Smith v Callan Rydz (R3)
Beeney/Ashton v Darius Labanauskas (R3)
Murray/Kciuk v Kim Huybrechts (R3)
Stage Three
Rhys Griffin v Sean Fisher (R1)
Matt Jackson v Nathan Rafferty (R1)
Keelan Kay v Kevin McDine (R1)
Rowby-John Rodriguez v Brian Raman (R1)
Nick Kenny v Ryan Meikle (R2)
Jeff Smith v Van Peer/Schindler (R2)
Andy Hamilton v Edhouse/Mol (R2)
Lerchbacher/J Williams v Mathers/Shepherd (R2)
James Wilson v Keegan Brown (R3)
Atkins/Brooks v Waites/S Brown (R3)
Barry/Nentjes/Burnett v Luke Woodhouse (R3)
S Taylor/Michael/Lukeman/Verberk v Adam Hunt (R3)
Stage Four
Jitse Van der Wal Bye (Florian Hempel withdrew) (R1)
Geert De Vos v Niels Zonneveld (R1)
Martin Lukeman v Maikel Verberk (R1)
Scott Taylor v John Michael (R1)
Michael Rasztovits v Peter Jacques (R2)
Hudson/De Vreede v Jesus Noguera (R2)
Scott Waites v Steve Brown (R2)
Kay/McDine v Rowby-John Rodriguez/Raman (R2)
Ryan Joyce Bye (Cristo Reyes withdrew) (R3)
Heaver/Pronk/Lovely v Ron Meulenkamp (R3)
Murnan/Dennant/Leung v Kenny/Meikle (R3)
Lerchbacher/J Williams/Mathers/Shepherd v Madars Razma (R3)
Stage Five
Shane McGuirk v Jack Main (R1)
Jason Heaver v Lorenzo Pronk (R1)
Luc Peters v Lewis Williams (R1)
Steffen Siepmann v David Evans (R2)
De Vos/Zonneveld v Derk Telnekes (R2)
Alan Tabern v Gawlas/Vos (R2)
Murnan/Dennant v Kai Fan Leung (R2)
Steve West v Jason Lowe (R3)
Andy Boulton v Jelle Klaasen (R3)
Borland/Davis/Doets v Steve Lennon (R3)
Leitinger/Sedlacek v De Decker/Griffin/Fisher (R3)
Raztovits/Jacques v Teehan/Claydon/Baggish (R3)
Stage Six
Jim McEwan v Sebastian Bialecki (R1)
Chas Barstow v Lukas Wenig (R1)
Joe Murnan v Matthew Dennant (R1)
Jon Worsley v Andrew Gilding (R2)
McGuirk/Main v Robert Collins (R2)
Mike De Decker v Griffin/Fisher (R2)
S Taylor/Michael v Lukeman/Verberk (R2)
John Henderson v Matt Edgar (R3)
Hamilton/Edhouse/Mol v J Jones/D Taylor/Blades (R3)
J Smith/Van Peer/Schindler v Kleermaker/W Jones (R3)
J Brown/Carlin/Jackson/Rafferty v Barstow/Wenig/Thomas (R3)
Stage Seven
Joe Davis v Kevin Doets (R1)
Adam Gawlas v Gino Vos (R1)
Ritchie Edhouse v Damian Mol (R1)
Harald Leitinger v Karel Sedlacek (R2)
J Jones/D Taylor v Gary Blades (R2)
J Brown/Carlin v Jackson/Rafferty (R2)
Barstow/Wenig v Martin Thomas (R2)
Luke Humphries Bye (Justin Pipe withdrew) (R3)
Kuivenhoven/Koltsov/Rusty-Jake Rodriguez v Brendan Dolan (R3)
Hudson/De Vreede/Noguera v Tabern/Gawlas/Vos (R3)
Kay/McDine/Rowby-John Rodriguez/Raman v Josh Payne (R3)
Stage Eight
Jake Jones v Dom Taylor (R1)
Peter Hudson v Ryan De Vreede (R1)
John Brown v Gavin Carlin (R1)
Ryan Murray v Krzysztof Kciuk (R2)
William Borland v Davis/Doets (R2)
McEwan/Bialecki v Jitse van der Wal (R2)
Heaver/Pronk v Eddie Lovely (R2)
Ted Evetts v Darren Webster (R3)
McGuirk/Main/Collins v Ryan Searle (R3)
Peters/L Williams/Mitchell v Worsley/Gilding (R3)
McEwan/Bialecki/Van der Wal v De Vos/Zonneveld/Telnekes (R3)
Please note: Schedule of play is subject to change and any amendments will be notified at the PDC website as soon as possible.
Session Times
Friday March 5
Afternoon Session (1100 GMT start – 1200 GMT start on Main Stage)
First, Second & Third Rounds
Main Stage, Stage Two & Stages Three-Eight
Evening Session (1900 GMT start)
Fourth Round
Main Stage, Stage Two & Stages Three-Eight
Saturday March 6
Afternoon Session (1230 GMT start)
Fifth Round
Main Stage, Stage Two & Stages Three-Four
Evening Session (1900 GMT start)
Sixth Round
Main Stage & Stage Two
Sunday March 7
Afternoon Session (1245 GMT start)
Quarter-Finals
Main Stage
Evening Session (1900 GMT start)
Semi-Finals & Final
Main Stage
Format
First, Second & Third Rounds - Best of 11 legs
Fourth, Fifth & Sixth Rounds & Quarter-Finals - Best of 19 legs
Semi-Finals & Final - Best of 21 legs
Prize Fund
Winner - £100,000
Runner-Up - £40,000
Semi-Finalists - £20,000
Quarter-Finalists - £12,500
Sixth Round Losers - £7,500
Fifth Round Losers - £4,000
Fourth Round Losers - £2,000
Third Round Losers - £1,000
Total - £450,000
Ladbrokes Masters
Selected Outright Winner Odds
4/1 Michael van Gerwen
5/1 Gerwyn Price
9/1 Peter Wright
10/1 Jonny Clayton
16/1 Dimitri Van den Bergh, Joe Cullen
20/1 Gary Anderson
25/1 Jose de Sousa, Michael Smith
33/1 Damon Heta, Dave Chisnall, Dirk van Duijvenbode, James Wade, Krzysztof Ratajski, Nathan Aspinall
40/1 Glen Durrant, Ian White
50/1 Daryl Gurney, Gabriel Clemens, Mervyn King
66/1 Devon Petersen, Raymond van Barneveld, Rob Cross
80/1 Callan Rydz, Simon Whitlock
100/1 Adrian Lewis, Chris Dobey, Danny Noppert, Luke Humphries, Mensur Suljovic, Ryan Searle, Stephen Bunting

Odds correct at time of writing and courtesy www.ladbrokes.com. Subject to fluctuation.